Bahamas & Florida Cruises Hotel & Land Packages
Give yourself some peace of mind so you can fully enjoy your from the moment you step onboard. An NCL hotel package saves you money, ensures you have the best accommodations possible and takes the hassle out of having to organize everything yourself.
Call us to add Hotel Packages to Your Reservation.
Hotel packages can be added to your reservation by simply calling your travel professional or an NCL Personal Cruise Consultant at 1.866.234.7350.
Don't worry about flight cancellations, delays or severe weather interrupting your cruise vacation. Spend a few extra days before or after the cruise exploring the unique attractions of your departure or arrival city.
Benefits of Booking a Hotel Package with NCL
Look what's included for one attractive price with no hidden fees:
First class or deluxe accommodations, plus mandatory hotel taxes, fees and service charges
All luggage handling within the hotel and between the pier
Transfer between hotel and pier coordinated with cruise schedule
Local assistance (via Hospitality Desk or local operator)
Additional benefits (including kids rates) at select locations
Miami, Florida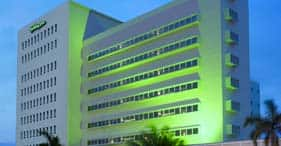 Holiday Inn Miami Beach
Welcome to the tropically inspired Holiday Inn Miami Beach - Oceanfront, where our 1950's Miami Modern exterior blends seamlessly with vibrant contemporary South Beach style to wrap you in modern comfort. Our Miami Beach hotel is located where I-195 meets A1A at the Atlantic Ocean. Our hotel offers you an unparalleled location, with the Atlantic Ocean's sandy beaches as our backyard. Follow the South Beach Boardwalk to the Art Deco world of South Beach for shopping, dining or to vibrant nightclubs. Take a moonlit stroll on the beach by night. Play in the surf by day or simply relax by our large pool and outdoor spa overlooking the beach and our lush, tropical garden with its hammock oasis; it's a great way to spend a sunny afternoon. The free wireless Internet access in guest rooms and our lobby will help you stay in touch while you travel. Our non-smoking hotel is perfect for a Miami Beach trip. You can enjoy a delicious meal at our Paradise Cafe, dine in your room, or have a yummy Mojito at our Blue Parrot Bar. We have it all. Tropically inspired hotel in a perfect location right on the beach and a few miles from all local attractions. Our packages include transfer between hotel and pier (US $30 value), taxes and luggage handling.
Prices from $99 USD*
Sofitel Miami
In a setting like a tropical paradise, Sofitel Miami is only 5 minutes from Miami International Airport, 15 minutes from the nearest beach and 10 minutes from the Port of Miami. In addition, it's an easy drive to a number of major attractions. Overlooking a peaceful blue lagoon, the hotel features an exquisitely decorated lobby in which striking tropical colors are paired with Art Deco design and sculpture. The overall effect is one of contemporary French ambiance, comfortable yet captivating. Complimentary shuttle service to/from airport is available at this property This airport property is a tropical paradise. Decorated in art deco style, it's minutes away from South beach, shopping malls and many other attractions. Our packages include transfer between hotel and pier (US $30 value), taxes and luggage handling.
Prices from $95 USD*
Courtyard Miami Beach Oceanfront
The Courtyard by Marriott Miami Beach Oceanfront has completed their exciting guestroom makeover which features a contemporary design with vibrant colors, artistic details and warm woods. A serene oasis amongst a vibrant city, this hotel boasts boutique style elegance while providing resort amenities including spa services, restaurants including Carrabba's Italian Grill, an oceanfront tiki bar and a new poolside tiki bar, and complimentary wireless internet in guest rooms and throughout hotel. Located oceanfront on mid-Miami Beach just minutes from the excitement of South Beach, Miami International Airport, Port of Miami, Miami Beach Convention Center and all the exciting arts, restaurants, nightlife and attractions Miami has to offer. Originally built in 1940 as the Cadillac Hotel, this oceanfront art deco hotel is a historically protected gem, upgraded with today's amenities. With three lush acres, the property provides plenty of space to take a dip in the pool and Jacuzzi, sip a mojito on the private tiki beach, indulge in a massage, sneak in a workout at the Fitness Suite, sink your toes into the warm sands of fabulous Miami Beach or stroll along the oceanfront boardwalk.
The "simply chic, comfortably hip" Courtyard by Marriott Miami Beach Oceanfront embraces boutique-style elegance, offers resort amenities and is minutes from South Beach. Our packages include transfer between hotel and pier (US $30 value), taxes and luggage handling.
Prices from $115 USD*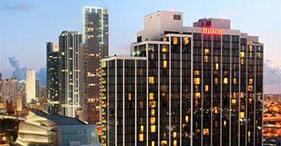 Hilton Miami Downtown
The Hilton Miami Downtown hotel in downtown Miami, Florida has just completed a multi-million dollar renovation of all 527 guestrooms including 58 suites that overlook Biscayne Bay and the downtown skyline. In addition to new bathrooms, the new guestrooms feature the exclusive Hilton Serenity Bed and Bath Collection. This downtown Miami, Florida hotel has the easiest access to all points downtown, including the Port of Miami. Heated Outdoor Pool overlooking the Miami Skyline, complimentary use of the business center and exercising in the new Fitness by Precor exercise facility. The Hilton Downtown Miami, FL hotel is the premier full-service hotel located in the downtown's performing arts district and a preferred choice for business, leisure and convention guests. The Hilton Downtown Miami hotel is connected to the Metro Mover, a complimentary light rail service that takes guests to several restaurants and shopping areas downtown, including Bayside Marketplace. Our hotel is ten minutes from the most amazing world-class beaches and only five minutes from the Port of Miami, known as the cruise capital of the world, where ships depart daily. This luxurious property is located in the Downtown performing arts district and is minutes away from South Beach, Bayside Marketplace and the Port of Miami. Our packages include transfer between hotel and pier (US $10 value), taxes and luggage handling.
Prices from $89 USD*
New York, New York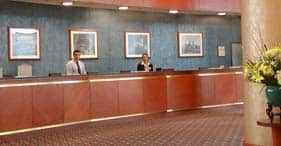 Holiday Inn Midtown
Ah, the frenetic pace, the Broadway shows, the shopping and the cultural treasures. There's so much to see and experience. Fortunately, the Holiday Inn Midtown is conveniently located near much of it. Nestled in a quiet residential neighborhood, The Holiday Inn Midtown 57th Street is conveniently located near famous New York attractions like Central Park, Lincoln Center, Columbus Circle, Carnegie Music Hall, Times Square and theatre district. 600 newly renovated rooms with complimentary wi-fi connections. 3 blocks to the pier for embarkation. This three-star property is conveniently located three blocks from beautiful Central Park and world-renowned Carnegie Hall. Broadway shows and shopping are moments away. Our packages include transfer between hotel and pier (US $15 value), taxes and luggage handling.
Prices from $149 USD*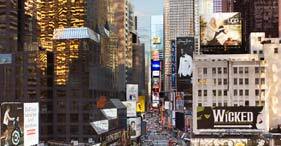 Hotel Novotel New York Times Square
Located in the heart of New York City's theater district, Novotel Times Square offers spectacular views of Times Square from the 7th floor Cafe Nicole, Broadway Bar and Terrace. Beautiful guestrooms provide modern comfort, a unique feeling of spaciousness and contemporary décor. The hotel is a short stroll from the famous shops of 5th Avenue, enchanting Central Park, Lincoln Center, Carnegie Hall and Rockefeller Center. Convenient to all major subway lines, you're just a few stops from Grand Central Stations, Penn Station and the Port Authority Bus Terminal. The warm and attentive staff exemplifies the Novotel Times Square commitment to hospitality and grace. The hotel's Café Nicole serves breakfast, lunch and dinner and provides room service until midnight. State of the art fitness center, gift shop and tourist information desk. Location, Location, location. This three-star property is in the heart of Midtown. All major attractions such as Broadway theatres, Rockefeller Center, museums, shopping are steps away. Our packages include transfer between hotel and pier (US $15 value), taxes and luggage handling.
Prices from $185 USD*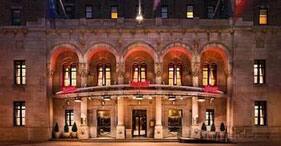 New York Marriott East Side
A stay at New York Marriott East Side places you in the heart of New York, walking distance from Chrysler Building and St. Patrick's Cathedral. This 4-star hotel is close to Grand Central Terminal and Rockefeller Center.
Prices from USD*
* Rates are per person based on double occupancy and are subject to change without notice.
Things to Know
Ride On

There are more than 25 amazing rides at Universal Orlando Resort.

Tan Line

Miami's own Benjamin Green invented "suntan cream" in 1944.

Drink Up

Gatorade® was developed for the University of Florida's "Gators."

Name Game

Bahamas comes from the Spanish bajamar, or "shallow water."

Tax Break

There is no income tax or corporate tax levied in the Bahamas.