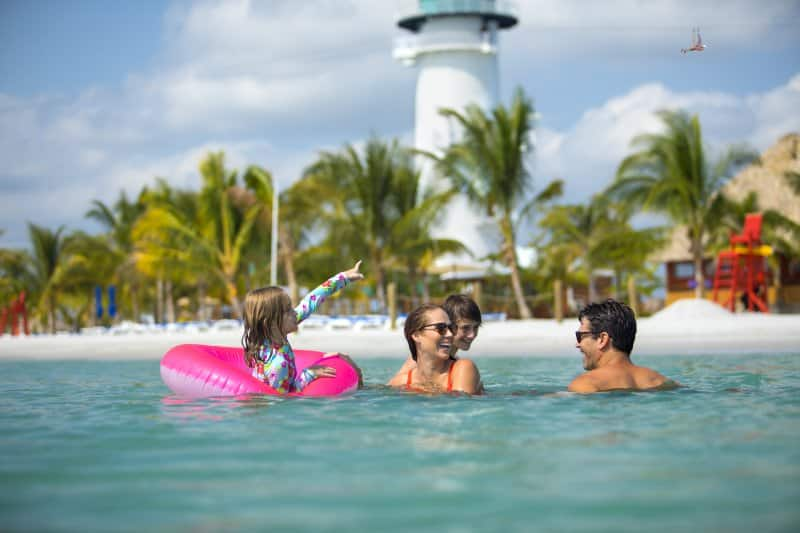 Salt-water lagoon, expansive pool, pristine 7-acre beach - do I need to say more? Ok, one more: family activities galore! If you're planning a Cruceros por el Caribe, Harvest Caye may just become one of your favorite ports of call.
Located in Southern Belize, Harvest Caye is a family-friendly, resort-style destination of over 75-acres. Voted Best New Cruise Port in 2017 by Porthole Magazine, the development is part of The Norwegian Edge, a commitment to enhance guest experiences at sea and in port. Cruising to Harvest Caye delivers on all of the above amenities to enjoy, which are among the many family-friendly activities the port of call offers.
¿Listo para empezar a planificar? Explora todos los cruise vacations to Harvest Caye with Norwegian.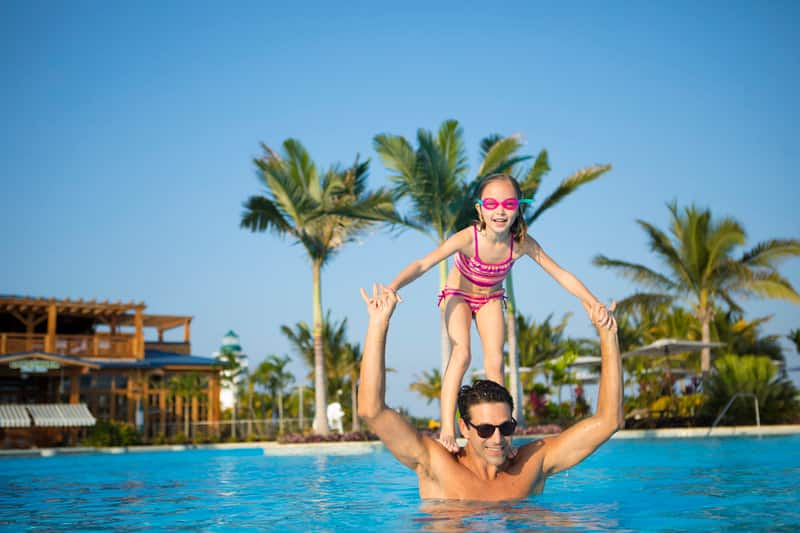 1. Swim in the Expansive Resort-Style Pool
With lots of chairs and loungers, the pool and surrounding decks are large enough that you won't feel crowded. The scene is set with swaying palm trees and a beautiful cascading waterfall. Spending all day swimming and splashing around the resort-style pool is a fun activity for the whole family to enjoy.
2. Play in the Lagoon
There are many ways for the family to be active and explore the lagoon together. Cruisers can rent kayaks, stand-up paddleboards, and electric boat floats! Let the adventure begin!
3. Go Zip Lining at The Flighthouse
Perfect for the thrill-seekers in the family, you can zipline across the island and enjoy the adrenaline rush as you fly over the beach and sunbathers.
Book the Adrenaline Package, and you'll have access to the Lagoon Run Adventure Zip, which is three zips that crisscross the Harvest Caye lagoon and traverse the suspension bridge. You'll also get to do the Superman Beach Zipline run, which takes you 1,300 feet at 40 miles per hour. Wonder why this is called the Superman Beach run? You'll be flying side by side in a face-down "superman" position. If you prefer, you can use the seat harness instead.
4. Tour the Lagoon Wildlife and Mangrove Estuaries
This is a great chance to see many types of wildlife in a natural habitat. When drifting past the mangroves on your tour aboard the Motor Launch, you may spot manatees resting or grazing along the embankments as your tour guide will detail how the manatees spend their days in Belize. The family will have so much fun, they won't realize they're getting a nature lesson!
5. Go River Tubing in the Rainforest
Los rainforest river tubing adventure provides a unique way to experience sightseeing- by floating on an inner tube along a scenic waterway through the rainforest. You'll float along a spring-fed river, enjoying the beautiful jungle landscape. Getting to the river tubing site at Big Falls is easy. And, don't worry if you didn't bring water shoes on your cruise - you can rent them directly at Big Falls Outpost.
6. Rent a Cabana or Villa
There are pool canopy cabanas for rent on the beach, perfect for up to four people. Food and beverages are provided, and the family can use golf carts to sight-see around the island together. Private bathrooms are a bonus. The cabanas are also air-conditioned for the younger ones who may need to catch a nap away from the Belize heat.
Or, go for a larger secluded villa that is ideal for six guests, with the ability to add a maximum of four more guests. Villas have air conditioning, private restrooms, indoor and outdoor showers, a digital safe, mini-fridge, Bluetooth audio, and more. You'll also have your own Butler and Concierge service, perfect for the ultimate luxurious family escape.
7. Relax on the Beach
To keep it simple, but still have a blast, bring a ball, football, or Frisbee and spend quality time together playing on the beach. You can also bring pails and make sandcastles. Kids adore when parents play games with them. We call it bonding on the beach!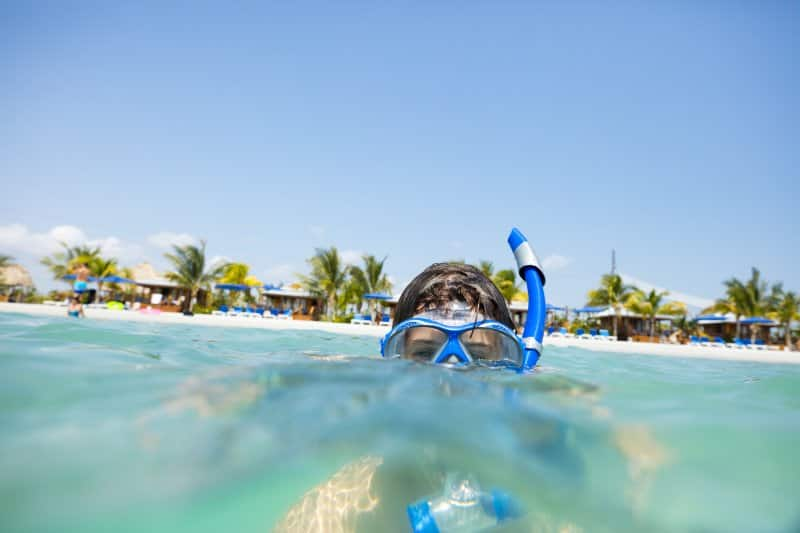 8. Explore a Maya Site
Head to Nim Li Punit Maya site, which means "Large Hat" in Q'eqchi' or Kekchi Mayan. Nim Li Punit earned its name because of a stela depicting one of its rulers wearing a large headdress. While not as big as some other Maya sites in Belize, you'll find a well-preserved ball court and an observatory. Kids enjoy the welcome center and small museum where they can see more artifacts and preserved stelae.
9. Book a Parasailing Adventure
Consider booking a parasailing adventure if your kids are at least 8 years old and weigh at least 60 pounds. You can do a tandem adventure high above the beautiful Caribbean Sea, with epic views of Harvest Caye.
Cruise itineraries that include a stop at Harvest Caye depart from several U.S. ports, including Galveston, New Orleans, Miami, Port Canaveral, and Tampa. From swimming in the pool to zip lining through the sky, you're sure to have fun, no matter what activity you choose. And nothing is more enjoyable than a family-friendly, fun time in a beautiful Caribbean paradise.
If you're still in the planning stages for your family cruise vacation, be sure to sign up for emails so you can get Norwegian's latest cruise deals and special offers delivered right to your inbox.
Have you cruised to Harvest Caye, Belize? What is your favorite family activity on the island?
EDITOR'S NOTE: This article was originally published on Jun. 13, 2018. It has been updated for relevancy and to show related itineraries.