There's nothing quite like floating peacefully in a hot tub while watching the ocean roll by outside the panoramic windows of a cruise ship. Mellowing out with massages, low lights, and ethereal music underlines the relaxing aspects of a vacation. The calm, reviving atmosphere of a spa has been a tradition since ancient times, restorative to the body and soul. Where better to participate in this age-old tradition than aboard a cruise ship, where luxury and decadence are already the order of the day? Read on for five great reasons to make your next spa getaway a Vacaciones En Crucero.
1. Relaxing on Board is a Breeze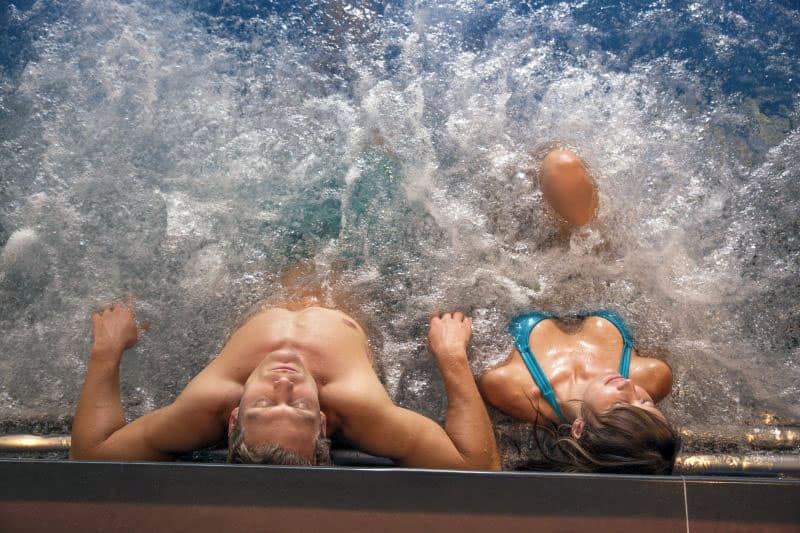 NCL's cruise spas are second to none. They were voted World's Best Cruise Spa by the World Spa Awards. Over 50 services are available at the onboard spas. Saunas that overlook the sea will have you feeling clean and refreshed. Hot stone massage is available for individuals and couples. The gym will help combat all those delicious meals by keeping you in shape. Thermal rooms, salt baths, and myriad other services are available to make you feel pampered onboard.
2. Being Pampered in Port is Pure Luxury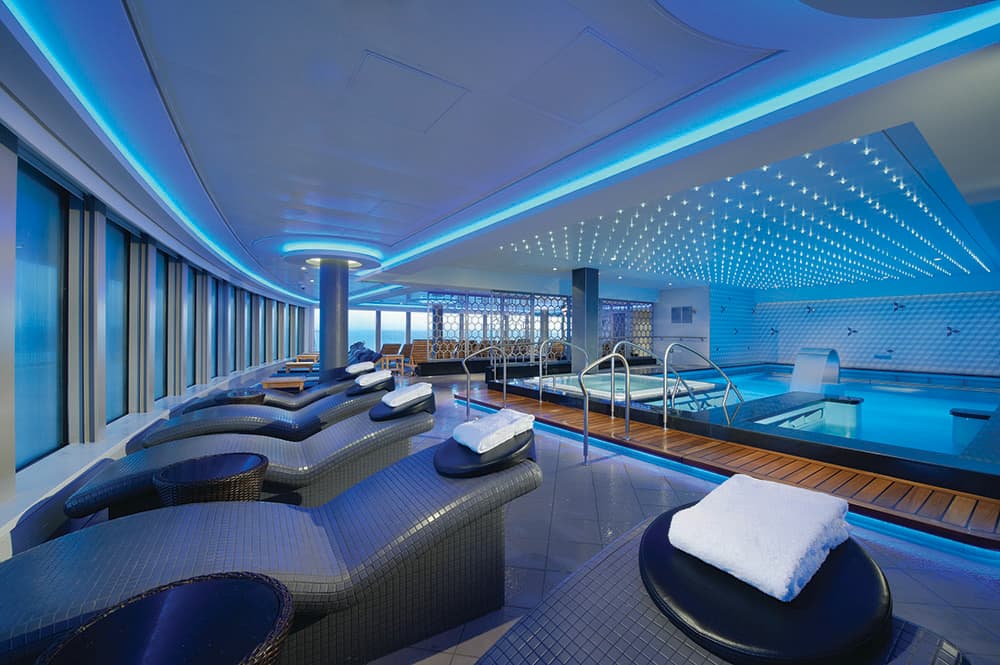 There are multiple destinos all over the world that offer exquisite and unique spa experiences. Norwegian can take you there. These traditional practices are a worldwide phenomenon and many cultures have a type of spa in which they relax and unwind. A cruise is the ultimate opportunity to try out the different types of spas around the world, and learn how people everywhere often want the same things in life, including rest and relaxation.
3. Turkish Hammams Offer Spa Decadence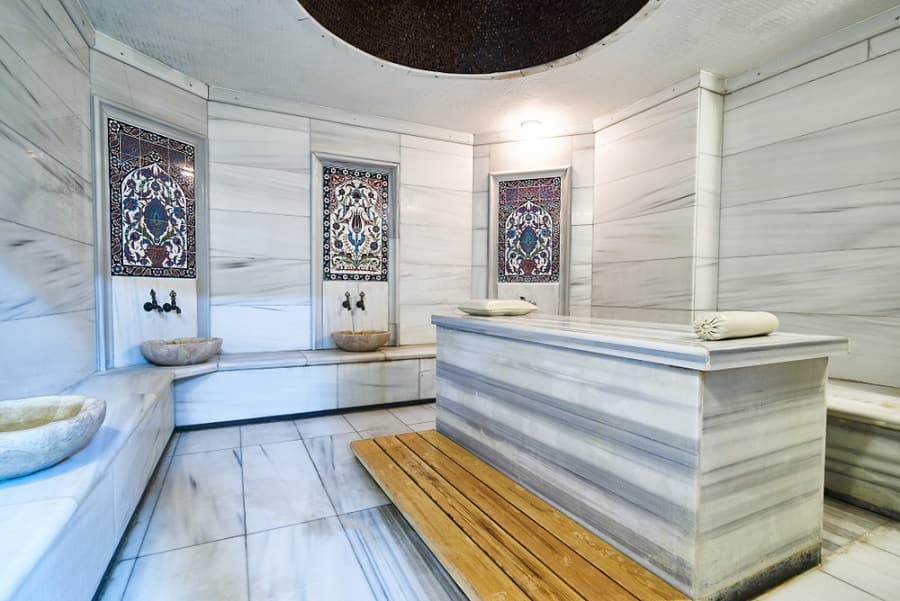 If you're ready to explore beyond the usual spa experience, take your spa getaway to the next level on cruise to Turkey. Turkey's bathhouses are legendary. They're a must-do while making a port stop in Kusadasi The heat and steam of the tiled room and the gorgeous designs in the floors and walls, illuminated by sunlight pouring down through the intricate holes in the ceiling, give the Turkish hammam an exotic feeling of decadence.
Raised slabs stand in the center of the room and there are smaller cubicles along the wall. A man will scrub you down, and even spin you around in the soap and suds on top of the slab! Careful, they are very mischievous and may dump a bucket of water on you while you are in one of the open cubicles! Everything is smiles in the hammam!
Then you can sit in another small room, bathed in the rays of sunlight, while you contemplate antiquity and how many centuries of people have come here before you. Afterward, wrapped in towels and feeling like royalty, you can sit on cushions drinking apple tea before you return to the hustle and bustle of Turkish city streets. TIP: Grab some dondurma (Turkish ice cream) to cool off, and enjoy the performance!
4. Korean Jjimjilbangs Feel Like a Fantasy
crucero por Asia can be the perfect opportunity to experience another unique spa experience. Port stops in South Korea can be a good time to explore Korean Jjimjilbangs.
Jjimjilbangs are an absolute must when you are visiting the Land of the Morning Calm. These spas are like something out of a fantasy: marble lions spew colored water into huge marble pools and the hot water is infused with ginseng and lavender. There are various different rooms based on homeopathic treatments, including a room filled with jewels to help menstrual cramps, an ice room, a charcoal room, a wormwood room - the list goes on and on.
The jjimjilbang is also a place to rest and hang out. You can get a haircut, watch TV, eat food, and lay around doing nothing for just as long as you like. Many jjimjilbangs also offer the option to overnight there, for a very cheap price. Even in the country's capital, Seoul, jjimjilbangs offer an overnight stay for just 7,000 won ($7 USD) per night! Mind you, it's on a mat on the floor, but for those looking to get maximum relaxation for minimum price, jjimjilbangs are absolutely the way to go.
Try cheese ramyun while at the jjimjilbang. This spicy soup is one of Korea's most-exported dishes, and is a fantastically reviving dish. You may be startled by the American cheese used in ramyun, but believe it or not, that's the way it's made!
5. Roman Baths are a Classic Must-Do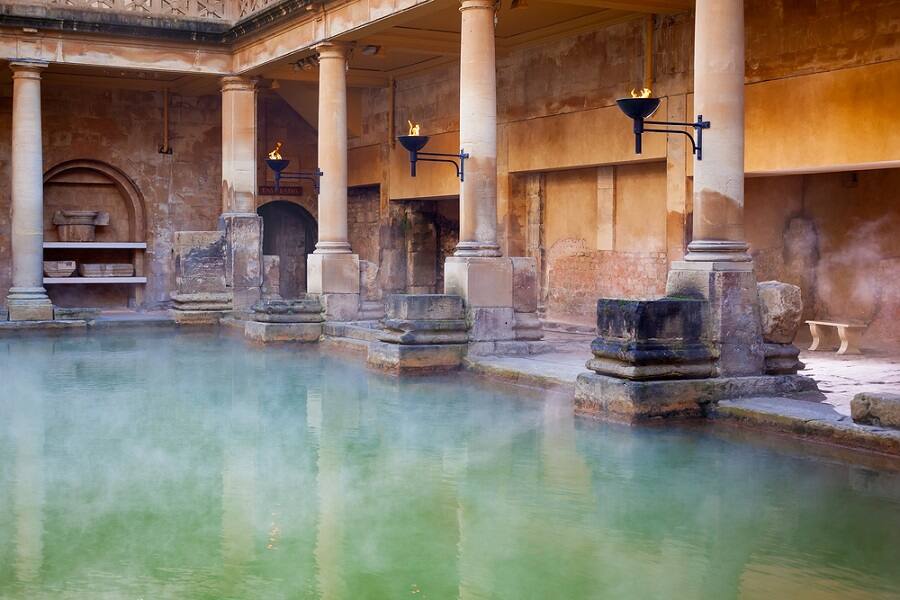 Cuando estés en Roma, do as the Romans do and relax. While you'd expect that Roman baths would be in Rome, the proliferation of the Roman Empire means that they existed all over the European continent and even further afield. So consider a Roman bath while on your next Crucero en Europa. For example, Bath, England, was named after these baths, which you can still visit today, although they are no longer in use. The nearby Thermae Bath Spa uses the same water as the Roman baths, but it is treated for swimming.
One of the oldest surviving Roman baths is in Algeria, where people still visit daily. The Roman baths in Khenchela are over over 2,000 years old. These baths offer the opportunity to bathe as the Romans did centuries ago. Depending on your destination, you may also find these baths in other parts of the world, including Italy, where you can still visit the original baths. Rome itself no longer has working baths, but there are many hot springs available.
As you can see, all the world has its version of spas and spa treatments. People have always wanted a place to go and relax (and heat themselves up in various ways). Norwegian combines many of these traditional aspects of the spa, such as the Finnish sauna and the Thai hot stone massage. The benefit of traveling the world is gaining another perspective. Learning about all the best options available for spa treatments and incorporating them into your at-home practices is a bonus. And thanks to the utmost level of premium relaxation, those cruising on Norwegian have nothing but the very best to enjoy both onboard and in port. You're on vacation, after all.
Sign up for emails to be the first to hear about ofertas de cruceros and specials with Norwegian Cruise Line.