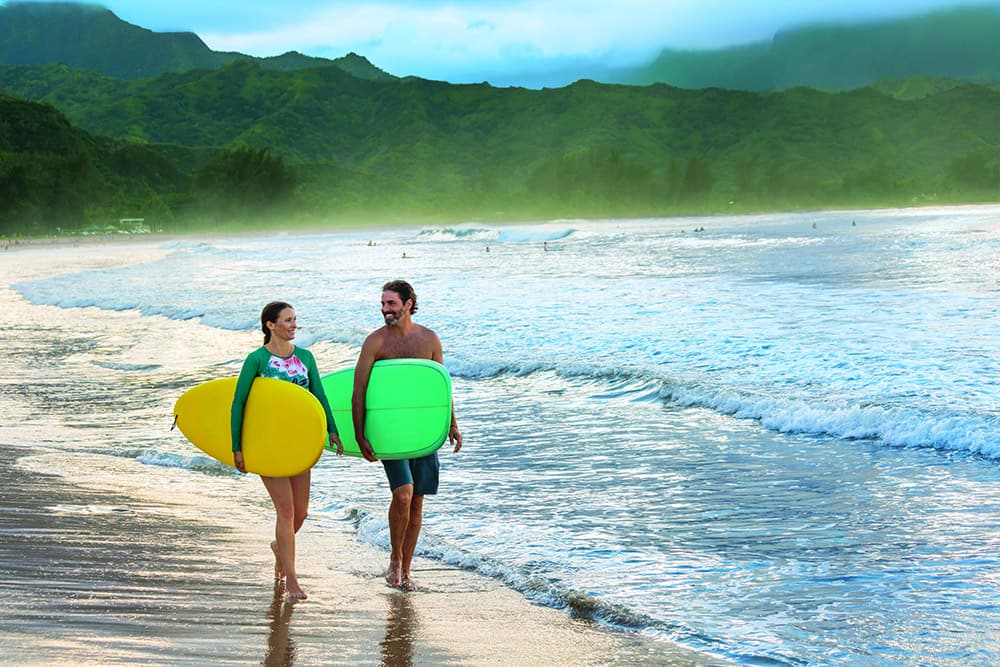 From beautiful beaches and lush rainforests to volcanic landscapes and vibrant sunsets, cruising Hawaii feels like sailing along a slice of heaven right here on Earth. Whether you enjoy spending your day lazing in the sun and sand on pristine beaches, riding towering waves, or learning about local culture and traditions, Norwegian Cruise Line makes it easy for you to find your piece of paradise with an authentic Hawaiian experience. As the only cruise line with a home port in Hawaii, Norwegian offers exciting year-round sailings aboard Pride of America with convenient Saturday departures each week.
Having trouble deciding which island to visit on your Hawaiian escape? Why choose just one? Norwegian cruises hop from island to island, providing plenty of opportunities to explore more of Hawaii than you ever thought possible in one amazing cruise vacation. In fact, only Norwegian gives you the chance to visit four islands in seven days! Norwegian even features a variety of all-new itineraries with visits to both Hawaii and French Polynesia aboard Norwegian Jade. So, what are you waiting for? Stop dreaming about your next vacation, and check out these five reasons to book a 2021 Hawaiian cruise now!
¿Listo para empezar a planificar? Explora todos los 2021 Hawaii cruises.
1. You Can Explore Your Options
Do you like to take your time to make big decisions? With so many amazing Hawaii and French Polynesia cruise itineraries, choosing the right one for your vacation of a lifetime takes a lot of careful thought. That's why there's no time like the present to start exploring your options. Pour over every detail, date, and destination to determine which cruise best meets your unique travel style.
Whether you want to escape the winter blues or take a midsummer break, Pride of America de Norwegian sails 52 weeks a year, giving you loads of opportunities to find a cruise that suits your schedule. Want more? You got it! Norwegian even offers Paquetes terrestres en Hawái. These once-in-a-lifetime experiences give you the chance to extend your time exploring the islands. Take a few extra days to discover your destination before your cruise even begins. Start planning now to give you plenty of time to dig into all the options and choose the one that's best for you.
2. You'll Get the Pick of the Ship
When you book your cruise vacation early, you get your choice of the top staterooms on your cruise ship. Do you prefer a cabin closer to the front of the ship or the rear? Want to stay as close as you can to the Lido deck or spa? Do you enjoy watching the sunrise while relaxing on your balcony?
Perhaps you prefer to spend all your time enjoying the activities on the Lido deck, so an interior stateroom fits your needs best. Hey, whatever floats your boat! If you book now, you get first dibs on the stateroom of your choice on your 2021 Hawaii cruise.
3. You Can Plan Your Port Experiences
When it comes to exciting activities, there's no shortage of amazing shore excursions available on all Norwegian cruises to Hawaii. In Hilo, on the Big Island, take a helicopter tour over Kilauea volcano, the world's most geologically active environment. Explore the historic site of Pearl Harbor located in Honolulu, Oahu. Enjoy the twists and turns on a scenic drive along the Hana Highway in Kahului, Maui. Norwegian offers these fun-filled excursions and so much more. The Norwegian team carefully curates the top activities available in each port on your Hawaii cruise.
CRUCEROS RELACIONADOS:
Crucero en Hawái desde Honolulu, 7 días
11-Day Hawaii Cruisetour
With so much to see and do, the team wants to ensure you make the most of your time on the islands. They sample every activity and bring you only the best in each Hawaiian and French Polynesian port of call. But with so many amazing selections, it's best to plan ahead. Sail a catamaran through the turquoise waters surrounding Raiatea in French Polynesia, enjoy an evening of hula, fire dances, and traditional storytelling at a luau in Nawiliwili, Kauai, or snorkel at Molokini Crater in Kahului, Maui. It's all waiting for you to discover, and we promise it won't disappoint.
4. You Can Get a Great Deal
The earlier you start planning, the better your chances of snagging a great deal. That's right! Throughout the year, Norwegian offers tons of exceptional special promotions and deals on upcoming cruises. From two-for-one deposits and deep discounts on cruise fares to last-minute pricing, there's always something to spark your interest.
Did you know kids sail free on select 2021 Hawaii cruises? Want free specialty dining, Wi-Fi, or excursions? Norwegian's Free at Sea program gives you the choice of up to five free offers depending on your cruise itinerary. Check the Norwegian website often and sign up for the newsletter to stay up to date on all the latest promotions and deals on 2021 Hawaii cruises.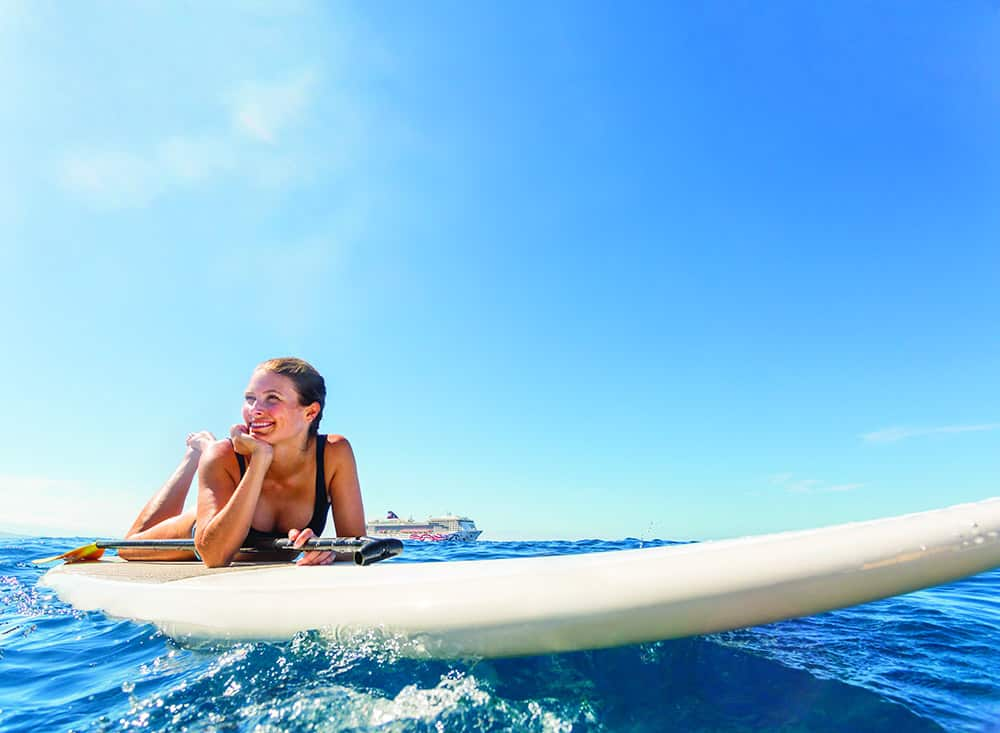 5. You Can Relax & Start Dreaming
After months of lockdown, you likely need a little something to lift your spirits. There's nothing quite like an escape from reality to give you a much-needed boost of happiness. When you book your 2021 Hawaii cruise with Norwegian, you give yourself something to look forward to in the months ahead.
Wouldn't it feel great to sink your toes into the black sand on the beach in Kona or zip along the Maui coastline on a Zodiac whale-watching tour? Rappel down waterfalls, hike through rainforests, or watch the sunset from atop a volcano on your amazing cruise through Hawaii. It's a great time to start thinking about your next vacation, so consider these five reasons to book a 2021 Hawaii cruise now.