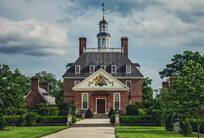 Colonial Williamsburg Walking Tour & Shopping
Virginia Beach (Norfolk), Virginia
Duración 6 3/4 hs.
Stroll the streets of colonial Williamsburg with a guide that will elaborate on events that occurred there that shaped America's history. Begin your visit with a brief introduction where the guide will point out all the historical buildings that you will see during your visit of Colonial Williamsburg. During this in-depth walking tour of the historic district, you will see blocks of original 18th-century buildings while learning about the early government in Williamsburg, the colonial way of life and key figures that led the American Revolution. Of Williamsburg's more than 500 period buildings, the stately Governor's Palace may be the most important architecturally. It was built in 1722 to house Virginia's royal governor and instill respect for executive power among the colonists. Another gem is the Capitol building, a replica of the original that burned in a fire. During free time, you might explore other areas more deeply, especially the exhibition buildings. The tradesmen and shopkeepers will be in costumes, which will lend the experience greater authenticity. For the best shopping and dining opportunities, drop by Merchant's Square.
HIGHLIGHTS
• Tour colonial Williamsburg, home to more than 500 period buildings.
• Hear fascinating facts about the colonial way of life under British rule.
• Enjoy free time for dining and shopping in Merchant's Square.
HELPFUL HINTS
• Dress in weather-appropriate clothing.
• Wear flat comfortable walking shoes.
Lo que debes saber:
Note: This tour includes a moderate amount of walking mainly at the guest's discretion. It is not available to guests who utilize a wheelchair. Those guests with mobility concerns are cautioned to evaluate their personal level of ability and stamina.
Adultos desde: $189.00 USD
Niños desde: $179.00 USD
Compras