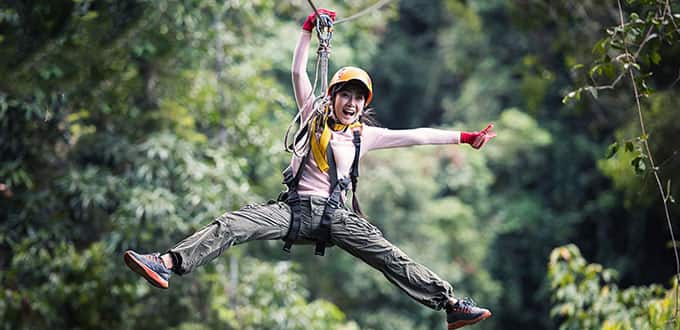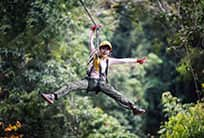 Original Canopy Tour at Hacienda Campo Rico
San Juan, Puerto Rico
Duración 4 1/2 hs.
Tear through the jungle canopy high above the forest floor on a series of ziplines, stopping every so often on towering platforms that will offer extraordinary views. The venue for your adventure will be Hacienda Campo Rico, a former sugar plantation that blankets thousands of acres of subtropical forest. Following an orientation that will allow you to maximize the experience, you will walk to the hilltop starting point. The view from this elevated perch will be magnificent, but only a hint of what's to come. After being harnessed in and stepping off the platform into thin air, you will race through the tree canopy on a series of ziplines, each one a thrill in its own way. It will be an absolutely exhilarating experience as you fly through the air as high as 200 feet above the ground. You will pass over glassy lagoons, fields of plantain and pastureland before the last zipline ends at the Mojito Bar.
HIGHLIGHTS
• Race through a tree canopy high above the jungle floor on a series of ziplines.
• Marvel at the views of the forest and sea, especially from atop the zipline platforms.
• Walk along a natural path and across wooden suspension bridges between platforms.
• Toast the adventure with a refreshing beverage at the Mojito Bar, if you wish.
HELPFUL HINTS
• Dress in weather-appropriate clothing.
• Wear flat comfortable walking shoes.
Lo que debes saber:
Note: All gear is supplied by the tour operator. Participants must be at least 8 years old. Maximum weight is approximately 270 lbs. No open heeled shoes allowed – must have straps to keep shoes on feet. Pregnant women and guests with vertigo, back or neck problems cannot participate. Guests are not allowed to take photos of themselves while crossing the zipline or suspended bridges. Guests who go ashore do so with the understanding that they will be mixing with members of the general public.
Adultos desde: $175.00 USD
Niños desde: $159.00 USD