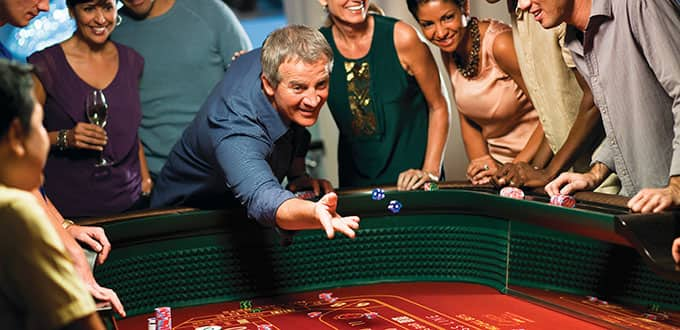 Onboard Activities
So much to do onboard...
Whether it's reading a book by the pool or dancing the night away, we've got something to fit your pace. When was the last time you shot from the free throw line or tested your short game? When was the last time you asked the piano man to play your song? We've got karaoke, games, social activities, shopping and the best casinos at sea. No pressure of course, doing nothing at all is perfectly fine.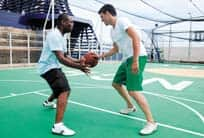 Basketball Courts
Hoop there it is! Get in the game or start your own at our upper deck court with the most amazing ocean views and welcoming sea breezes. Play morning, noon or night.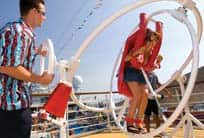 Deck Sports
Sports enthusiasts won't miss a beat onboard Norwegian. On the sports deck, you'll find a jogging track, golf driving range, and a court that basketball, volleyball and tennis enthusiasts alike can use.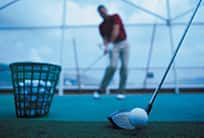 Driving Ranges
You may find it difficult to practice your swing in our netted driving range because the ocean views can be very distracting! Check with the reception desk for where to get your bucket of balls and clubs.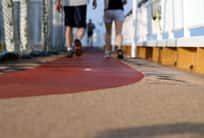 Jogging Track
Get in your daily walk or run while breathing in the fresh ocean air and soaking in the panoramic views. Signage will tell you the distance of each lap as it may vary by ship.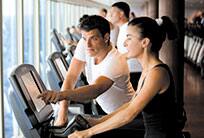 Group Fitness & Yoga
No need to fall off the fitness wagon while on holiday, you'll find a plethora of classes to keep you in shape from Tai Chi to spinning and yoga to Pilates.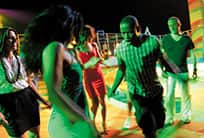 Nightclubs & Dancing
Love the nightlife? Get your groove on at your choice of onboard nightclubs. Spicy Latin, sizzling South Beach, 70s dance parties…the dance floor's calling.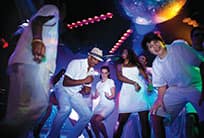 White Hot Party
Ice ice baby. Don your white attire and get to the pool deck for the most invigorating, blacklight glowing, electrifying party beneath the stars. Dance with our white-winged angels and be sure to purchase a souvenir t-shirt.
Karaoke
You already know you're a rock star, come show off those finely tuned pipes at one of our Karaoke events. You'll find places and times listed in your Freestyle Daily.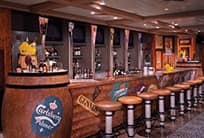 Sports Bar
Just because you're miles at sea doesn't mean you have to miss the big game. Join fellow sports fans for a brew, catch up on scores, or get caught up in the current excitement. You can't lose!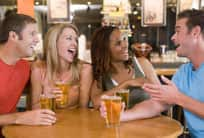 Pub Crawls
They're almost legendary. Sign up and join us for our shipboard Pub Crawl and you'll not only meet fellow pub-lovers, you'll experience new tastes, learn a few drinking games, play some trivia, laugh uncontrollably, and only be an elevator ride away from home.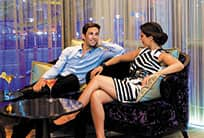 Libations in Bars & Lounges
With multiple bars and lounges, finding your favourite won't be easy, but it will be fun. From the hottest dance clubs to an intimate pub, we invite you to explore the possibilities.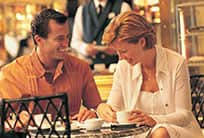 Coffee Bars
Get your coffee or cappuccino served the way you want it - iced, hot, double shot, whipped topping or not. Teas, espressos, pastries and other sweet treats available, too.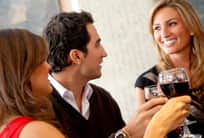 Wine & Beer Tasting
Expand your palate or simply satisfy your curiosity about your choice of wine or beers of the world. It's refreshing and it's a fun learning experience.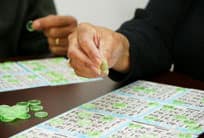 Bingo
This isn't your grandma's Bingo…today's game is an uber chic, high-tech version complete with big-time payouts. You can even get a free t-shirt with a minimum purchase.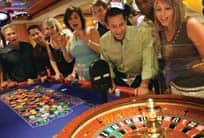 Casino
Find Lady Luck in our Casinos at Sea at your favourite poker machines and table games, including live poker! Adding to the excitement is our Players Club that rewards you with everything from spa treatments to complimentary cruises.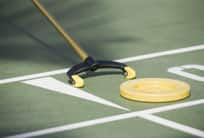 Shuffle Board
If you're a shuffleboard pro, you already know how glide your biscuit perfectly, with your tang, of course. Even if you're not a pro, you're invited to come grab a stick and give the puck a whirl, anytime.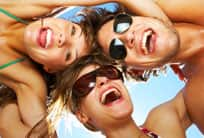 Cruise Director Games
Onboard Olympics, the Not-So-Newly-Wed game, challenging trivia…the list of daily activities hosted by our cruise directors add instant fun to your day, and night.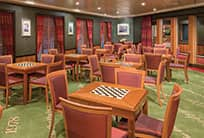 Card & Game Room
Love the solitude of solitaire? How about a rousing game of Gin Rummy? Pull up a chair, admire the ocean views and settle in for a friendly game of cards, chess or dominos.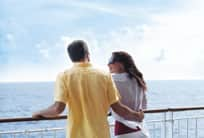 Sightseeing from Deck
Put extra camera batteries in your pocket and make your way on deck for some spectacular photo opportunities. You never know what you'll spy - from majestic creatures to Mother Nature's spine-tingling scenery.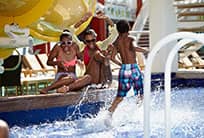 Pools & Jacuzzis
Whether you prefer a cool dip or a warm soak, you can find it onboard. Some are kid-friendly, some adults-only, but all are perfectly inviting. You'll find beach towels in your room and on the pool deck.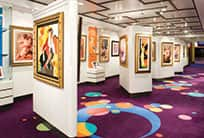 Art Auctions
No need to rappel from the ceiling and dodge lasers to steal a fabulous piece of artwork, just attend one of our onboard art auctions. It's a great time, whether you're bidding or curiously watching.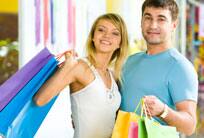 Duty-Free Shopping
The only thing better than shopping, is shopping duty-free. Fine jewellery, perfume, clothing, liquor, cosmetics, ship souvenirs…it's a shopper's delight. Keep an eye open for sale tables set up throughout your cruise.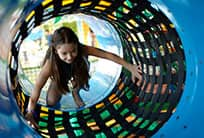 Kids & Teen Crew
Kids ages 3-12 will have a fantastic time in our Splash Academy (don't be surprised if they don't want to leave when you pick them up)! Teens ages 13-17 will enjoy Entourage, their own cool space for hanging out and having fun complete with video juke boxes and theme parties.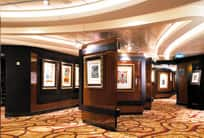 Ship & Galley Tours
Put on your walking shoes and we'll show you places to see and be seen onboard (as well as some pretty amazing, behind-the-scenes galley magic. It's also a great way to meet your fellow cruisers.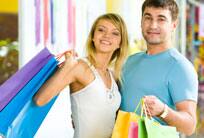 Port Shopping Talks
Want to know what's hot in each port, shopping-wise? Then don't miss these valuable Port Shopping Talks. Our shopping expert has fab connections and insider knowledge and will hook you up with special deals you won't find anywhere else.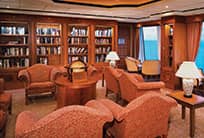 Library
Looking for a good book to read by the pool? Want to learn something unique about your next port? You'll find what you seek, along with quiet nooks and comfy chairs, in our onboard library.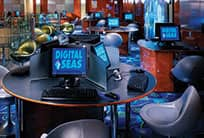 Internet Cafe
Even though you may feel worlds away, you can still surf the web, check your private email, or chat online - on one of our computers or your own - at our 24-hour Internet Café. Staying in touch is easy, if you want to.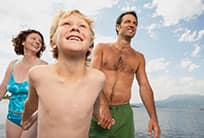 Nothing at all
The only requirement is continual breathing; anything else you choose to do with your "I'm doing nothing" time is completely up to you. Practice jedi mind tricks. Take a nap. Watch the world go by.