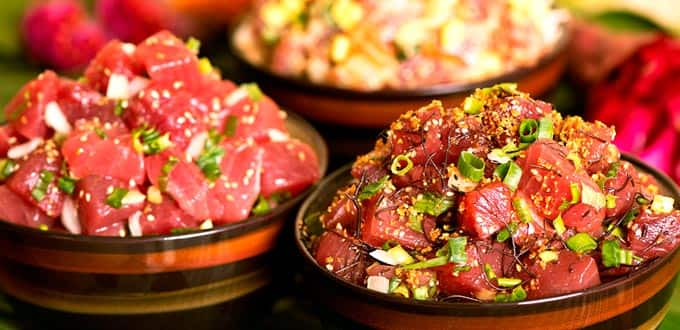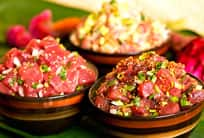 Authentic Taste of Maui
Kahului, Maui
Duration 6 hrs
Savor authentic Hawaiian dishes and beverages at several establishments in the historical district of Wailuku, which nestles at the foot of the West Maui Mountains.
After departing from the pier, you will soon arrive in the heart of historical Wailuku, where you will stop in a variety of unpretentious restaurants and locales to sample pure Hawaiian specialties. Some of the dishes will reflect the town's Asian and Pacific Islander ethnicities.
While the exact offerings will vary, you can expect to taste breakfast staples such as banana pancakes and hot malasadas, a fried-dough treat that Portuguese sugarcane workers introduced to Hawaii in the late 19th century.
Loco moco is another classic, and the Tasty Crust has been serving it for more than 40 years in Wailuku. The dish is a savory combination of rice, hamburger patty and brown gravy, topped with a fried egg or two.
In all likelihood, you will also sample delectable sashimi, a variety of poke bowls and seasoned saimin noodles. Another favorite is Spam musubi, a handheld with a slice of Spam wedged between two blocks of rice and wrapped in nori, a Japanese seaweed.
You will also sample several beers at the Maui Brewing Company, Hawaii's largest craft brewery. Selections range from a citrus-flavored India Pale Ale known as Big Swell to Coconut Hiwa Porter, a robust dark ale with hints of mocha.
Need to Know:
Note: This tour includes limited walking, mainly at the guest's discretion during the stops. The tour is available to guests who utilize a wheelchair who are able to make their way on and off the coach and have a companion to assist them. Casual clothing and comfortable, flat walking shoes are suggested. Restrooms are available at both stops. The order of the sites visited may vary.
Adult from: AUD$395.13 AUD
Child from: AUD$352.64 AUD
Meal