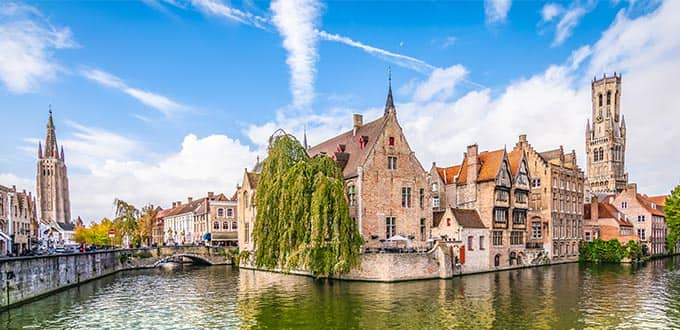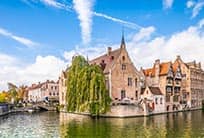 Go Local - Burges Through the Eyes of a Local
Brussels / Bruges (Zeebrugge), Belgium
Duration 4 3/4 hrs
Experience Bruges like a local by exploring areas off the beaten path but still in the shadow of landmarks such as Kruispoort. Although you will stop at this 15th-century gate, the sites that lie ahead will reveal a lesser-known but not less spectacular side of Bruges. You will see windmills along medieval ramparts, follow atmospheric lanes through residential neighborhoods and pause at the bridges and inner canals that gave Bruges its nickname, the Venice of the North. Upon arriving in St. Anne's, you will behold the Jerusalem Chapel, which was designed to mirror the Church of the Holy Sepulchre in Jerusalem. By the 16th century, Bruges had become a textile center for woven lace, and you will observe a demonstration of this artisan trade that continues to flourish. Another way to become immersed in local life is at the Markt, a sprawling square that has been a marketplace for more than 1,000 years.
HIGHLIGHTS:
• Explore atmospheric areas of Bruges that are typically unknown to all but the locals.
• Cross landmark canals that gave Bruges its nickname, the Venice of the North.
• Watch a demonstration of lace making, a trade that has flourished in Bruges for centuries.
Need to Know:
This tour includes about 2½ hours of walking over even and uneven ground, plus any additional walking at the guests' discretion during free time. The tour is not available to wheelchair guests and may not be suitable for those with mobility concerns, who should evaluate their stamina and ability before joining the tour.
Adult from: AUD$170.37 AUD
Child from: AUD$170.37 AUD