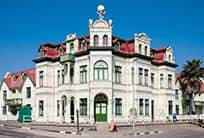 Swakopmund Sightseeing
Walvis Bay, Namibia
Duration 5 hrs
Explore Swakopmund's colonial past during this orientation tour that includes a visit to the Walvis Bay Lagoon. Journey along the scenic coast to the mouth of the Swakop River and find Swakopmund, an enchanting seaside resort that resembles a Bavarian village. You'll see the town's colonial past reflected in the early 19th-century art nouveau architecture found on many appealing buildings that have been declared national monuments. Discover the neo-Baroque German Evangelical Lutheran Church and the elegant historic Railway Station, which is now the Swakopmund Hotel's reception area. After passing the town's historic jetty, you'll walk to the Karakulia Weavers where Karakul sheep wool is spun, dyed and woven into rugs and wall hangings. Explore the Kristall Gallery, which displays crystals weighing up to 14 tons, and appreciate free time at the Brauhaus Gallery, a town center shopping arcade. En route back to Walvis Bay, you'll pause for photos at Dune 7, the highest sand dune in the area, then make a brief stop at the Walvis Bay Lagoon and tidal flood plains, declared a Wetland of International Importance, and marvel at its rich marine life and myriad bird species.
HIGHLIGHTS
• Uncover early 19th-century art nouveau architecture in Swakopmund, a seaside resort town that evokes a Bavarian village.
• See the lovely neo-Baroque German Evangelical Lutheran Church and the ornate former Railway Station.
• View the town's beloved jetty and the Karakulia Weavers, where sheep wool is made into rugs and wall hangings.
• Study crystals up to 14 tons at the Kristall Gallery and browse the shops in the Brauhaus Gallery.
• Observe the Walvis Bay Lagoon and tidal flood plains, recognized internationally for its environmental importance.
• Capture dramatic photos at the commanding Dune 7, the area's tallest sand dune.
HELPFUL HINTS
• Wear casual, weather-appropriate clothing and comfortable walking shoes.
• Bring a hat, sunglasses and sunscreen.
Need to Know:
NOTES: This tour includes approximately 1.5-hours of walking/standing, plus additional optional walking during photo stops and free time. Tour is available to wheelchair guests who have a collapsible wheelchair and are able to make their own way on and off transportation. Guests must be self-sufficient or if assistance is required, they should travel with a companion who can provide this. Guests wishing to purchase gemstones at the Kristall Galerie, are required to produce a photocopy of their passport. Weather appropriate clothing, adequate sun protection and flat comfortable walking shoes are recommended.
Adult from: AUD$248.48 AUD
Child from: AUD$248.48 AUD