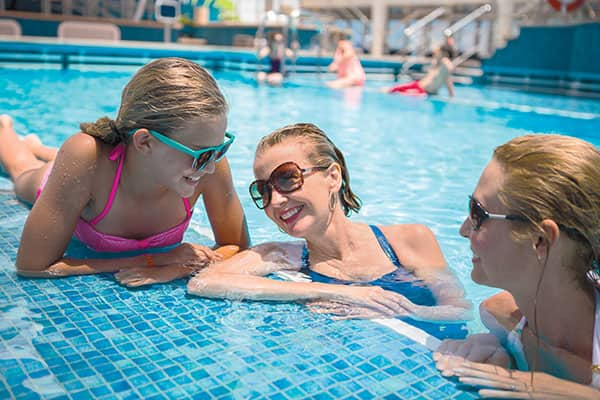 One of the greatest things about taking a cruise holiday is the fact that there's something for every person in your group, regardless of age or taste. Cruising is one of the most convenient ways to please everyone's proverbial palette while not having to compromise your own plans. Spa day at sea while the kids play at the arcade? Sure thing! Mini golf on deck while your teens conquer an on-board scavenger hunt? Totally do-able. Family night and then a nightcap with your honey? That, too. That's the beauty of having it all in one place - everyone can truly holiday their way. If you're thinking about your next getaway, a cruise holiday may be the solution to your inevitably varied family plans. Let's explore the many options available to every person in your crew.
Kids of All Ages Will Love: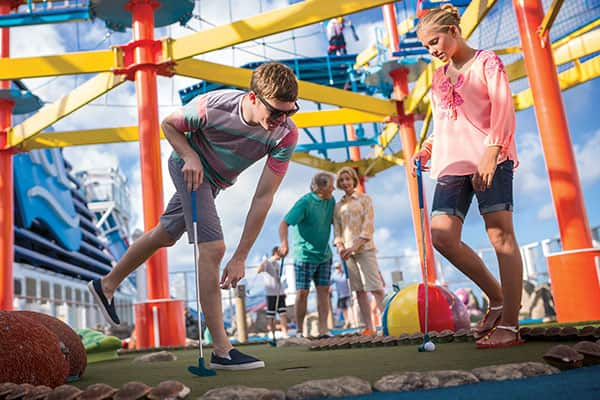 Mini Golf:Some of Norwegian's Breakaway and select Breakaway Plus Class ships offer mini golf for all levels of putting skills. If you want to try something new, try Splash Golf on Norwegian Epic. Challenge the little ones to a round of nine holes with water jets.
Arcade: Air hockey and arcade games are classics for a reason. The video arcade is a blast for kids and teens alike.
Teppanyaki: Meal and a show? Yes, please! The sizzles and surprises never cease at our authentic Japanese restaurant that will dazzle kids and adults alike. Sit around a lively shared table as a skillful chef slices, chops and grills steak, chicken and seafood on a large steel grill right before your eyes.
Aqua Park Everyone will love the Aqua Park. Experience ocean views all around and the excitement of over-the-top water parks. Smaller children will rejoice when they see the Kids' area (more on this below). Aqua Parks are available on Norwegian Epic and all Breakaway Plus and Breakaway Class ships.
Just for Kids:
Splash Academy: For kids ages 6 months to 12 years, there's Splash Academy, a complimentary youth program where your little ones can enjoy sports, creative play, theme night activities and parties. Activities are broken up into age groups: Guppies (6 months - Under 3 years), Turtles (5 years), Seals (6 - 9 years), and Dolphins (10 - 12 years).
Kids' Aqua Park: Kids can splash around in their very own tropical-themed pool. If your child is over 40 inches tall, they can even enjoy the waterslides at the Kid's Aqua Park.
Toddler Ropes Course: If your little one loves to climb (as many and most toddlers do) indulge them in the toddler ropes course aboard the Norwegian Getaway and let them channel their inner pirate.
Teens Will Love:
The Plank: For the bold and daring, there's an opportunity to "walk the plank" amid the ropes course on Norwegian Escape, teetering over the water, out 8 feet over the edge, and putting a fear of heights to the ultimate test.
Waterslides: Free Fall and The Whip are just two of the five multi-story waterslides you'll find on Breakaway and Breakaway Plus Class ships.
Rock Climbing Wall: Available on Norwegian Breakaway and Breakaway Plus Class, Norwegian Epic, Pearl and Gem, the rock-climbing wall is 20 feet of fun above deck for a unique birds-eye view of the ship.
White Hot Party: You can't beat this party at sea where everyone is dressed in white to make the most of the glowing lights while dancing under the stars on the pool deck.
O'Sheehans: This spot is conveniently open 'round the clock for tasty eats 24 hours a day.
Just for Teens:
Entourage: For older kids ages 13 - 17, there's Entourage, the program specifically designed for teens. They can play video games, watch movies, indulge in some music and art, or dance at a lounge that's just for them. Rest assured, Entourage is complimentary and supervised.
Adults Will Love: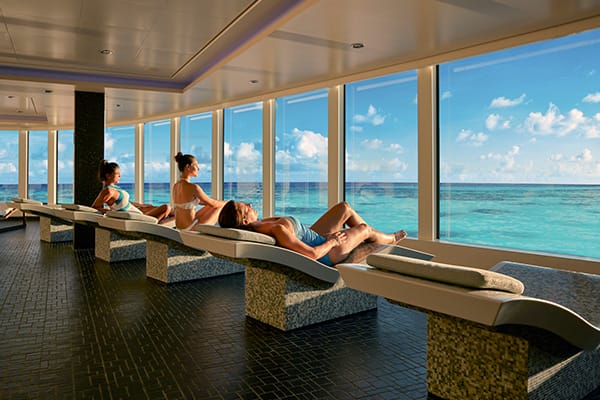 Mandara Spa: Traveling with the family is full of joy and memorable moments. But a little "me-time" never hurt anybody. Take an hour off with massages, facials, or acupuncture services among the many relaxing treatments offered at Mandara Spa. On select ships you will also find the Thermal Suite, a quiet, relaxing area inside the spa where you will find the sauna, jacuzzi, steam rooms and other relaxing features.
Ocean View Yoga: If you're an early riser, enjoy the morning sky with a walk around the top deck to get your day going. Then sign up for an ocean view yoga class for a Zen start to your day.
Cirque Dreams and Steam: Step into the Illusionarium theater for a spectacular entertainment experience. This all-new fusion of explosive creativity, astounding acts and steampunk costumes will indulge you in a spectacle of grandeur and wonder.
Howl At The Moon: Bring your friends and your favorite song requests for an unforgettable musical journey. This is Howl at the Moon, the world's greatest rock 'n' roll dueling piano show.
Cagney's Steakhouse: This American-style steakhouse offers choice cuts at sea. Take your pick from premium choice cuts of Angus beef, which pairs perfectly with truffle fries.
Just for Adults:
Spice H2O's Adult-Only Pool: Take a break in this adult-only lounge and pool area with hot tubs, soothing waterfall features, bar, and relaxing ocean views.
Vibe Beach Club: Guests 18 and over can purchase a pass to enjoy a private retreat with a full service bar, large hot tub, chilled towels, and luxurious chaise loungers.
Casino: Feeling lucky? Anyone over 18 years of age can place their bets at poker machines or table games at Norwegian's award-winning Casinos at Sea.
The Whole Family Will Love:
Spacious Accommodations: Norwegian's spacious family accommodations offer multi-room suites or interconnecting staterooms, with most ships offering two-bedroom family suites and all ships offering family mini-suites, balconies and ocean view staterooms near kids' areas.
Family Meals: Before breaking off into everyone's preferred activities, plan to meet for breakfast, lunch or dinner in one of the Main Dining Rooms for a complimentary four-course menu that's sure to satisfy every picky palate. If you're in the mood for Specialty Dining, La Cucina offers large portions that are perfect for family style dining, so everyone can get a taste of the delicious Italian offerings. And for those who want a casual dinner, you can't ever go wrong at the Garden Café, which features foods from around the world, themed nights, a burger bar and more.
Outdoor Activities: With pools, water slides, and a sports complex on deck, this fleet has options for every member of the family. Choose to flex your muscles on an outdoor adventure or simply lounge poolside.
Shore Excursions: This is the time to make memories and nothing could be more memorable than setting up a shore excursion for the whole family, like swimming with the dolphins in the Caribbean, dog sledding in Alaska, or even exploring the Mayan ruins. Plan your shore excursions ahead of time for the best chance at booking your top selections.
Whether you're 8 or 80, there's no reason not to have fun on your getaway at sea. Each ship has a variety of fun activities for the whole family, so be sure to check your ship before you cruise to view what's available. And if you're in need of a babysitter for the night, supervised group babysitting is available for kids ages 3 - 12 by Norwegian's certified youth staff. So a romantic night is totally on-the-books even if the kids are on-board.