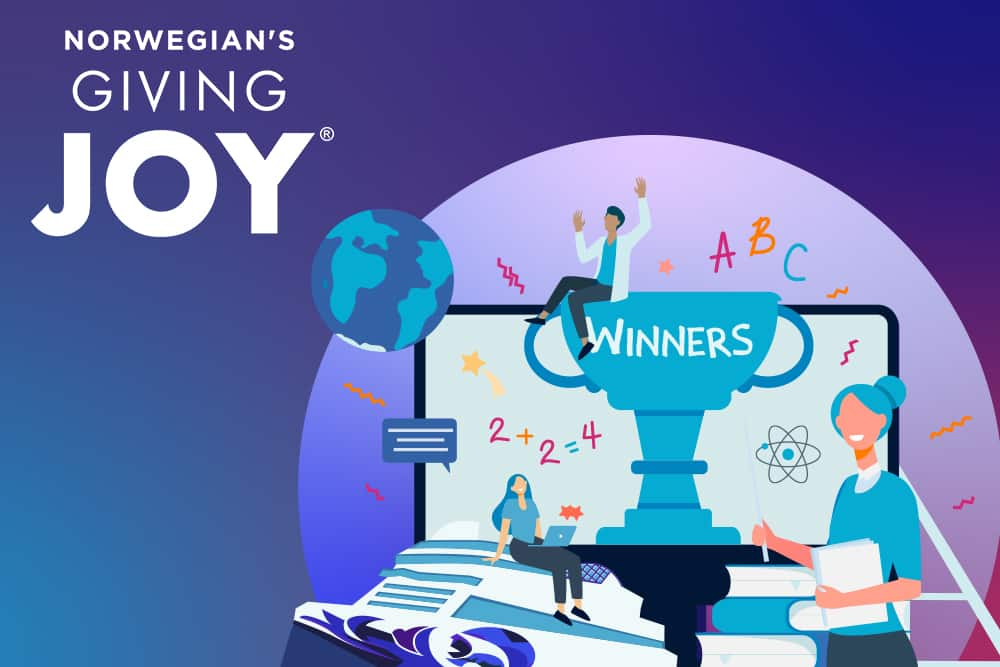 Norwegian Cruise Line has some pretty incredible news to share with 20 educators across North America! Winners have been chosen for Norwegian's Giving Joy contest, our annual recognition program that has been celebrating outstanding teachers since 2019 for their hard work and relentless dedication.
The 20 educators that have won a seven-day cruise for two sailing from U.S. and Canadian ports will have the flexibility to select a sailing through 2024. In addition, the top three grand prize winners are also invited to attend the exclusive four-day christening voyage for Norwegian Viva!
During the christening event in Miami on Nov. 28, winners will also have the opportunity to enjoy exclusive performances by five-time Latin GRAMMY® winning artist and Godfather of Norwegian Viva, Luis Fonsi, along with other leading Latin entertainers, including The Queen of Latin Pop, Paulina Rubio; "Saturday Night Live" cast member and Miami-native, Marcello Hernandez; and singer, Pedro Capó to celebrate the ship's milestone.
"On behalf of all of us at Norwegian Cruise Line, we congratulate this year's winners and nominees who have gone above and beyond to demonstrate an unwavering commitment to their calling as educators, and in doing so have left a lasting positive impact on their students, schools and broader communities," said David J. Herrera, President of Norwegian Cruise Line. "We look forward to welcoming this year's winners aboard for a well-deserved cruise vacation."
Norwegian's 2023 Giving Joy contest drew support for over 3,400 teachers across the U.S. and Canada and garnered over hundreds of thousands of votes with winners from California, Florida, Illinois, Louisiana, Maryland, Massachusetts, New York, Ohio, Puerto Rico, Tennessee, Virginia, and Washington.
Without further ado, the grand prize winners are:
Ryan Price from Buckingham Collegiate Charter Academy in Vacaville, Calif.
Carolyn Reardon from James Otis Elementary School in Chicago, Ill.
Angelo Mirante from Lakewood High School in Arlington, Wash.
Norwegian Cruise Line's Giving Joy program highlights the synergies between travel and education, celebrating and commemorating the commitment that teachers demonstrate in enlightening young minds. Since 2019, Norwegian's Giving Joy contest has awarded over 250 educators with a free cruise vacation and donated over $350,000 to local schools and teachers with the support of its brand partners.
Congratulations to all of the winners and to learn more about the 20 winners and their heart-warming stories, click here.