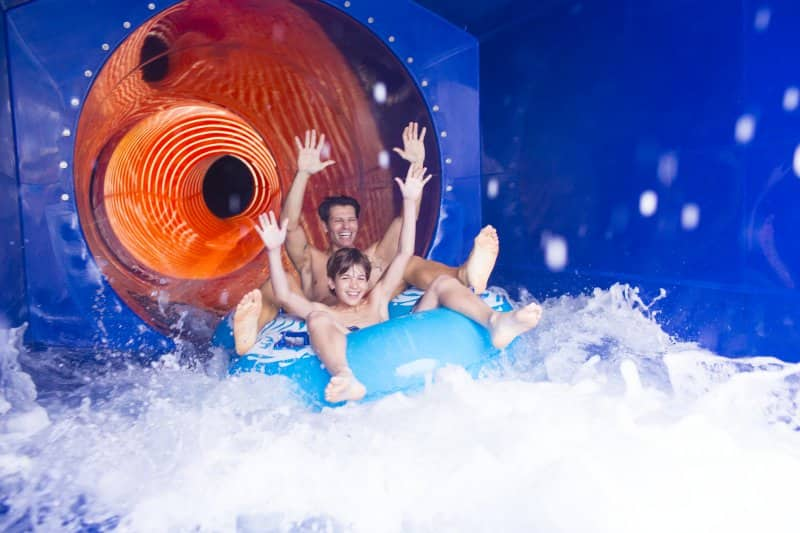 Cruising done right can be a very thrilling adventure. There are many fun things to do on a cruise as you sail the seas on one of our Norwegian Cruise Line ships. Besides traditional Sports Deck features like soccer, basketball, dodgeball, or volleyball, you can feel like a super athlete by partaking in one of our more non-traditional activities like rock climbing with your family or friends. Our multi-level Sports Complex offers many opportunities for you to challenge others to a friendly game or get your workout in before you hit one of our many buffets.
Onboard Thrills to Experience on Your Next Cruise
#1. Scale the Rock Climbing Wall
Feeling adventurous? Our rock climbing wall will keep you busy as you scale 20 feet above the deck. You'll need a lot of strength for this obstacle as you choose the smoothest path on the way up. I hope you had lots of protein for breakfast! Getting to the top of the wall not only gives you an amazing view and a sense of accomplishment, it also tones muscles and lets you work on your upper body strength so that you don't feel so guilty lounging around poolside the rest of the day.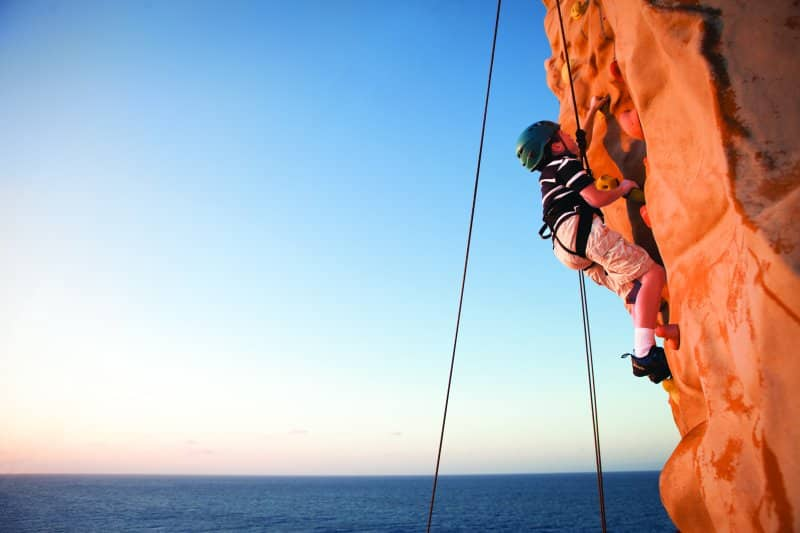 #2. Make a Splash at the Aqua Parks
Looking to cool off after a sweaty sports session? Come visit our thrilling Aqua Parks, where you can cruise down water slides, relax in the hot tub, or swim in the pool. Whether you're taking a 200-foot "Epic Plunge" down one of our highest water slides or splashing around with your kids at the water park, you're guaranteed to have a thrilling good time.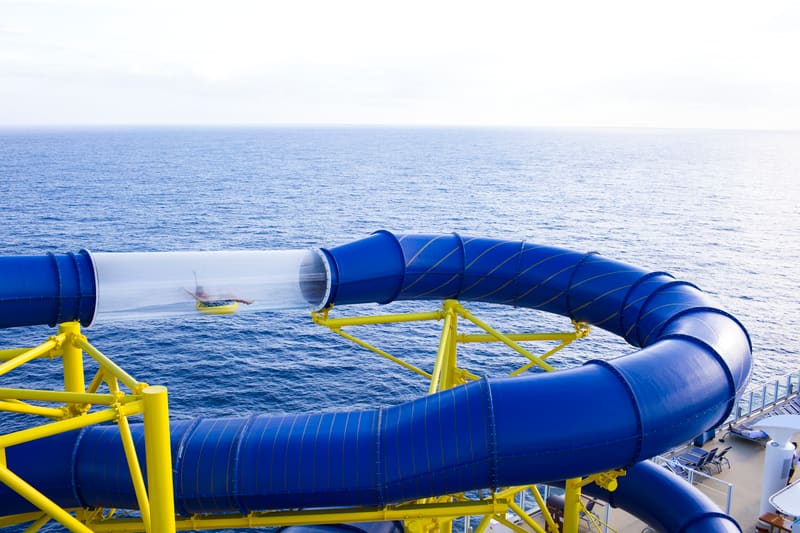 #3. Take on the Ropes Course
If you want to test your balance and agility, the Ropes Course is for you. The multi-level course consists of over 40 obstacles that challenge your dexterity and equilibrium. This is not for those who fear heights, as it consists of rope ladders, balance beams, and several bridges high above the ground. Some bridges are wobblier than others, so walk at your own risk!
You get an amazing view of the ocean and of the ship deck as you make your way through the obstacles and travel through the course. There is also a zip line on the course allowing you to swing from platform to platform, in case you want that extra adrenaline rush. At the end of the Ropes Course is The Plank, an obstacle certainly not for the faint of heart.
#4. Walk the Plank
Voted "Best Onboard Thrill" by Porthole Magazine, The Plank lets you walk out high above the ocean (strapped in a harness for safety, of course), turn around, and walk right back. If you always wanted to know what being on a pirate ship was like, some of our ships offer the full high seas captive stowaway experience with The Plank, where you balance above open water 8 feet from the ship. The Plank consists of a narrow board just as wide as your feet. It's quite the adrenaline rush, considering you are on a moving ship and the wind is usually loud and roaring as gusts blow by.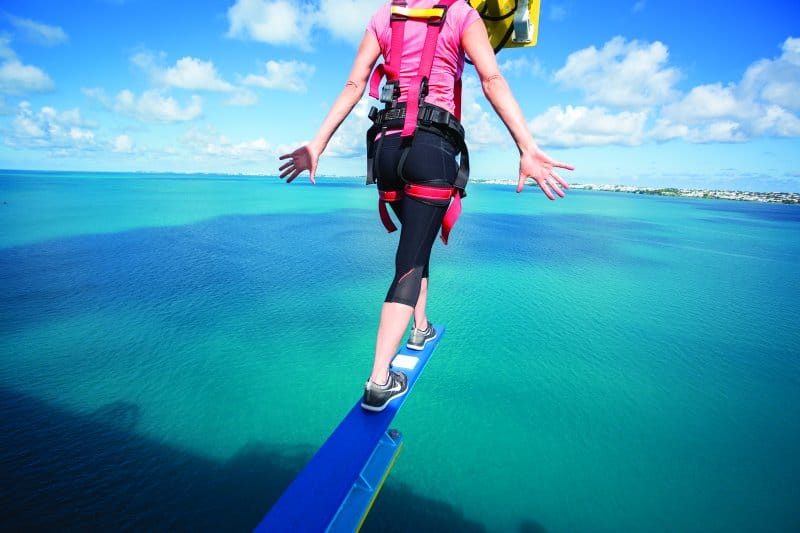 #5. Imagine Bliss
Speaking of thrills, there's no shortage of adventure coming up on our newest and most incredible ship, Norwegian Bliss, sailing seasonally to the Caribbean, Alaska, and select voyages to the Mexican Riviera beginning in 2018.
Whoosh out over the side of the ship on Ocean Loops in our Aqua Park. Zoom around hairpin turns on the largest racetrack at sea. Or take aim at the stars with our galactic laser tag. No matter which thrill you seek, there's always something to get your heart pumping on our top deck.
#6. Unwind
After a full day of thrills, you can unwind with a game of mini golf, perfect for the kids and those who would rather opt out of such high adrenaline activities. Enjoy a game on a beautiful sunny afternoon on deck with the family as you wait for dinner or a show. You can also enjoy some bowling in one of our bowling alleys, complete with funky lighting and neon balls. You'll feel as if you have been transported to a futuristic discotheque as you soak in the high-energy atmosphere.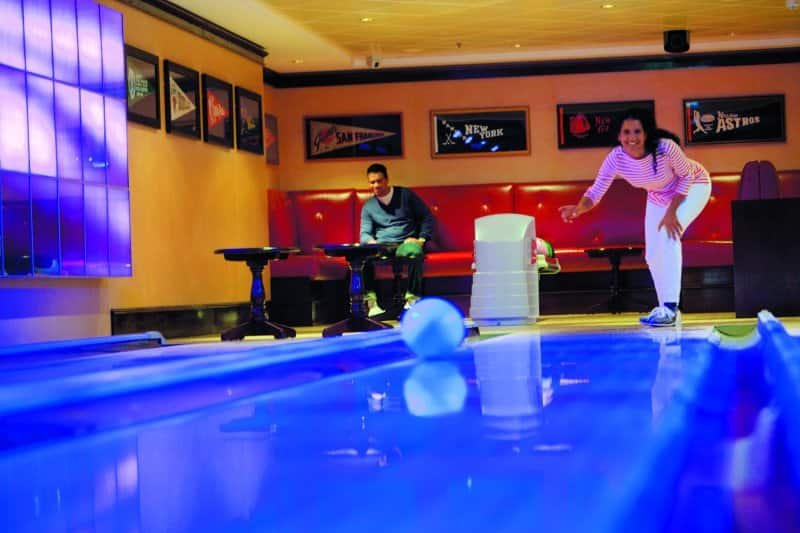 Whatever activities you choose to enjoy during your stay aboard one of our Norwegian Cruises, we guarantee you will have a wonderful time you will remember for years to come. Have a memorable visit by making the most of the thrills we offer.