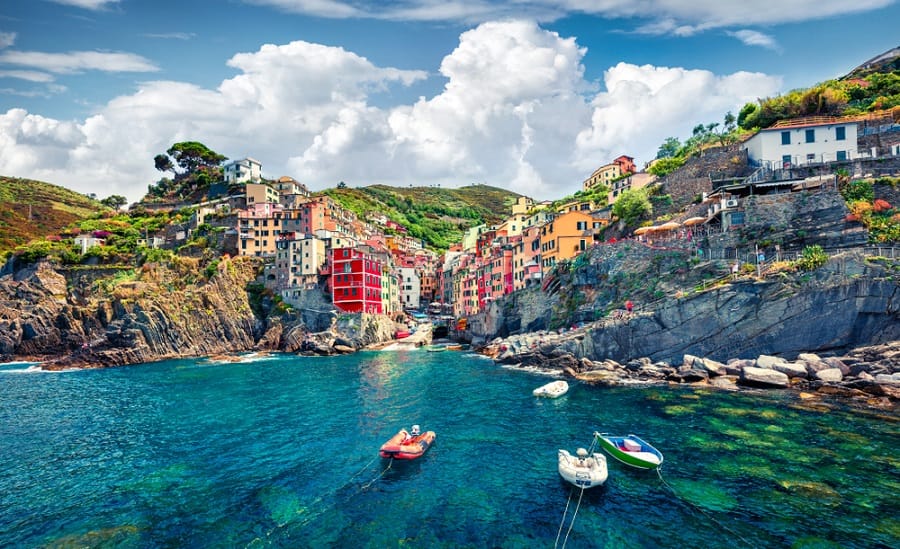 If you're an art lover and are looking to plan your next vacation, consider booking a cruise with Norwegian Cruise Line where you can spend every port day touring some of the world's most famous art museums. Here's a look at some of the best 2020 cruises for art lovers.
12-Day Italy, France and Spain: The Rivieras Cruise from Rome
Book a Norwegian Mediterranean cruise like the 12-Day Italy, France and Spain: The Rivieras from Rome that will allow you to visit some of the most iconic art museums and galleries in the world. Some of these include:
Vatican Museums: Start with Rome you'll want to spend at least your morning in the Vatican Museums, where you can see an enormous collection of iconic works of art, including Michelangelo's Sistine Chapel.
Galleria Borghese: Rome's Galleria Borghese was designed to house Cardinal Scipione Borghese's huge collection of Baroque, Renaissance, and Roman art. It also has Bernini sculptures and paintings by Raphael, Caravaggio, and Titian.
The Uffizi Gallery: The Uffizi Gallery in Florence is one of the most well-known museums in the world, with its collection that includes works by Michelangelo, da Vinci, Titian, Botticelli, and more.
The Louvre: The Louvre is the world's largest art museum and a must-visit for art aficionados when they arrive in Paris.
Museu Picasso: When you dock in Barcelona, head to the Museu Picasso, where you can see 3,800 of Picasso's works.
Fundació Joan Miró: Also in Barcelona, this museum is dedicated to Joan Miró's works and houses Miró's entire collection of graphic art and more.
Tate Britain: This renowned art museum is one of the largest in the country and houses British art dating back to 1500. Since you disembark in London, you'll have the opportunity to extend your trip and fully explore the city's numerous art galleries and museums.
9-Day Scandinavia, Russia & Baltic Cruise from Copenhagen
Head to Northern Europe on Norwegian's 9-Day Scandinavia, Russia & Baltic cruise that starts in Copenhagen to explore a different European art scene. Scandinavia, the Baltic States, and Russia are all home to a number of important art museums as well as public art spaces. Some of the best museums you can visit on this itinerary include:
The State Hermitage Museum: In St. Petersburg, don't miss the Hermitage Museum, which houses nearly 3 million works of art. The works span the classical to the modern periods. Even if you spend only a minute in front of each piece, it would still take over seven years to see the entire collection in the Hermitage.
Fabergé Museum: If you've ever wanted to see a real Fabergé egg, you'll also want to pay a visit to the Fabergé Museum in St. Petersburg.
Pergamonmuseum: The Pergamonmuseum in Berlin is a UNESCO World Heritage Site, with its five institutions devoted to archeology and art. You'll find a number of ancient treasures here, including the Pergamon Altar, after which the museum is named. The Pergamon Altar dates back to 180-160 B.C. and is a masterpiece of Hellenistic Art.
Fotografiska: In Stockholm, you'll find Fotografiska, which is one of the largest collections of photography in the world.
Moderna Museet:Contemporary art fans will want to go to this Stockholm museum, as it houses one of the largest collections of 20th-century art. You'll find works by Dali, Picasso, Matisse, and more.
22-Day Greece, Israel, & Egypt From Dubai
Combine old-world history with art on this 22-day Greece, Israel & Egypt cruise from Dubai. Here's a look at some of the museums that art lovers can visit on this amazing itinerary:
Louvre Abu Dhabi: This is the largest gallery in the Arabian Peninsula, housing a collection of artworks from around the world.
Museum of Islamic Art: Cairo's Museum of Islamic Art houses one of the best collections of Islamic art in the world.
Museum of Modern Egyptian Art: At this Cairo museum, you'll find the largest collection of 20th- and 21st-century Egyptian works of art in the country.
Haifa Museum of Art: Israel's Haifa Museum of Art has steadily climbed the ranks and is one of the top museums in the country.
Tikotin Museum of Japanese Art: You wouldn't expect to find a huge museum devoted to Japanese Art in Israel, but it exists in Haifa. The Tikotin Museum of Japanese Art has around 7,000 pieces of arts and crafts from Japan.
Museum of Cycladic Art: When you're in Athens, the Museum of Cycladic Art offers more than the art of the Neolithic precursors to the Greeks. You'll find more recent Greek and Cypriot art, as well.
When you're in Dubai, be sure to seek out one of the many popular art galleries in the area. Some host rotating exhibits, while others are more interactive spaces.
Choosing the Art Cruise That's Right for You
There are a number of great Norwegian cruises planned for 2020 and 2021 that will take you all around the world and introduce you to art in destinations you might never have considered. Whether you are looking to enjoy the Mediterranean or would prefer a Northern Europe itinerary, Norwegian has the right itinerary for you. To learn more about special offers and upcoming deals for booking a cruise, be sure to sign up for emails and visit our Cruise Deals page.