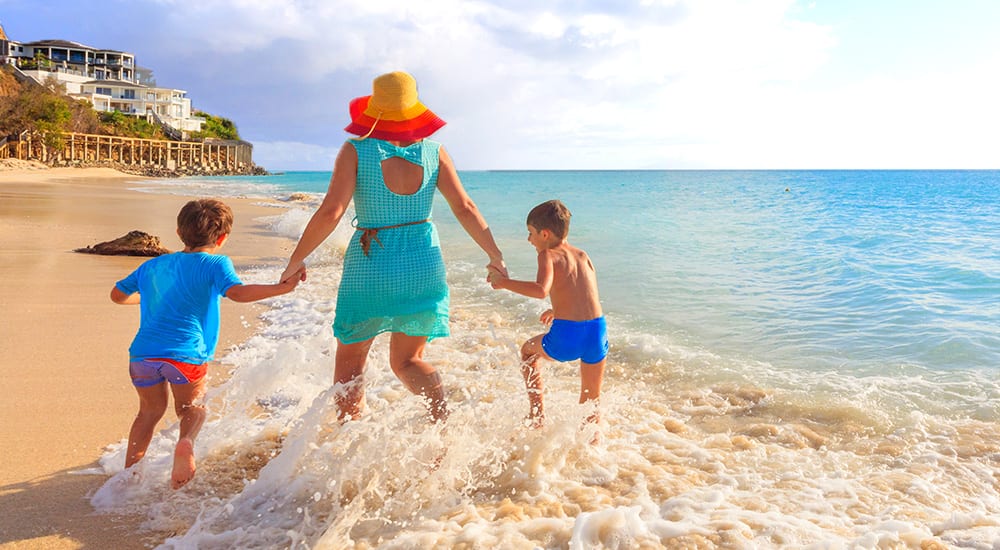 It should come as no surprise that one of the primary draws for people to visit the Caribbean is its beaches. Whether you are cruising in the Eastern, Western, or Southern Caribbean, you'll visit at least one port where you will want to take advantage of a day on the beach. Here is our list of the ten best beaches in our Caribbean cruises.
Condado Beach, Puerto Rico
Puerto Rico is a beautiful island with many secluded beaches. However, you don't have to go too far out from San Juan to enjoy a wonderful beach experience. Just 10 minutes by taxi from Old San Juan is Condado Beach, one of the best beaches in The Caribbean. Condado Beach is not the quietest, most secluded beach around, but there are ample hotels, restaurants, and nightlife lining the shore. This is the beach to be at if you want to be in the middle of everything. Perfect for a coastal escape before a cruise embarking in San Juan.
Jalousie (Sugar) Beach, St. Lucia
Set between the Pitons, the two lush green peaks that symbolize St. Lucia, Jalousie Beach, or Sugar Beach, is one of the most stunning beaches in the Caribbean. Jalousie is public, but much of the access is part of the ultra-exclusive Viceroy Sugar Beach Resort, so be sure to arrive via a water taxi to Jalousie Bay where you can enjoy the beach, snorkeling, and views.
Cockleshell Bay, St. Kitts
Cruisers looking to relax on the beach may at first think they need to find a luxury resort and hope they can score a guest day-pass for the beach. But if they do so, they'll miss out on Cockleshell Bay, one of the best beaches in St. Kitts. Cockleshell Bay is a two-mile-long, secluded stretch of beach, with powder-white sand and a stunning view of Nevis Island. The beach is very safe for swimmers. Along the shore, you can find plenty of amenities, such as a beer shack and reggae bar, or just lay out a towel on the soft sand.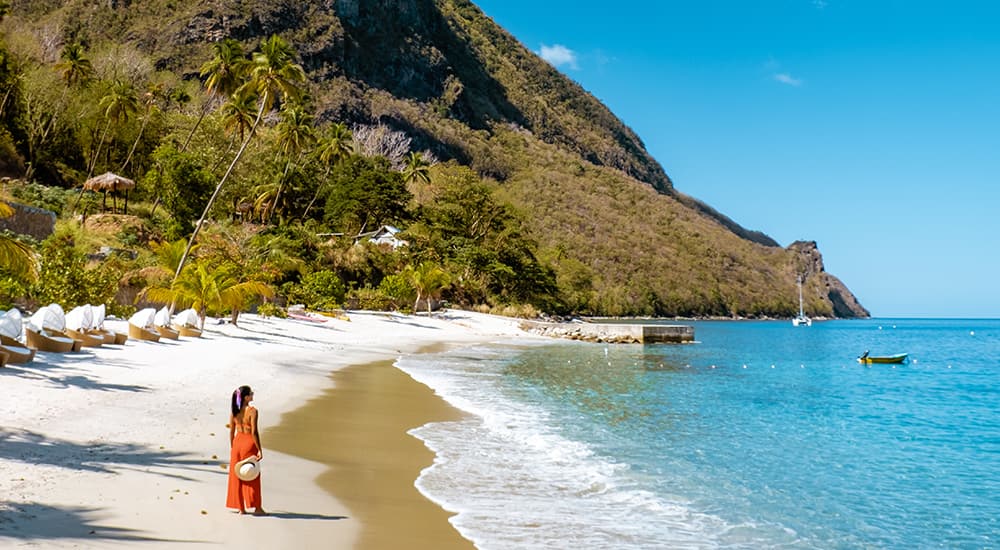 Ffryes Beach, Antigua
There are 365 beaches on Antigua, one for each day of the year, so it's hard to pick just one. Ffryes Beach is a beautiful powdery-sand beach that is far less crowded than the more popular Dickenson Bay beach. Ffryes Beach is accessible by taxi or bus, and has a restaurant and beach bar, as well as amenities such as sun loungers and changing facilities.
Magens Bay Beach, St. Thomas, U.S. Virgin Islands
While many cruisers to St. Thomas opt to take a ferry across to Trunk Bay Beach in St. John, this isn't something that needs to be done to find a beautiful beach. Magens Bay Beach is a one-mile crescent of white-sand on the north coast of St. Thomas, in the Magens Bay Park. This beach provides calm, swimmable water, fine white sand, and shade-providing palm trees.
Harvest Caye, Belize
Harvest Caye, Norwegian Cruise Line's private island retreat off the coast of Belize, has an outstanding beach, as well as loads of other amenities for visitors to the island. Harvest Caye's swimming pool is a massive draw for guests, as are the Nature Park wildlife experience and Kids Splash Pad. Or, more adventurous visitors will enjoy the opportunity to paddleboard, kayak, or embark on the ropes course and zip line back from the lighthouse. On the seven-acre beach, the further from the pool you venture, the less crowded it becomes.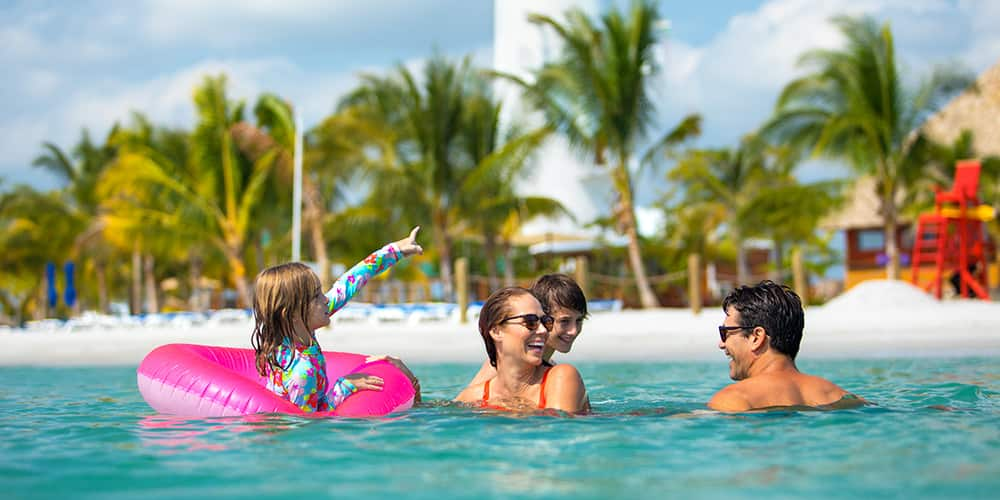 Fiesta Beach, Great Stirrup Cay, the Bahamas
Although Great Stirrup Cay isn't technically in the Caribbean, many of our Southern Caribbean cruises include this gem of a stop as you head back home. If you're looking for a little more privacy, venture a little further into Great Stirrup Cay and you will reach the white sands of Fiesta Beach. Its slightly more remote location provides a extra serenity for visitors to the Cay, which is the first island ever to be turned into a private cruise port, back in 1977. Fiesta Beach offers plenty of chairs for guests to enjoy, and you can also rent snorkel gear, kayaks, or paddleboards for the day if you want to explore the crystal-blue waters, including the underwater sculpture garden.
Seven Mile Beach, Grand Cayman
Grand Cayman's Seven Mile Beach is a mainstay of "Best Beach" lists, due in part to its mix of sapphire-blue waters, beach bliss, adventure activities, and opportunities for island fun. The beach is 5.5 miles long, and you will find something for every beach lover along this stretch. Relax and take in the sun, join in a game of beach volleyball, rent a Jet Ski, kayak, or paddleboard, snorkel in Cemetery Reef, or enjoy some local food or a cocktail at one of the many beach restaurants or bars.
Eagle Beach, Aruba
Eagle Beach in Aruba is continuously rated as one of the top beaches in the world. The beach is quiet and serene, with beautiful views of the sunset with the iconic Divi Divi trees silhouetted against a kaleidoscope of colors in the sky. Eagle Beach is truly one of The Caribbean's most magical beaches.
Trying to decide which Caribbean cruise is right for you? Before you book, be sure to enter your email and sign up for Norwegian's cruise deals to have the latest specials and news delivered right to your inbox.
Tulum Beach, Riviera Maya, Mexico
Tulum Beach is not the largest beach in The Caribbean, but what it lacks in size, it makes up for in history. Tulum Beach lies in the shadows of the Tulum Maya ruins, a walled city located on the cliffs overlooking the sea. You can easily reach Tulum via a 45 minute ferry from Cozumel.