Aside from your personal belongings, Norwegian Cruise Line provides just about everything you need to make the most of your cruise holiday, from food and entertainment to shopping and onboard activities. But it's always important to prepare for anything and everything when planning a cruise on the high seas. Unlike holidays on land, if you forget something, it's not super easy to swing by a store to pick up what you need.
If you're like a lot of people, packing for your first cruise is both an exciting and daunting task. Heck, even seasoned cruisers often find it hard to decide exactly what to pack for a cruise. Where do you even begin? Do you need formal wear? Is one pair of shoes enough? Don't fret. It's a lot simpler than you think to pull together the essentials without going overboard - pun intended. Keep reading to learn helpful cruising tips and tricks and to find out what to pack for your first cruise.
Quick Cruise Packing List
Summer dresses
Skirts
Capri Pants
Shorts
Jeans
Blouses
Caps or hats
Khakis
Jeans
T-Shirts
Bathing suits
Sunglasses
Light sweater
White outfit

Flip Flops
Closed-toed shoes

Small umbrella
Sunscreen and insect repellent
Light jacket
Lined bag for wet items

Chargers
Battery-powered nightlight
Travel adapter
Health kit
Extra hangers
Air freshener
Bedside fan
Alarm clock
Clothing
Deciding which clothes to pack tops the list of concerns for most cruisers. Norwegian's Freestyle Cruising concept is all about giving you the freedom to choose how you cruise and that includes the clothes you wear. Thanks to Norwegian's laid-back dress code, feel free to dress casual just about anywhere on the ship. Casual wear for women includes summer dresses, skirts, capri pants, shorts, jeans, and blouses. For men, khakis, jeans, shorts, and T-shirts work well in just about every situation.
Kick things up a notch if you plan to eat in the main dining rooms or upscale specialty restaurants. This means no shorts, ball caps, or sandals for men. Most cruisers pack twice as many clothes as they need, so think carefully about the activities you want to do and wear whatever makes you feel comfortable.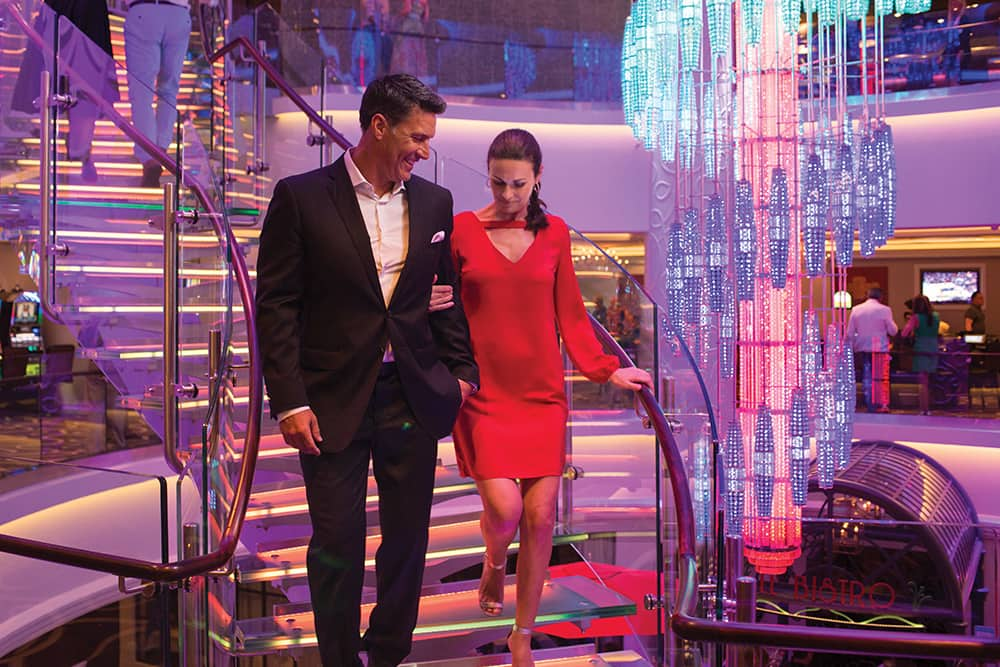 Proper Footwear
Planning to live in your flip-flops for your entire cruise vacation? Take note of any special footwear requirements for shore excursions. Often you need to wear closed-toe shoes for certain activities, such as zip lining or horseback riding. If you're hiking through forested areas, proper footwear protects your feet from potential snake bites and other obstacles. Some cruise ship activities such as the ropes course on Breakaway and Breakaway Plus ships also require closed-toe shoes.
In Europe, many countries feature beautiful cobblestone streets that pose a tripping hazard. It's pretty common to stub your toes on loose or uneven stones. Keep in mind that you won't get a refund on your excursions if you don't have the proper footwear, so come prepared.
Weather-Appropriate Gear
Headed to The Caribbean? Thanks to year-round sunny skies and crystal waters, it's unlikely you'll encounter anything other than swimsuit weather. Fill your bag with bathing suits, sunscreen, sandals, and cover-ups, and you're good to go. Still, it's important to check the weather before packing your bags. If the forecast calls for rain, toss an umbrella and a light jacket in your carry-on bag just in case.
If your cruise includes ports in Europe or Canada, temperatures often vary from day to night and even from one day to the next, so it's especially important to know what to expect and pack appropriately. No matter the forecast, always pack a light sweater to wear on the ship. Air conditioning often creates quite the chill in the dining rooms, theater, and other indoor spaces.
Theme Clothes
Norwegian knows how to throw a party, and many parties include an awesome theme. From disco dancing to eighties events, avid cruisers love to get dressed up while the DJ spins era-appropriate tunes. Known as the hottest party on the high seas, Norwegian's iconic GLOW party is one of the most anticipated theme events on any Norwegian cruise. Consider packing an all-white ensemble to wear as you dance the night away.
Enjoy dressing up? While Norwegian doesn't offer any official formal nights, Norwegian's Night Out gives you the chance to don your finest attire - or not. The choice is yours. If you do decide to dress up, it's a perfect chance to get a portrait with family and friends or even the ship's captain while looking your best.
Stateroom Staples
Norwegian's staterooms offer everything you need for a relaxing home away from home during your cruise vacation. But you'll want to pack a few extra items to make the most of your cozy cabin and maximize comfort. Make sure you pack chargers for all your electronic devices. Most staterooms only have one North American electrical outlet and one European outlet, so bring along an outlet adapter to make use of both options. Also, pack a small surge protector that allows you to charge multiple items using the same outlet at the same time.
One of the best cruising tips for first timers is to create a health kit with basic first-aid supplies. Also include any over-the-counter medications you typically use to ward off tummy troubles, colds, motion sickness, and other issues. It's often a challenge to find your favorite products at sea or in port. Other stateroom essentials include extra hangers, an air freshener, a bedside fan, a portable nightlight, and an alarm clock.
If you're not sure what to pack for your first cruise, follow these helpful cruise packing tips to get you started. For more great ways to prepare for your cruise vacation, download the Cruise Norwegian app before leaving home. Use the app to pre-book onboard activities, dining reservations, shore excursions, entertainment, and much more.
Once you board the ship, the app offers you the ability to chat and message with other guests on the ship, view your account and track onboard purchases, and access the daily schedule of activities. Be sure to also sign up for emails from Norwegian to get the latest cruise news, learn more cruising tips and tricks, and find out about the best deals.