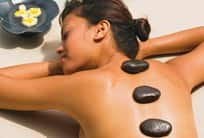 Mandara's Hot Stone Heaven
This indulgent and therapeutic massage uses the power of touch and aroma with heated Basalt stones to soothe away stiff and sore muscles. In Polynesia it's believed that the river rocks harness the healing power of the water that flows over them. As your therapist massages your body with the stones, you'll believe they're right.
Elemis Aroma Spa Seaweed Massage
Combining the power of the ocean with the healing effects of aromatherapy, this treatment is excellent for soothing aches and pains, fibromyalgia, arthritis and sore muscles. A heated seaweed mask containing a warming blend of essential oils is applied to your body before you're cocooned in a comforting foil wrap. As you relax, you'll receive a scalp and foot massage, followed by your choice of a half or full body massage.
Mandara Spa Ritual
This wonderfully relaxing ritual will delight you from the soles of your feet to the tingling top of your scalp! Combining the Elemis Pro-Collagen Marine Facial for skin vitality with our sublime Elemis Deep Tissue Muscle Massage or Swedish Massage, this ritual will refresh your spirit and strengthen your vital energies.
Mandara Keep It Simple
Your choice of a 50-minute Swedish Massage, Couple Massage or Sports Massage.
Bali-Press
Balinese remedy for stress relief. Fingers, elbows and palm pressure stimulate, relax and soothe acupressure points and energy meridians - done with a Mandara twist!
Earth, Wind & Sky
A soothing neck, scalp and face massage followed by hand and foot reflexology. Feel like you're floating in heaven.
Mandara Dream Time
Swedish style massage with a Mandara difference.
Seven Seas Massage
Can't decide which massage to do? Why not allow our therapist to incorporate a combination of massage techniques from around the world?
Mandara Four Hands Massage
This is Mandara Spa's signature treatment. Two therapists working on you simultaneously, in synchrony - and in serene silence... The ultimate indulgence!