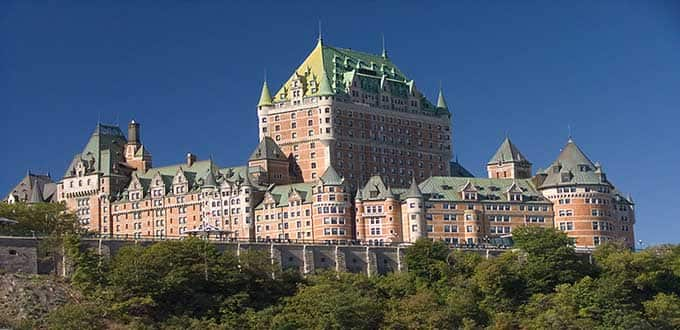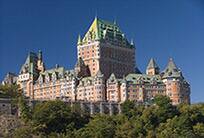 Grand Exploration Of Quebec
Cidade de Québec, Québec
Duração de 7 1/2 h
On this tour you'll experience the best of both the city of Quebec and the surrounding countryside. Perched high above the St. Lawrence River, your tour will include a stop at Dufferin Terrace and Chateau Frontenac, where you'll have an opportunity to independently visit the surroundings of the Chateau Frontenac and take in the spectacular view of the St. Lawrence River, Ile d'Orleans and the Laurentian Mountains from Dufferin Terrace. Passing through the St. Louis Gate, you will explore the National Battlefields Park, site of the historic battle where the French surrendered to the British in 1759. A photo stop will be made at Cap Diamant before continuing to the heart of the lower town and the beautifully restored market square, Place Royale.
Within minutes of the Old Walled City of Quebec are the beautiful pastoral landscapes of the Island of Orleans and Montmorency Falls. Cascading down a 272-foot cliff, Montmorency Falls is one-and-a-half times as high as Niagara Falls. Take a step back in time as you cross the bridge to the Ile d'Orleans, where you will enjoy a scenic drive passing the tip of the Island and the lovely 19th-century resort homes of Quebec's rich merchant class with spectacular views of the skyline of Quebec. Located along the infamous Beaupre Coast, your journey takes you along the Chemin de Roy (King's Road) to the world-renowned shrine of St. Anne de Beaupre. With over one-and-a-half million visitors and pilgrims making their way to the shrine each year, St. Anne has become one of the most important Catholic sites in North America. You'll enjoy lunch at a beautiful setting in the countryside of Quebec.
O que é preciso saber:
Note: Walking at the different stops is mostly on level ground, with some cobblestone streets. There are 20 steps to reach the basilica, 20 steps at the memorial chapel and 85 steps at the Scala Santa.
Adultos a partir de: R$ 941,12
Crianças a partir de: R$ 783,39
Refeição