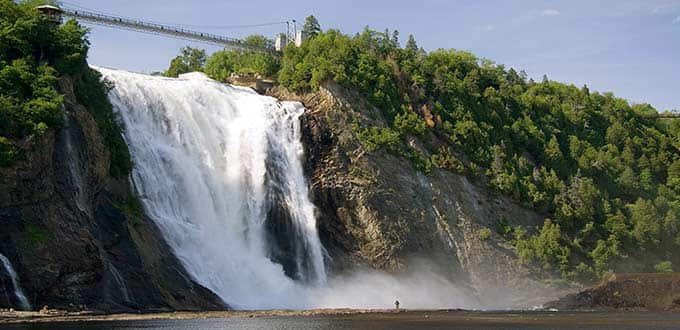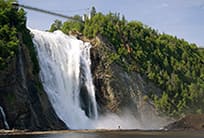 Countryside of Quebec Ending at Quebec Airport
Cidade de Québec, Québec
Duração: 4 h
Experience the splendor of French Canada's countryside as you drive into the foothills of the Laurentian Mountains to the renowned Lake Beauport area. Surrounded by emerald forests, a photo stop will be made to view the beauty of the lake and mountain scenery. Continuing toward the Beaupre Coast, a stop will be made at the magnificent Montmorency Falls. Cascading down a 272-foot (83 meter) cliff, Montmorency is one-and-a-half times as high as Niagara Falls. Coffee, tea and pastries will be served in the Montmorency Manor.
Take a step back in time as you cross the bridge to the Ile d'Orleans where you'll take a scenic drive through the picturesque villages of traditional rural Quebec. Passing the tip of the island, see the lovely 19th century resort homes of Quebec's rich merchant class with spectacular views of the skyline of the city. The Quebec area is well-known for its production of maple syrup therefore, during the tour you'll have the opportunity to visit an authentic sugar shack, learn about the production of the island's maple products and sample the sweet maple taffy.
O que é preciso saber:
Note: You'll have free time to walk the nature trails along the falls. Guests are responsible for ensuring their debarkation tours are compatible with their flight departure times. This tour does not necessarily drop off at all Norwegian Cruise Line program hotels, please check with the Shore Excursion staff onboard as to which hotel drop-offs are available. Guests have the option to book their flights through our Premium Air Department to ensure that flight departure times do not interfere with debark tours. Alternate location is possible for tea service.
Adultos a partir de: R$ 521,05
Crianças a partir de: R$ 342,11
Desembarque