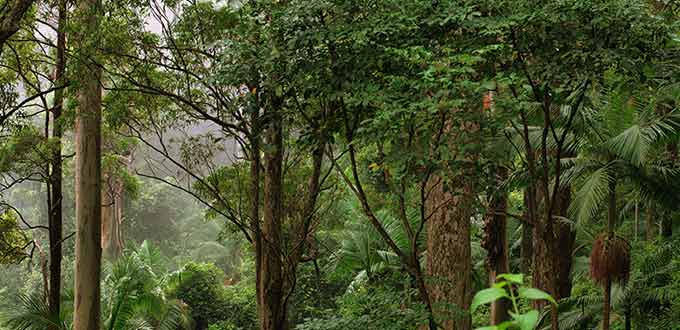 Mt. Tamborine, Winery & Crafts
Brisbane, Austrália
Duração: 8 h
You'll first be treated to a brief tour of Brisbane's highlights before leaving the city behind and traveling along winding roads to the base of Lamington National Park and the beautiful surroundings of the Gold Coast.
You'll visit the Rainforest Skywalk and Eco Discovery Centre and upon arrival you'll have free time to explore the center and choose from a variety of walks through the rainforest. You can begin on the spectacular elevated walkway through the middle and upper canopies of the rainforest. The walkway is a stable, steel structure allowing you to explore the canopies safely. As you descend into the lower canopy, there are points of interest that include rock pools and waterfalls, a butterfly lookout and local history enclosure.
Enjoy lunch at an authentic Aussie pub offering an incredible view over the valley. Travel a short distance to Gallery Walk at Eagle Heights, an artistic center that boasts a variety of craft shops and galleries, as well as numerous cafés. Whether you are looking for a special gift or something unique to take home as a memento, you'll no doubt find it here. From here, your coach will next make its way to a local winery for a wine tasting. As you travel through this magnificent National Parks region, you will be afforded spectacular panoramic views of the Gold Coast and brilliant blue Pacific Ocean.
O que é preciso saber:
Note: Tour operates with a driver/guide.
Adultos a partir de: R$ 1.267,90
Crianças a partir de: R$ 1.267,90
Refeição