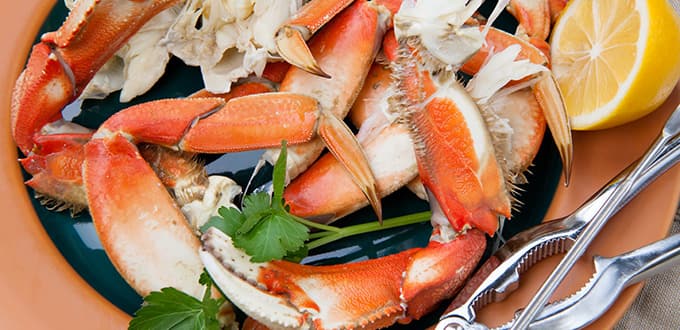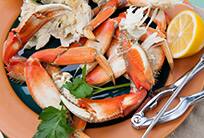 World Famous George Inlet Lodge Crab Feast
Ketchikan (Ward Cove), Alaska
Duration 3 hrs
Follow a spectacularly scenic coastal road to the historical George Inlet Lodge for a classic Alaskan crab feast. Being one of the few highways in this part of Revillagigedo Island, it is surrounded by natural beauty that makes the drive all the more memorable. Upon reaching the waterfront George Inlet Lodge, you will be served an entrée of steaming-hot Dungeness crabs. These tasty crustaceans are caught in the chilly waters of the Pacific Ocean and have become synonymous with Alaskan dining. The meal includes plenty of other local specialties such as smoked salmon dip and a dessert topped with seasonal blueberries. Afterwards, you might browse the remote lodge, which has quite the history. It was originally built in the 1940s as a salmon cannery bunkhouse. When the cannery closed decades later, the bunkhouse was transported about 90 miles up the George Inlet waterway to its present location, which was once the site of a gold mine.
HIGHLIGHTS
• Feast on Dungeness crabs and other Alaskan delicacies at the George Inlet Lodge.
• Enjoy the waterfront setting of the remote lodge and learn a bit about its history.
• Drive along a coastal road and admire the stunning natural beauty.
HELPFUL HINTS
• Dress in weather-appropriate clothing.
• Wear flat comfortable walking shoes.
Need to Know:
Note: It is available to guests with limited mobility who utilize a collapsible wheelchair, can make their way on and off the coach and have a companion to assist them. Shuttle is provided for those without the ability to navigate the stairs.
Adult from: C191.64 CAD
Child from: C191.64 CAD
Meal

Family