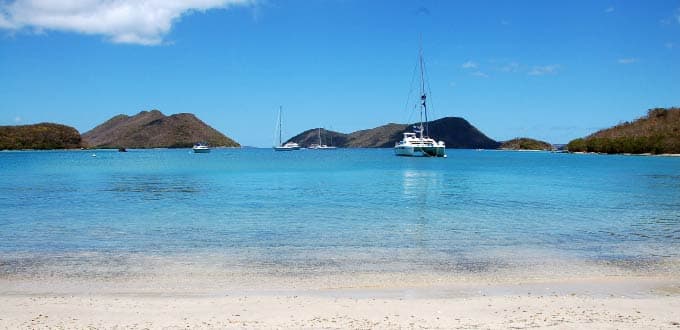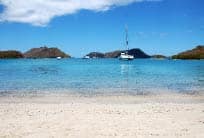 St. John Champagne Catamaran Sail & Snorkel
St. Thomas, US Virgin Islands
Duration 4 1/2 hrs
Sail across Pillsbury Sound to the enchanting island of St. John on a catamaran and then snorkel in the turquoise waters just offshore. All that is required of you is to sit back and relax as the catamaran glides along the eastern end of St. Thomas and continues to St. John, the most pristine of the U.S. Virgin Islands. In time, you will arrive at Honeymoon Beach within the Virgin Islands National Park. You will be free to snorkel, stroll along the sugar-white beach and relax as you see fit. You might stretch out on a beach towel, linger in the shade of a coconut palm and swim in the sea with nothing on your mind other than enjoying yourself. On the return cruise to St. Thomas, the champagne will be flowing and an array of cheeses, freshly baked breads and fresh tropical fruits will be served.
HIGHLIGHTS
Sail on a sleek catamaran to neighboring St. John, half of which is a national park.
Snorkel the crystal-clear waters off Honeymoon Beach on the island's western edge.
Bask in the sun, relax on the beach and delight in the natural beauty.
Celebrate the adventure with a tropical beverage from the open bar on the return cruise.
Need to Know:
Note: Wear your swimsuit, and bring a towel and sunscreen. Participants must be at least 6 years of age and weigh no more than 350 lbs. Guests must be able to navigate a six-step ladder through a hatchway to access the restroom on board. There are several steps required to enter and exit the water. Guests entering the water must be able to reboard the vessel without assistance. Alternate snorkel site may be used based on weather and sea conditions. Snorkeling equipment including snorkel vest, professional instruction, and supervision are provided. Alcoholic beverages are served after snorkeling. Participants must be at least 21 years old to consume alcohol. Guests who go ashore do so with the understanding that they will be mixing with members of the general public.
Adult from: C153.19 CAD
Child from: C127.45 CAD
Family Recommended

Age

Weight