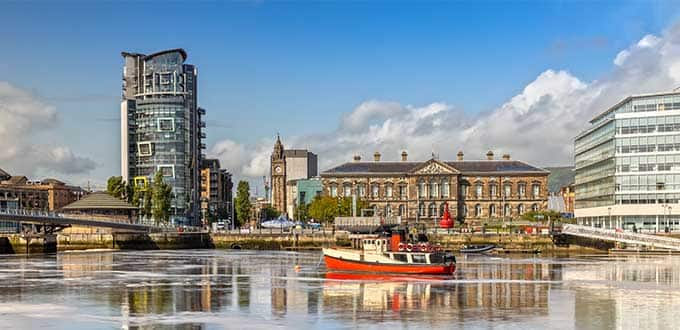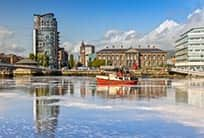 GL- Belfast Food Trail
Belfast, Northern Ireland
Duration 4 hrs
Gain a greater understanding of Northern Ireland and its culture by following a foodie guide through Belfast, pausing every so often to sample classic dishes and delicacies.
After departing from the pier, you will soon reach the heart of Belfast, where you will commence a walking tour, accompanied by a local food enthusiast. The exact locations to be visited will be determined the day of the excursion, but they will definitely be establishments that best represent the cuisine of Northern Ireland. These will be the markets, restaurants and cafés that the locals frequent, rather than those typically found in guide books.
You may well start at St. George's Market, the oldest covered market on the entire island of Ireland. While browsing the stalls and soaking up the atmosphere, you will sample delicacies that are distinctly Irish. You may be offered a chunk of fried eel or a bite of Belfast bap, a hearty sandwich typically loaded with Irish bacon, scrambled eggs and cheddar cheese.
Continuing on to other foodie locales, you might try a few spoonfuls of colcannon, a mixture of mashed potatoes, cabbage, cream and butter. Of course, potatoes appear in all sorts of classic dishes such as Irish stew, Ulster fry and boxty, a tasty potato pancake.
Other Irish staples that you may sample include fluffy soda bread and wheaten farls. The latter is a griddle cake that is served in quarters known as farls.
Need to Know:
Note: This tour includes approximately 3 hours of moderate walking/standing; there will be some inclines and some uneven surfaces to negotiate. The tour is not available to wheelchair guests and may not be suitable for those with mobility concerns who are cautioned to carefully evaluate their personal level of stamina and ability. Weather appropriate clothing; sun cap; sunglasses; and flat, comfortable non slip walking shoes are recommended.
Adult from: C358.84 CAD
Child from: C358.84 CAD
Meal