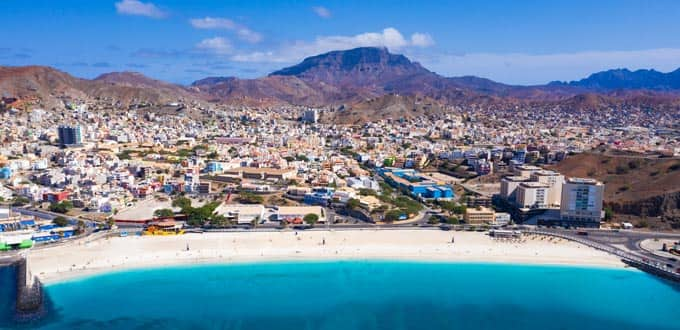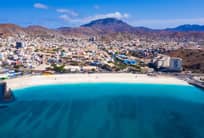 Island Discovery
Porto Grande, Cape Verde
Duration 5 1/2 hrs
Experience the island's natural attractions by hiking through a picturesque valley, swimming in a volcanically formed lagoon, and gazing over the landscape from high atop a mountain.
Depart from the pier in Mindelo, the island's cultural capital, and follow a scenic route inland toward Mato Ingles, a charming village founded by English traders in the 19th century. Here, in the serenity of the beautifully stark countryside, you'll enjoy a hike along a flat path through a rather dry valley. The island's interior is noticeably barren, a characteristic that only adds to its drama and visual appeal. Still, there are some small farms scattered about the valleys, growing crops such as corn, potatoes and beans.
Driving on to the eastern shore, you'll visit Praia Grande, a large crescent-shaped beach. Be sure to note the wonderful contrast between its white sands and the backdrop of black lava mountains. While taking in the spectacle, enjoy a glass of "pontche," a traditional island cocktail made with sugar-cane molasses and "grogue," the national liqueur of Cape Verde. More stunning scenery awaits you at Baia das Gatas, which means Catfish Bay, where you may swim in the sheltered lagoon formed by volcanic eruption centuries ago. Then, linger over a hearty traditional lunch at a nearby restaurant.
Re-boarding your coach, you'll make your way up Monte Verde, a mountainous nature preserve that lies just a few miles east of Mindelo. During a photo stop here, you'll be treated to some amazing panoramic views. As you make your way back to the pier, you'll be able to view more beaches and villages.
Need to Know:
This tour includes a hike of approximately 75 minutes, at times over uneven and stony natural surfaces. It is not available to guests who utilize a wheelchair or guests with mobility concerns. Participants should be in good physical condition. Cape Verde has limited tourist infrastructure. Transportation is usually via buses or mini-buses that do not have air-conditioning or microphones and are used at other times as public transportation on the island. Some of the roadways have uneven surfaces. There will be no narration during the driving portions of the tour, and there will likely be a separate guide at each stop along the way. Except at the restaurant, there are no restroom facilities available on this tour.
Adult from: C211.25 CAD
Child from: C211.25 CAD
Meal