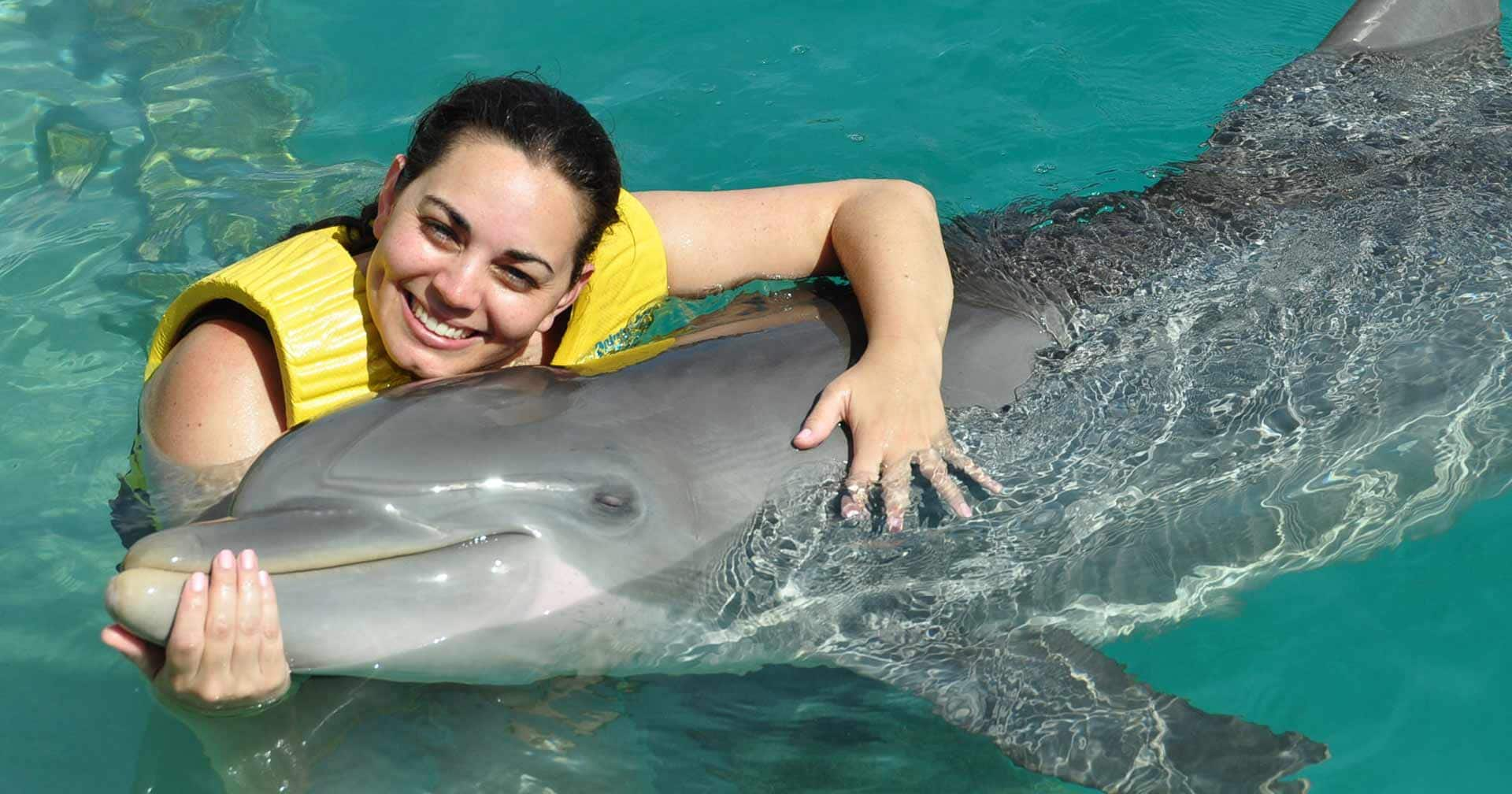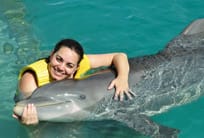 Dolphin Swim & Ride All Inclusive
Cozumel, Mexico
Duration 3 1/2 hrs
This tour was awarded Trip Advisor's Certificate of Excellence for three consecutive years - 2017, 2018 and 2019! Swim with the world's most fascinating creatures in a tropical atmosphere for a 40-minute dolphin swim, complete with an exciting belly ride, enjoy unlimited food and drinks, snorkel with tropical fish in the natural aquarium and venture out to the ocean for kayaking and paddle boarding.
You'll meet your guide outside your cruise ship for an approximate 5-minute taxi ride along the coast to the facility. Upon arrival, you'll attend a 10-minute interactive orientation session so you can learn more about the dolphins' history, physiology and anatomy. Then make your way to a waist-deep platform in the waters of the lagoon to immerse yourself in the magical underwater world of the bottlenose dolphins. As you head into deeper water, you'll be given a snorkel mask to see how the dolphins turn, glide and hurl themselves high into the air. Hold on tight during the famous belly ride! You can grab onto a dolphin's fins while racing across the water at top speeds for a thrilling experience.
Relax after your dolphin swim and take full advantage of everything the facility has to offer. Stop by the palapa restaurant for lunch with the family and cool off with alcoholic and non-alcoholic beverages. Kids and adults alike will love Serenity Cove, a safe inlet with snorkel equipment where you can swim through an underwater aquarium filled with tropical fish! Head out to the ocean for fun-filled activities like kayaking and paddle boarding. Tour includes all food, beverages, snorkeling, kayaking, and paddle boarding. Photos, souvenirs, towels, and lockers are at an additional charge. After your tour, you can walk into downtown Cozumel for some shopping before heading back to the dolphin entrance where your transportation will take you back to the ship.
Need to Know:
Note: Participants must be at least 4 feet tall. Children under 4 feet tall must be accompanied by a parent/guardian. All participants must know how to swim in deep waters. Minimum age to snorkel is 5 years old and the minimum age for kayaking and paddle boarding is 10 years old, accompanied by an adult or guardian at all the time. Guests with neck or back injuries or pregnant women are not allowed. For the safety of the dolphins, remove sunscreen, jewelry, hats, and glasses. Guests must be 21 years of age to consume alcohol. Cameras are not allowed while participating in the water. Snorkeling, kayaking, and paddle boarding activities are offered at the site on a first-come, first-serve basis and are subject to cancellation due to weather conditions. The optional activities have no monetary value in the event of weather cancellation. Dolphin observer ticket available for purchase onboard. Guests who go ashore do so with the understanding that they will be mixing with members of the general public.
Adult from: C215.83 CAD
Child from: C175.11 CAD
Age

Height

Family Recommended

Meal