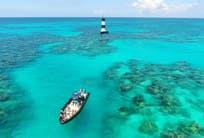 Snorkel Safari
Port militaire de la Royal Naval, Bermudes
Durée : 2 h
Zip through Bermuda's turquoise waters in a RIB boat and then snorkel a protected coral reef that is teeming with marine life.
After departing from the pier in the Zeus, a Rigid Inflatable Boat better known as a RIB, you will race towards a prime snorkeling spot. The 42-foot vessel is designed for high speeds and yet provides a remarkably smooth ride. Being so speedy, the vessel can cover a wide area quickly, so you will see a surprising variety of scenery in just a short time.
Once you are about three miles offshore, the RIB will anchor, so you snorkel in the crystal-clear waters. You can expect to see a variety of brilliantly colored fish such as bluehead wrasses, yellowtail snapper and honeycomb cowfish. Also, look for long slender trumpetfish, which often float in a vertical head-down position to conceal themselves in the coral.
Keep an eye out for hawksbill and green turtles, too. The latter is the most commonly seen turtle in Bermuda, and they typically graze in the seagrass beds.
After snorkeling, the on-board bar will open for the exhilarating return ride to the pier. There is no better end to your adventure than to settle into a seat with a cool drink in hand and take in the spectacular views.
Bon à savoir :
Note: Minimum age to participate is 5 years. Guests should be recreational swimmers and comfortable with deep water to participate. Guests with cardiac conditions, asthma, diabetes, epilepsy, other heart or respiratory conditions or other medical condition, take particular caution when selecting a tour with snorkeling/swimming elements.
Must be able to climb ladder back into the boat from deep water.
Guests with mobility issues would have a hard time navigating onboard and over the side into the water. Wheelchairs (collapsible or electric) scooters are not permitted.
Adult from: C132.55 CAD
Child from: C92.38 CAD