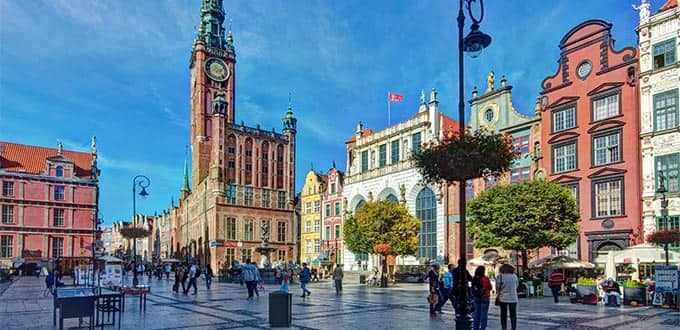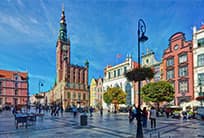 Highlights of Gdansk
Gdingen​​​​​​​, Polen
Dauer 5 1/2 Stunden
Your tour begins with a scenic transfer to Gdansk. En route, you will drive through the small town of Oliwa passing the Abbot's Palace and gardens and the beautiful Oliwa Cathedral, located on the grounds of a former Cistercian monastery.
Next, you will Pass by the Gdansk Shipyard and the Solidarity Monument Square with its famous monument commemorating the deaths of shipyard workers shot down in December 1970. Arriving at Gdansk's old town, the historic heart of the city, you'll leave your coach behind and commence a guided walking tour that begins near the Golden Gate, a grand ornamental arch that once allowed access through the medieval city's defensive walls.
Continue along Long Street, lined with marvelous buildings decorated with elaborate facades crowned by myriad ornate gables. Pass the Town Hall, Long Market and the beautiful 15th-century merchants' palace of Artus Court. Pause at Neptune's Fountain to admire this monumental symbol of Gdansk's Hanseatic past and its connection with the sea before walking down to the waterfront. Then turn up Mariacka or St. Mary's Street, which delights its visitors with its lively atmosphere, quaint shops and lovely terraced buildings.
The pride of Gdansk, Gothic St. Mary's is the world's largest brick church, accommodating some 25,000 worshippers. Situated in the center of Old Town, this medieval church took 159 years to build, and its deceivingly plain exterior belies a bright, spacious interior with large windows and more than 30 beautifully decorated chapels. The high altar displays a lovely polyptych, the floor is covered with ancient tombstones and the northern transept holds an amazing 15th century astronomical clock, complete with the zodiac cycle and a calendar of the saints.
Following some free time to do a bit of exploring or shopping on your own, you will rejoin your coach and transfer back to the ship.
Wissenswertes:
Note: This tour includes approximately 2 hours of easy to moderate walking plus any additional walking at the guests' discretion during free time.
Erwachsene ab: € 53,02 EUR
Kinder ab: € 53,02 EUR