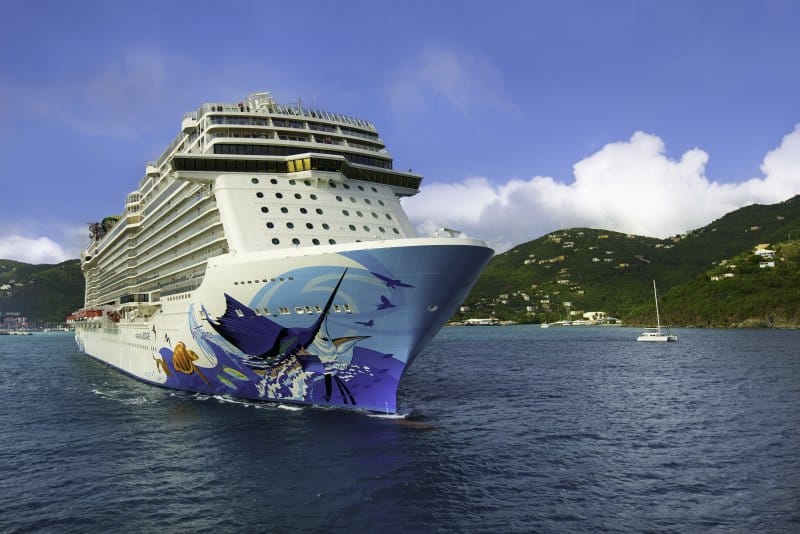 Looking to take a dive into one of Norwegian Cruise Line's freestyle cruises? If so, Norwegian Escape is a great place to start. This magnificent boat has been in service since 2015, providing thousands of eager cruisers with the chance to see the world. If you're considering a first-time cruise on Norwegian Escape, here is everything you need to know about the ship that was voted 2017 Ship of the Year by Ocean & Cruise News.
1. There Are 25 Dining Options.
You read that right. There are 25 distinct places to catch a bite to eat. For many travelers, that's more than their local hometown. Whether you're craving a quick bite to eat on your way to the pool or a more luxurious atmosphere to celebrate your cruising adventure, Norwegian Escape has it all. Hit up O'Sheehan's Neighborhood Bar and Grill for relaxed pub fare or head to Taste for culinary delights to please your palate. You can even order room service 24 hours a day if you get the munchies before bed.
Of these 25, 11 are specialty dining options not included in your complimentary dining plan. However, if you feel you'll be eating at them a lot, you can purchase a specialty dining package that gives you multimeal access to these exclusive eateries.
2. There Are 14 Bars and Lounges.
Naturally, after you satiate your hunger with one of the many dining options, you'll need a cocktail or two to liven up your night. Luckily, you'll have no shortage of access to your favorite alcoholic and nonalcoholic drinks with 14 different bars and lounges to choose from. Stop by Prime Meridian, aptly named because of its close proximity to three separate restaurants, for a pre-dinner drink. Or head to Spice H20 if you're looking to escape the kids — it's an adults-only environment.
Drinks on Norwegian Escape are pay as you go, however, you can invest in several beverage packages depending on your needs. Choose the soda program to get unlimited access to soda fountain drinks, the Corks and Caps package for unlimited access to wine and beer, or the Premium Beverage Package to get access to wine, beer, and cocktails.
3. There's a Quarter-Mile Promenade.
When cruising, don't you wish you could just stroll along the water in a peaceful and serene setting? That's exactly what Norwegian Escape's quarter-mile oceanfront promenade provides. Called The Waterfront, this promenade offers first-class amenities all within walking distance.
Gaze upon the sparkling waters of whichever ocean you happen to be cruising at the moment or take a pit stop at one of the nearby bars or restaurants. The Waterfront truly mimics the look and feel of an exclusive boardwalk, and it's a great place to watch the sunset every night.
4. There Are Seven Different Live Shows.
If you're going on a seven-day cruise, you'll have a new show to watch every night. These seven shows cover everything from musicals to comedy acts. Most are complimentary and included in your stay. There are two shows, however, that require a ticket fee — "The Choir of Man" and "Wine Lovers The Musical."
"The Choir of Man" provides high-energy dancing to classic rock songs that will get you bobbing back and forth in your seat. If you'd like something a little more comical, "Wine Lovers The Musical" provides plenty of laughs while also serving you up six wine tasters paired with a fitting lunch.
5. There Is a Snow Room.
When you hear the word cruise, you probably aren't thinking arctic temperatures. However, that's just what the snow room in Norwegian Escape provides. As soon as you enter this icy, 14-degree chamber, the immediate drop in temperature triggers blood circulation through the body. A visit to this tundra pairs well with a sit in the sauna beforehand to give your body a good temperature shock. Watch as real snow falls to the ground, and warm up again afterward with a complimentary cup of coffee or tea.
6. There Is a Ropes Course.
Just because you're on a cruise, doesn't mean you can't get a little workout in. This three-story ropes complex was built for adrenaline junkies. You'll have the choice to blaze down five different Sky Rail zip lines which extend out over the ocean waters, or you can try to walk across one of two sky-high planks without panicking. Overall, there are 99 different challenges you can try on this ropes course, meaning you'll never run out of adventures to experience on your cruise.
7. It Goes Everywhere.
Unlike some cruise ships that just stick to one or two itineraries, Norwegian Escape hits pretty much every corner of the world. Choose from cruises to the Bahamas and Florida, Bermuda, Canada and New England, The Caribbean, or Europe. This freedom to cruise anywhere makes Norwegian Escape a great option if you're not entirely set on your destination. Check out some of the upcoming itineraries to see if there's a cruise that fits your needs:
The Norwegian Escape is replete with hidden amenities and the only way to discover them all is to book your cruise. Check out cruise stories from past guests of Norwegian Escape to see what their favorite attractions were and start preparing for your cruise so you're ready for the best experience of your life.