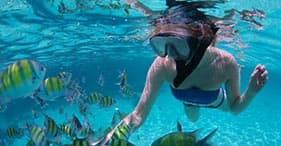 Barrier Reef Snorkel
Snorkel the azure waters of Belize's Barrier Reef, the world?s largest living barrier reef. This is a shallow water entry, well suited for beginners and intermediate snorkelers.
Starting from
ADULT $99.00
CHILD $79.00
Approx. Duration
2 1/2 hrs
This tour has specific age requirements.

This tour has specific weight requirements.