12-Day Grand Mediterranean from Venice

Voted "Best Midsized Ship for Value for Money" - Cruise Critic
Specials
Specials
Choose two;
FREE Ultimate Beverage Package
FREE Shore Excursion Credit
FREE Specialty Dining for Five nights
FREE 250 Minutes of WiFi
Freestyle Choice
Starting From
$ 899
USD
Avg Per Person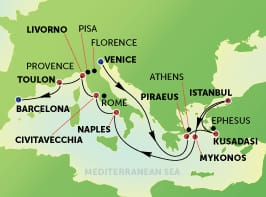 Experience timeless culture within these richly historic cities aboard an unforgettable 12-Day Mediterranean vacation. Enjoy a gondola ride as you're serenaded through the waterways of Venice, have a taste of classic Margherita pizza in Naples, visit the Vatican Museum in Rome, and do some shopping in charming Provence before completing your journey in the architecturally stunning city of Barcelona.
Day
Cruise Ports
Arrive
Depart
Day 1
Venice, Italy (EMBARK)
---
11:00 pm

You could start a discussion about Venice by praising its restaurants, wine bars, marble churches or blown glass. But you probably won't. You'll likely start with the fact that Venice is built on water. It is a place where people either float slowly down palace-lined man-made waterways or stroll down narrow alleyways. There's no more extraordinary place to find yourself, or lose yourself. Be sure to stay in Venice before your next European cruise.

More Details

Close

Day 2
At Sea
---
---
Day 3
At Sea
---
---
Day 4
Athens (Piraeus), Greece
7:00 am
5:00 pm

This is the cradle of civilization, the oldest city in Europe. Not only is this city home to the Acropolis and some of the most important architectural structures and archaeological finds in the Western world, It is also a very modern city, an urban amalgam of extraordinary art, culture, cuisine and shopping. Explore more of Athens on a

European

cruise!

More Details

Close

Day 5
Ephesus (Kusadasi), Turkey
7:00 am
2:00 pm

Ephesus (Kusadasi), Turkey

Take a journey into the past in richly historic Ephesus. Once an ancient Greek city, Kusadasi was known for the famed Temple of Artemis, one of the Seven Wonders of the Ancient World. Built, destroyed, and rebuilt again through several notably historical periods, Ephesus boasts abounding ruins and archaeological excavation sites. View what remains of the Roman Library of Celsus, the Gate of Augustus, the Tomb of John the Apostle, and the Basilica of St. John, among several other ancient remnants.

More Details

Close

Day 6
Istanbul, Turkey
9:00 am
7:00 pm

There's a new aura of excitement in Istanbul these days, as this center of the Ottoman empire has become one the world's focal points for art, fashion, haute cuisine and nightlife. Of course there's always an abundance of ancient monuments and grand mosques with stunning frescoes to see here, like the Hagia Sophia and Blue Mosque. Head to any park and you'll see why tulips have long been the symbol of this city. Explore more of Istanbul on a

European

cruise!

More Details

Close

Day 7
Mykonos, Greece
1:00 pm
9:00 pm

Mykonos is a classic Greek Island with whitewashed houses, blue-domed churches and windmills. Add a reputation for beautiful beaches and you'll understand why Mykonos is the most popular island in the Cyclades. Explore the island in a 4 x 4 or take a ferry to the tiny island of Delos. Explore more of Mykonos on a

European

cruise!

More Details

Close

Day 8
At Sea
---
---
Day 9
Naples, Italy
8:00 am
7:00 pm

Cruise to Naples, located on Italy's stunning Amalfi coast, a city rich in history. A tour around Naples' grand piazzas, cathedrals and castles in the old center will take you back centuries. Pompeii is not too far either, a dashing city which boasts diverse cultural offerings and charming streets. Explore more of Naples on a

European

cruise!

More Details

Close

Day 10
Rome (Civitavecchia), Italy
8:00 am
7:00 pm

Rome (Civitavecchia), Italy

Endless adventures await in Rome. With two and a half thousand years of history, art and culture, it is no wonder Rome is one of the most visited cities on the planet. Gaze at the masterpieces of the Vatican or walk into the past with visits to ancient relics, historic monuments and legendary museums. Or people-watch while sipping on an espresso in a quaint cafe.

More Details

Close

Day 11
Florence/Pisa (Livorno), Italy
8:00 am
7:00 pm

Florence/Pisa (Livorno), Italy

How lucky to visit the Tuscan region, Florence & Pisa, resplendent in art and history. What's even more fortunate is that all the main attractions in Florence are centrally located for the perfect walking tour. See Santa Croce, Piazza del Duomo and Michelangelo's David. Explore more of Florence & Pisa on a

European

cruise!

More Details

Close

Day 12
Provence (Toulon), France
9:00 am
5:00 pm

Provence (Toulon), France

Situated in Southern France on the Mediterranean Coast, Toulon is known for its military history and today remains as an important naval base. The old town of Toulon is the most charming neighborhood to walk around with streets adorned with small squares, fountains, quaint shops and cafes. You'll find the locals shopping the open-air Provencal market which is held on the Cours Lafayette every morning.

More Details

Close

Day 13
Barcelona, Spain (DISEMBARK)
5:00 am
---

The capital of Catalonia, and one of its provinces, Barcelona, is a place of palpable history, where you can lose yourself strolling down the medieval streets of the Barri Gotic. It's a city designed to delight the senses: visit other-worldly Modernista churches like Gaudi's La Sagrada Familia, or treat yourself at a street side cafe to Patatas Bravas or a Passion Fruit Mojito. Explore more of Barcelona on a

European

cruise!

More Details

Close
Please Note:
Disembarkation usually begins 2 hours after docking.
Due to security reasons, all guests must be on board 2 hours before sailing.
Itineraries are subject to change at any time without notice.
Check your specific sailing for exact departure and arrival times. All times are local to the port.