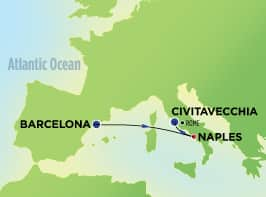 Day
Cruise Ports
Arrive
Depart
Day 1
Barcelona, Spain (EMBARK)
---
6:00 pm

The capital of Catalonia, and one of its provinces, Barcelona, is a place of palpable history, where you can lose yourself strolling down the medieval streets of the Barri Gotic. It's a city designed to delight the senses: visit other-worldly Modernista churches like Gaudi's La Sagrada Familia, or treat yourself at a street side cafe to Patatas Bravas or a Passion Fruit Mojito. Explore more of Barcelona on a

European

cruise!

Close

Day 2
At Sea
---
---
Day 3
Naples, Italy
7:00 am
7:00 pm

Cruise to Naples, located on Italy's stunning Amalfi coast, a city rich in history. A tour around Naples' grand piazzas, cathedrals and castles in the old center will take you back centuries. Pompeii is not too far either, a dashing city which boasts diverse cultural offerings and charming streets. Explore more of Naples on a

European

cruise!

Close

Day 4
Rome (Civitavecchia), Italy (DISEMBARK)
6:00 am
---

Rome (Civitavecchia), Italy

Endless adventures await in Rome. With two and a half thousand years of history, art and culture, it is no wonder Rome is one of the most visited cities on the planet. Gaze at the masterpieces of the Vatican or walk into the past with visits to ancient relics, historic monuments and legendary museums. Or people-watch while sipping on an espresso in a quaint cafe.

Close
Please Note:
Disembarkation usually begins 2 hours after docking.
Due to security reasons, all guests must be on board 2 hours before sailing.
Itineraries are subject to change at any time without notice.
Check your specific sailing for exact departure and arrival times. All times are local to the port.