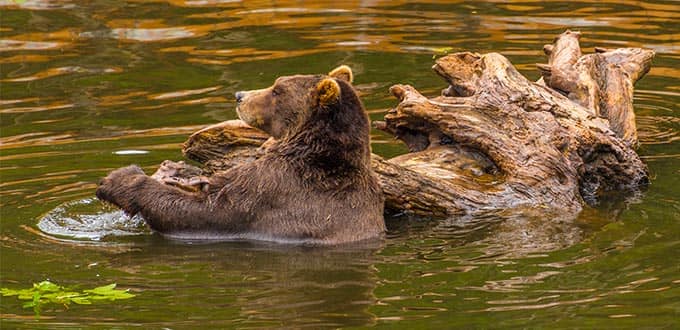 Alaska Bears & Silver Bay Homestead Adventure
Sitka, Alaska, USA
Dauer 3 1/2 Stunden
See how orphaned and displaced bears are rehabilitated in a rescue center and explore a remote homestead on a deep-water fjord. You will enjoy an up-close view of the animals at the Fortress of the Bear, where brown and black bears are typically in residence. The naturalists will elaborate on why the bears were brought to the center, their personality traits and their chances of being released back into the wild. The stories are inspiring, as many of the bears were once malnourished, injured or orphaned. Learn about the history of the area and look for wildlife while cruising through Silver Bay on your way to the Homestead. Living in the remote Alaska wilderness can be challenging for animals and people, as you will discover in more detail at a private homestead on Silver Bay. The same family has lived there for generations and are happy share their experiences as you tour the property and gather around a campfire. You can also expect to learn about the indigenous Tlingits that first settled the area.
HIGHLIGHTS
• Watch rescued brown and black bears in the Fortress of the Bear rehabilitation center.
• Hear how the bears have been brought back to health in hopes of releasing them.
• Cruise on a heated, expedition boat to a remote homestead on the deep-water fjord Silver Bay.
• Learn about the challenges of living in the Alaska wilderness.
HELPFUL HINTS
• Dress warmly in weather-appropriate clothing i.e. light rain jacket and layers.
• Wear flat comfortable walking shoes.
Wissenswertes:
NOTES: This tour is also conducted in reverse order. Bring light rain jacket, wear layered clothing and comfortable walking shoes. Boat is accessed on the dock. Guests may need to walk up or down a steep ramp. The boat is a heated expedition catamaran that has inside seating area with a restroom.
Erwachsene ab: € 237,51 EUR
Kinder ab: € 189,81 EUR
Imbiss