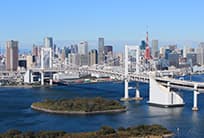 Tokyo Highlights with Haneda Airport Transfer
Tokio, Japan
Dauer 4 Stunden
Discover Tokyo and two of its traditional sights that coexist in stark contrast with tall futuristic skyscrapers and bustling city streets.
A 1-hour drive takes you to the center of Tokyo, a modern city where the 21st century coexists with the spirit of ancient Japan. Along the way, you'll see many of the city's landmarks.
Enjoy a visit Hama Rikyu Garden, an Edo Period Japanese garden surrounded by the Shiodome district's futuristic skyscrapers; a great example of how Japan is the land of contrasts. The garden was originally built as a feudal lord's Tokyo residence and duck hunting grounds during the Edo Period, but later served as a strolling garden and as an imperial detached palace before eventually being opened to the public in its current form. Hama Rikyu Gardens offer something beautiful at any season, as you'll find golden foliage during the fall, plum blossoms in late winter and cherry blossoms in spring.
A scenic drive through the city takes you to the Imperial Palace, surrounded by moats and massive stone walls, also in the center of Tokyo. The palace is built on the former site of Edo Castle. It is the residence of Japan's Imperial Family and is surrounded by a large park area. Although the Palace is not open to the public, from Kokyo Gaien, the large plaza in front of the Imperial Palace, you can view the Nijubashi, two bridges that form an entrance to the inner palace grounds. The stone bridge in front is nicknamed the Eyeglass Bridge for its looks and is one of the most recognized bridges in Japan. You'll have some free time in the square to explore a bit and take some memorable pictures.
After enjoying the sites in Tokyo, your coach will bring you to Haneda Airport for your flight back home.
Wissenswertes:
Note: Guests with international flights must be at the airport 3-hours before their flight time; for domestic flights, please allow 2-hours. Guests are responsible to ensure their tour is compatible with their flight departure time.
Erwachsene ab: € 111,20 EUR
Kinder ab: € 80,60 EUR
Ausschiffung