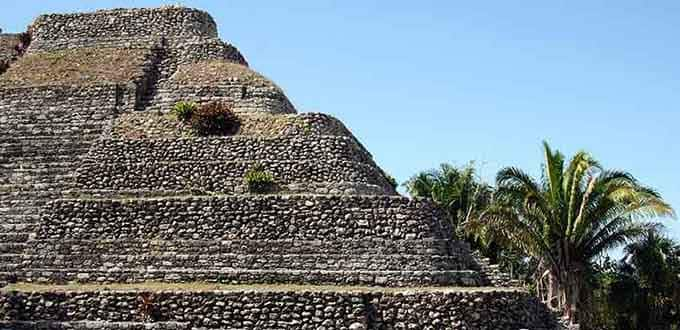 Chacchoben Mayan Ruins & All Inclusive Blue Lagoon
Costa Maya, Mexiko
Dauer 6 1/2 Stunden
Experience Mayan history and a jungle retreat with an open bar & buffet lunch. Your tour begins when your bilingual guide meets you at the end of the pier and escorts you to your air-conditioned transfer vehicle waiting on site. Listen to your guide and learn about the interesting local area and culture from onboard commentary as you pass through the fishing village. Continue this tour inland to visit "The Place of the Red Corn", Chacchoben, learn about the fascinating Mayan culture during the journey from our knowledgeable guides.
Enjoy a guided tour of this unique archaeological site set in beautiful surroundings still partially covered by the rain forest. Climb to the top of the "Gran Basamento" taking you above the tree line and visit two sacred temples. Before leaving, you will have the opportunity to buy souvenirs from shops on site. Your journey continues to a buffet lunch waiting for you at our Blue Lagoon Restaurant, the most beautiful lagoon with fresh water, located 20 minutes away from Chacchoben Mayan ruins. After your meal, sunbathe on a sun lounger, take a swim and enjoy all complimentary drinks including your favorite cocktails. Feeling fully relaxed, well-fed and in good spirits, your transfer awaits to return you to the ship. The color of the lagoon varies depending on the weather, season of the year, and time of the day.
Wissenswertes:
Note: Guests must be at least 21 years old to consume alcohol. Alcohol will be distributed under a watchful tolerance to everyone. An adult must accompany children under 18 years old.
Medical restrictions apply to guests wishing to swim at the lagoon. Guests with sight or hearing conditions must be accompanied by an interpreter/friend or family member and they will not be permitted to swim. There is a $5.00 USD (approx). Government imposed fee for the use of video cameras on the Archeological site. Guest may purchase additional soft drinks, chips & cookies at the archeological site. This excursion features a fair amount of walking over uneven surfaces and climbing. Guests will have between 10 to 15 minutes for purchases at the local market inside the Archeological site. Wheelchair guests – please note that the area is uneven and bumpy. Guests must be able to be transferred to a seat on the bus and climb steps. Guests who go ashore do so with the understanding that they will be mixing with members of the general public.
Erwachsene ab: € 184,93 EUR
Kinder ab: € 145,79 EUR
Familienfreundlich

Mahlzeit