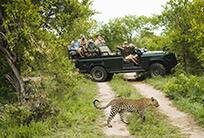 Leopard Mountain Safari (RIC-DUR) - Double Occupancy
Richards Bay, Südafrika
Duration 2 Days / 1 Night
Travel to the 58,000-acre Manyoni Private Game Reserve and overnight at Leopard Mountain Lodge which has the most spectacular and uninterrupted views in Zululand over the African plains and the meandering riverine forests below. This Big 5 multiple award-winning lodge is set within an Endangered Species Protected Area offering peace and tranquility with friendly hospitality. This program allows for early morning and evening game drives which increases your chances of seeing wildlife as this is when they are most active.
DAY 1 Disembark in Richards Bay and transfer by road to the Manyoni Private Game Reserve. The drive is approximately 2.5 hours.
Leopard Mountain lodge has eight well appointed, stone chalets nestled in the cliff tops overlooking the river below. Each has its own hammock and plunge pool on a private balcony as well as a mini bar, tea and coffee facilities, mosquito nets over the beds and an en-suite bathroom with twin vanities.
On arrival at the main entrance gate, you will be met by game rangers who will transfer you to your lodge in 4-wheel drive open vehicles. After check in you will have some time to get acquainted with your new surroundings.
Gather for afternoon tea before departing on an afternoon game drive. Sundowners and light snacks will be served at a clearing in the bush following your game drive with the possibility of viewing several nocturnal wildlife species.
Return to the lodge to freshen up before dinner is served.
DAY 2 The day begins with an early morning wake-up call. Tea, coffee and biscuits will be served in the lounge area before you depart on an early morning game-drive accompanied by your rangers and trackers.
Return to the lodge for breakfast followed by check out. Thereafter transfer to the main entrance where you will board a vehicle for your road transfer to Durban where you will re-board the ship. The drive is approximately 4.5 hours. A packed lunch is included for the journey.
Land Program Step by Step:
Please note: The order of sites visited may vary to avoid congestion. All program details, including timings and any flights indicated below, are approximate and are given here for general reference purposes and are subject to change. Final itineraries with the most up to date details will be provided by the Shore Excursion Team once you board the ship. Please review your final itinerary carefully for any amendments.
DAY 1
11:30am Disembark in Richards Bay and transfer by road to Leopard Mountain Game Lodge.
2:00pm Upon arrival at the main entrance, transfer to the lodge
2:30pm A welcome drink is served while guests fill out registration and indemnity forms.
Following check-in, guests will be shown to their rooms
3:30pm Afternoon tea will be served
4:00pm Evening game drive
7:00pm Return to the lodge
7:30pm Dinner is served at the lodge
Overnight at the Leopard Mountain Lodge
DAY 2
5:00am Early wake-up call
Gather in the living area for tea, coffee and biscuits
6:00am Early morning game drive
9:00am Breakfast at the lodge
10:00am Gather belongings and check-out
10:30am Transfer to Durban harbor (lunch box included)
3:00pm Arrive at harbor and re-join ship
Expected Weather: South Africa's seasons are the reverse of those in the northern hemisphere. Midwinter is June and midsummer is December and January. The climate varies from region to region but is generally mild throughout the year. Expect it to be hot during the day and much cooler in the evenings. On average - 25°C / 77°F
What to Bring:
Sunhat, sunblock, camera, chargers, binoculars, something warm as the mornings and evenings may be cool
Local Currency:
ZAR (credit cards accepted)
Electricity
South Africa's electrical system is 220/230 volts A/C 50 cycles. Most hotels and lodges have hair dryers and plug adaptors in the bedrooms.
If you bring electric appliances, take along an international converter kit complete with a set of adapter plugs.
Outlets in South Africa require a three-pronged adapter plug with 3 round prongs.
Adapters can be brought from home as not all will be provided.
Be aware, however, that overnight recharging may not be possible where generator use restricts the availability of electricity.
Documents and Visa Requirements:
Guests must bring their passport with them
Please consultant the embassy to obtain the latest visa regulations for your nationality.

VERY IMPORTANT – The name on your cruise booking, passport and any visas if required, must all be exactly the same for flight ticket purchase for this program otherwise guests may be denied travel by flight. Please ensure that all documents are identical in spelling to the names provided for your cruise reservation including first, middle and last name. Manifests generated by the cruise line must match your travel documents.
Please Note:

The contents and order of activities in this program are subject to change by the lodge management without prior notice, due to the prevailing weather conditions and movement of dangerous wildlife on the reserve
During early morning game drives in open vehicles it can be a little cool. We recommend that guests take along a windbreaker or jacket
Please note that the game drive vehicles traverse over uneven terrain and that the game-drives can be "bumpy". This tour is therefore not recommended for guests with back & neck problems
Wildlife sightings are not guaranteed
Children under 12 years of age are not permitted
This program is not fully guided. Local representatives will assist you with your transfers however, the program at the lodge is run solely and at the discretion by the lodge staff.
Program Includes for guests

1 night at Leopard Mountain lodge (Luxury Suite) including accommodation, game drives, all meals and local beverages during meals and afternoon game drive.
Limited drinks package, soft drinks available all day, house wines and local spirits and beers on evening game drives, pre-dinner and at dinner.
Transport in a luxury air-conditioned coach with A/C and PA system
Lunch box on Day 2
Qualified English-speaking tour guide to accompany on transfers to and from the lodge
Porterage for maximum 1 piece of luggage per person
1 x 500 ml bottle of mineral water per person on transfers
We will only substitute hotels in unforeseen situations. If similar hotels are substituted, they will be of equal ratings and standards. If you are not notified of any changes before your sailing, then you will be staying at the lodge listed in the program.
Program Excludes for guests:

Any other meals not listed above
All other drinks including Champagne and premium brand spirits and liquor
Gratuities for drivers, guides, game rangers, trackers and lodge staff
Personal expenses such as telephone calls, curio shop purchases and laundry
Any other discounts or promos offered by NCL including but not limited to Latitude and Free at Sea discounts
Please note:
Land programs that encompass multiple days ashore customarily include extensive and prolonged activity, while those of shorter durations typically have more moderate activity levels. However, each program varies, and participants should be prepared to negotiate a mixture of surfaces which may include inclines, cobblestones, sand and gravel or natural paths. There may also be a need to climb steps or stairs on occasion. Guests who utilize a wheelchair and those with mobility concerns are advised to check with the cruise line in advance to see if any portion of the tour program may not be considered suitable for their individual situation. Weather appropriate clothing, hats, sunglasses, and flat, comfortable walking shoes are generally recommended.
All land programs are capacity controlled and subject to availability. Programs falling under the minimum number of required participants are subject to cancellation. Pricing listed is also subject to change to meet unexpected cost increases for transportation, land arrangements or currency fluctuations. Not combinable with any other discounts or promos including but not limited to Latitude and Free at Sea discounts.
Once purchased, pricing is guaranteed and not subject to change. Mid-cruise overland programs must be purchased no later than 60 days prior to your sail date. Cancellations made within 60 days or less prior to the sail date are subject to 100% cancellation penalty.
Wissenswertes:
Note: One room is included in the per person single or double cost of this program and will be assigned for any bookings up to 2 guests regardless of cabin size on the ship. If additional bedding or rooms are required for this program, please contact Norwegian Cruise Line in advance of travel to request and price accordingly. Requests must be received at least 65 days before departure and confirmations will be based on availability at the time of request.
Erwachsene ab: € 792,91 EUR
Kinder ab: € 792,91 EUR
Reisepass