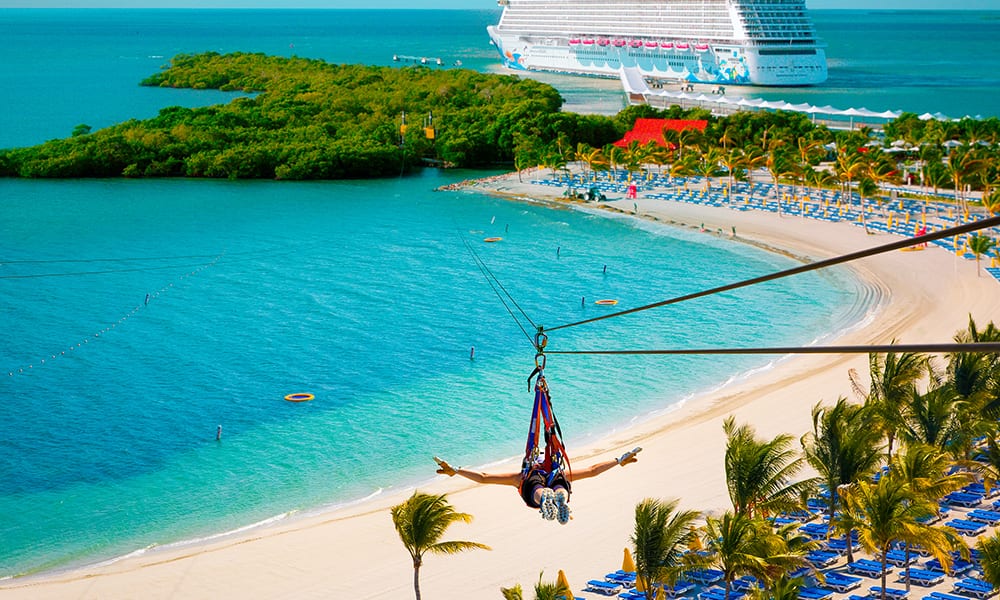 Do you love a high-octane adventure? There's nothing quite like flying over the forest canopy and across expansive valleys to get your blood pumping. From afar, zip lining looks like a daring feat for highly skilled aerial acrobats. In reality, it's a completely safe and exhilarating activity that requires no prior training or experience. In fact, it's a great way for cruisers of all ages and physical fitness levels to get up close and personal with nature.
Norwegian Cruise Line offers a host of exciting zip-lining opportunities all over the world. From professional guides to quality equipment and the highest safety standards, the Norwegian shore excursions staff carefully selects only the top-rated attractions to give you the best experiences in every port. So if you dream of soaring through the skies, what are you waiting for? It's time to take the leap and broaden your horizons with a breathtaking zip-lining adventure. Check out these best places to zip line around the world on your next Norwegian cruise.
Mexiko
Maya, Lost Mayan Kingdom is the perfect place to spend the day when your Norwegian cruise stops at the port of Costa Maya in Mexico. The Maya Kingdom theme park boasts two exhilarating zip-line courses, each with its own unique features. With six lines, the Toucan is the largest and fastest zip-line circuit in the Maya Kingdom. The experience ends in an exciting water landing.
The Eagle course also features six lines of flight, as well as two hanging bridges and a rope course. In addition to zip lining, enjoy the park's waterslides, a zip coaster, lazy river, swimming pool, natural pool, Mayan jungle, and more.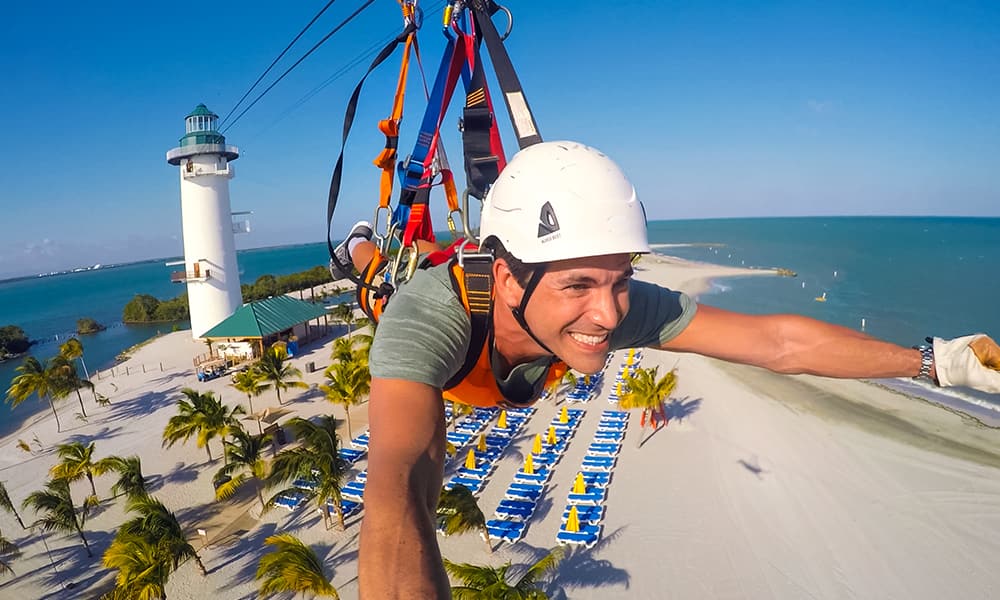 Die Karibik
With its soft white-sand beaches, azure waters, and sunny skies, The Caribbean offers some of the most scenic outdoor escapes on the planet. It's also where you'll find some of the best zip lines in North America. If your cruise stops at Harvest Caye in Belize, be sure to check out the Flighthouse Platform zip line. Take in majestic views of the Mayan Mountains on the mainland or the turquoise waters filled with coral reefs as you soar high above the island at speeds up to 40 miles per hour on a 1,300-foot-long zip-line course.
Looking for something a little more low key to get things started? The Falls Flyer Zipline over Dunn's River in Falmouth, Jamaica, offers a bird's-eye view of the country's most popular natural attraction, Dunn's River Falls. Hovering 180 feet above the ground, a series of seven zip lines spanning 600 feet and four hanging bridges take you over the waterfall for an experience you won't soon forget.
Alaska
For the ultimate adrenaline rush, be sure to sign up for the Scenic Mountain Ascent & World's Largest ZipRider shore excursion in Icy Strait Point, Alaska. Your flight takes you 300 feet above the rainforest for breathtaking views of Port Frederick, Icy Strait, and even your cruise ship. Launch from the top of Hoonah Mountain at 1,550 feet and reach speeds of 60 miles per hour along six 5,330-foot zip lines as you drop more than 1,330 feet toward the ground. The ZipRider allows for as many as six people to descend together, making it the ultimate group experience.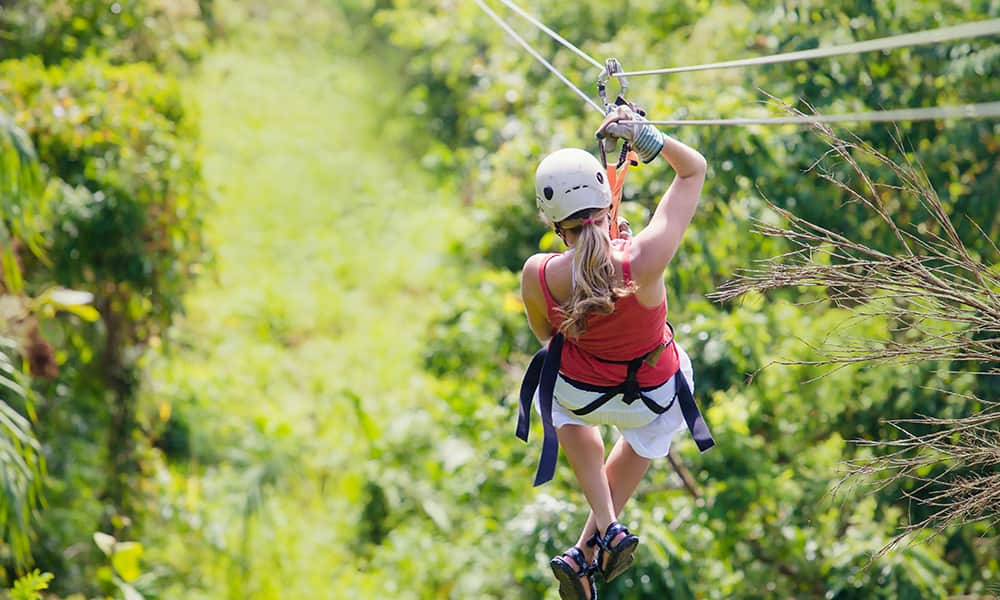 Hawaii
For the best place to zip line in Kauai, head to the only treetop zip-line experience on the island. Enjoy seven zip-line runs and four canopy bridges as you glide 60 to 85 feet above the forest floor. Fly above a grove of 200-foot-tall Norfolk pine trees and scan the area for signs of native plants and animals all while enjoying beautiful views of Mount Kawaikini, Kauai's tallest mountain, and Mount Waiale'ale, the wettest spot in the world.
Feast your eyes on the lush tropical scenery of the Big Island as you zip line through paradise on an eight-line course spanning nearly two miles. Norwegian's Zippin' Volcano adventure in Hilo boasts a one-of-a-kind view of Hawaii Volcanoes National Park and its dramatic landscape.
Kanada
For heart-pounding fun amid 100 acres of Canada's coastal temperate rainforest, sign up for a zip-line tour during your stop in Victoria on Vancouver Island, British Columbia. Fly on eight zip lines ranging from 150- to 1,000-feet long at a height of 150 feet above the ground. Race along at a speed of nearly 40 miles per hour and catch magnificent mountain and ocean views. Learn interesting facts and hear stories about the local ecology and history of the area on this unforgettable journey over British Columbia's picturesque Sooke Hills.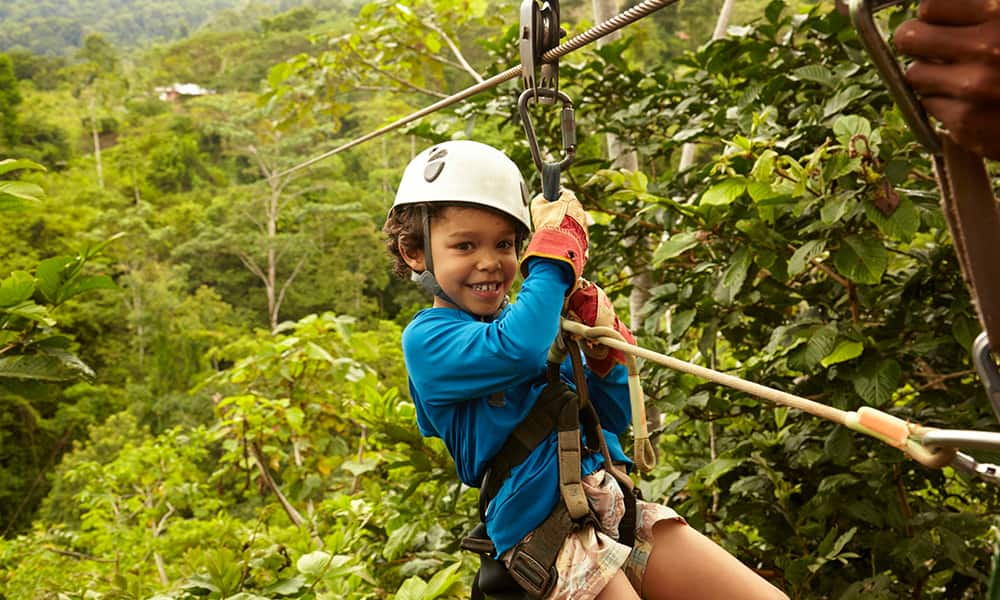 Costa Rica
As the home of some of the highest zip lines in the world, Costa Rica offers lots of exciting opportunities to get your thrill on. Norwegian's Original Zipline Adventure starts with a journey through Puntarenas and past the port of Caldera before venturing through the mountains for a glimpse of rural Costa Rica.
Sit back and enjoy the views along your way to the Tarcoles River, where large crocodiles roam the land and your real adventure begins. Your zip-line tour consists of nine observation platforms and eight horizontal traverse cables connected between the trees. Look for deer, monkeys, and the endangered scarlet macaw as you fly through this tropical paradise.
From taking in beautiful aerial views to getting an incredible adrenaline rush, there's nothing quite like a thrilling zip-lining adventure to kick your cruise into high gear. Norwegian offers exciting excursions to some of the best places to zip line around the world. Don't miss out on your chance to experience the excitement for yourself. Be sure to sign up for emails from Norwegian to learn all about the latest cruise itineraries and get the best cruise deals.