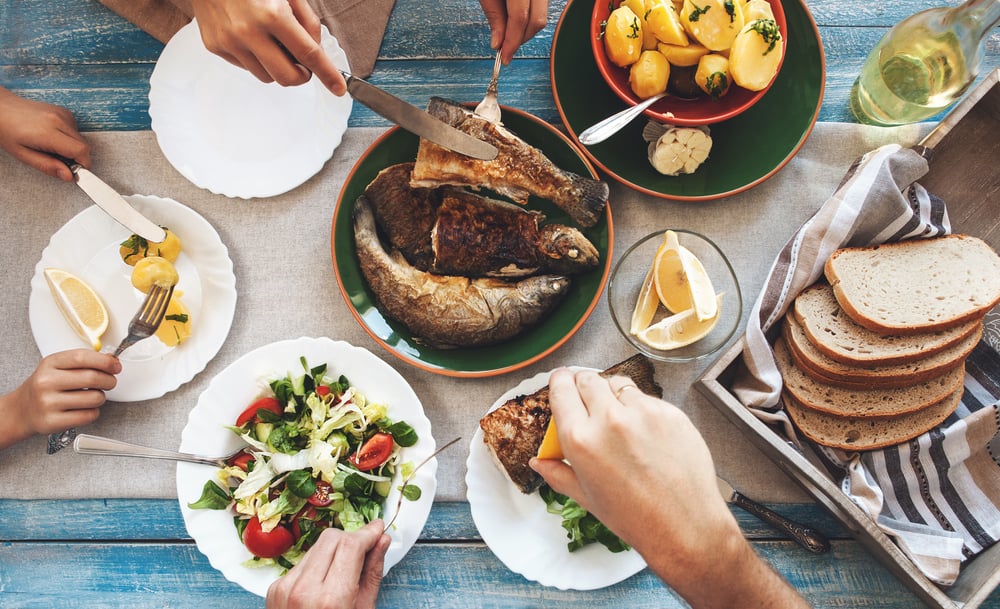 If you're planning a cruise to Bermuda, the spas, golf courses, and pink sand beaches are far from the only attractions you'll find. The cuisine of the island is equally exciting. You'll find fresh flavors pulled straight from the ocean and spiced with local ingredients. From rum-soaked baked goods to sweet and spicy condiments, Bermuda has a wide range of specialties just waiting for you to take a taste. Just ahead, here are some must-try foods to have on a Bermuda cruise.
1. Fresh-from-the-Ocean Fish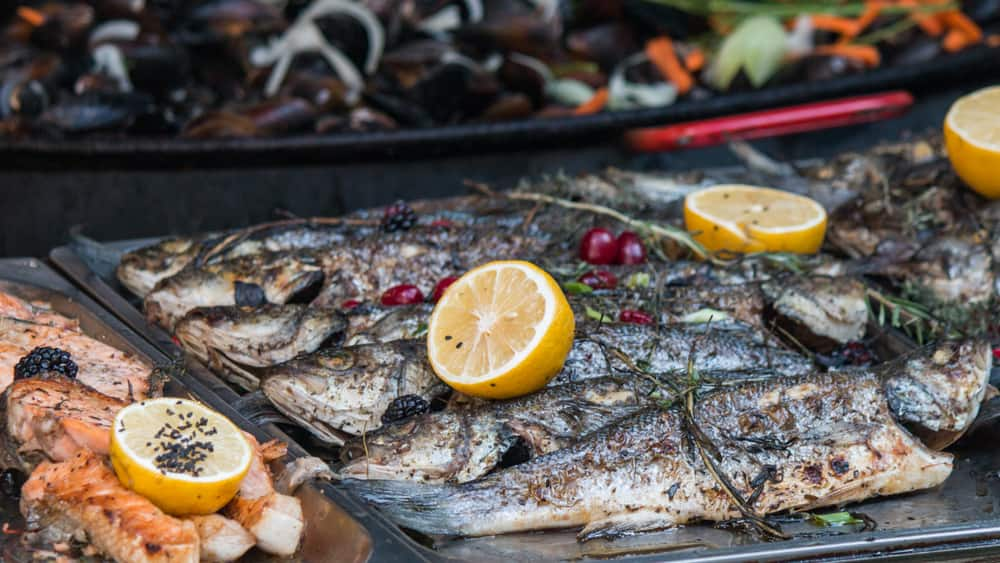 In this perfectly placed island locale, there's nothing better than fresh fish from the surrounding ocean. Look for local restaurants that feature the catch of the day. This is the best way to get prime picks from the sea. Grouper and wahoo are particularly common options. Bonefish Bermuda features the catch of the day on the menu at market price. The fish is served up Bermuda-style with a creamy black rum reduction and toasted almond and banana on top.
2. Bermuda Breakfast
The traditional Bermuda codfish breakfast was once a daily staple for locals. Though many families now enjoy the meal only on Sundays, visitors can still find it as an everyday offering at many hotels. This meal includes boiled or steamed salt codfish in either an onion and tomato sauce or butter onion sauce. Dished up alongside you'll find boiled potatoes, a hard-boiled egg, and a banana. Some restaurants serve avocado alongside this breakfast as well.
3. Pepper Jelly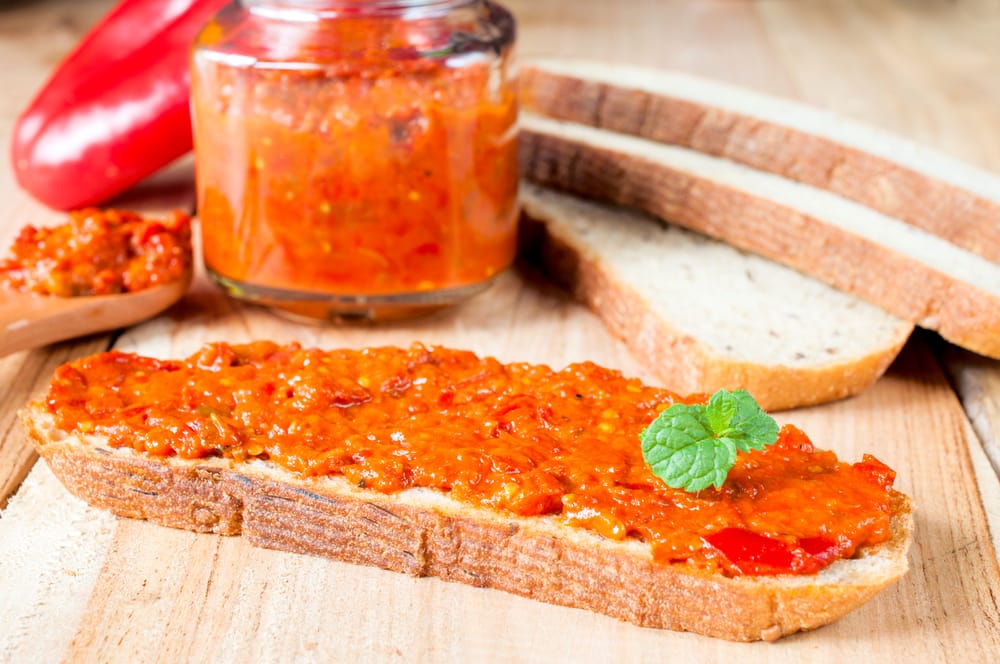 Pepper jelly or pepper jam is a Bermuda favorite that you can enjoy dozens of different ways. Both spicy and sweet, it offers a distinctive flavor that's unique to the island. You can enjoy it on toast or a scone, slathered over grilled meats, or as a dip for your favorite appetizer. You'll find award-winning pepper jams from the Bermuda Jam Factory. Enjoy some while you're on vacation and pick up some more from duty-free shops on the island to take home.
4. Fish Chowder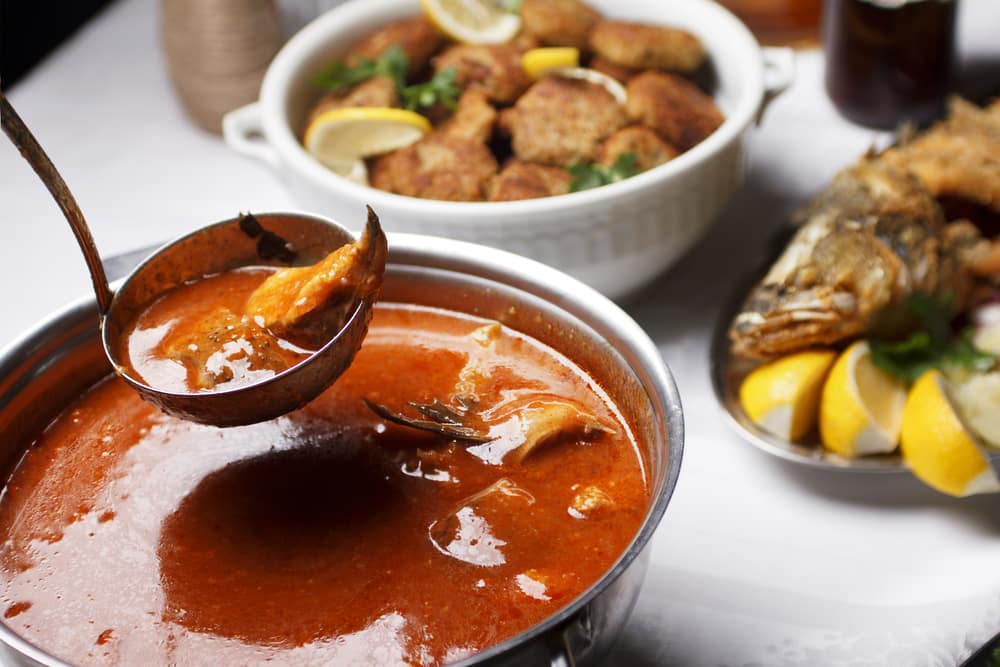 Known as the national dish of the island, fish chowder offers a quintessential taste of Bermuda. Traditional fish chowder was based on leftover fish bones, but modern versions of the dish feature a more epicurean flavor. Expect to find a blend of onions, tomatoes, carrots, and celery along with bits of fish and rich spices. The chowder is finished with black rum and sherry pepper sauce for a special kick.
Check out Henry VIII for some of the best fish chowder on the island. This incarnation of the time-tested soup features Gosling's rum and Outerbridge's sherry peppers. You can order a bowl with lunch or dinner. You can also enjoy Henry's fish chowder on one of the restaurant's set menus, as the second course of a delicious four-course feast. This fixed menu includes Bahamian favorites like Bermuda rum cake as well, for a well-rounded taste of the local cuisine.
5. Hoppin' John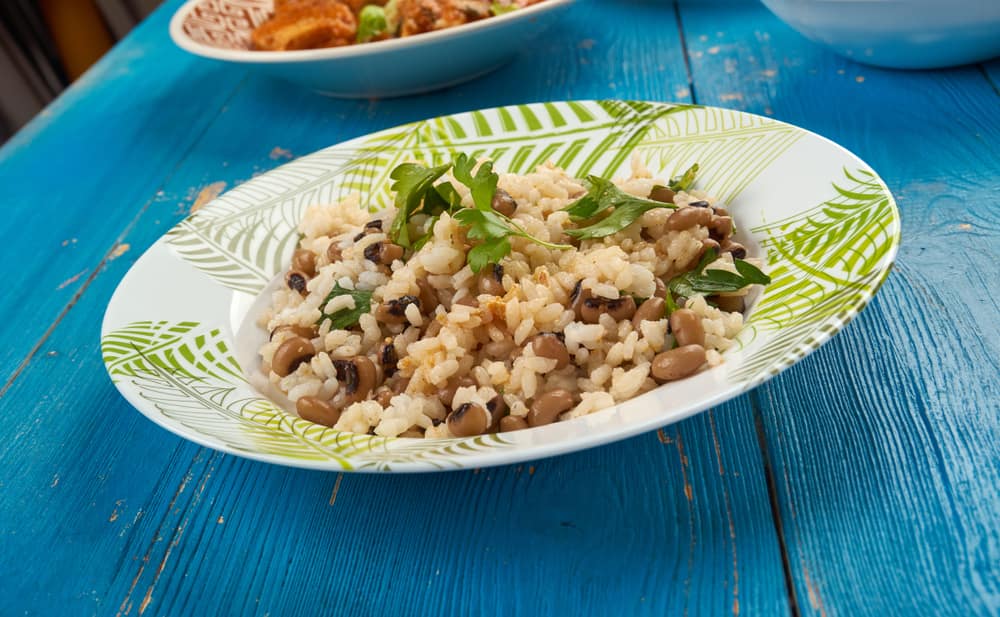 The Hoppin' John, also known as peas 'n' rice, comes in many variations in Bermuda. Though Hoppin' John isn't native to the island, it's become a favorite here. The recipe supposedly came to the island with a French prisoner of war in the 18th century. Black-eyed peas and rice are central features of the dish. Additional ingredients may include tomato, paw paw, ground beef, sausage, bacon, chicken, and Bermuda onion. It's traditional to flavor it with thyme and garlic.
6. Rum Cake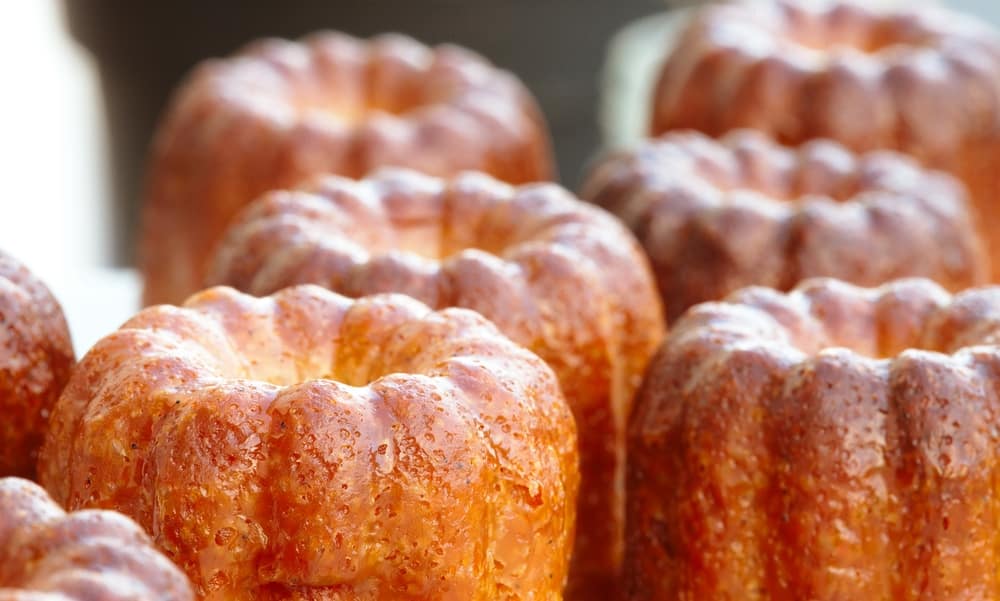 Rum cake is a rich buttery dessert that highlights the island's favorite liquor. A good rum cake is moist and airy. The base flavors vary from one cake to the next, but all are doused in rum for that distinctive island flavor. You can find rum cake from many different bakers, but Horton's serves some of the more famous rum cakes on the island. If you're interested in getting to know more about the island's famous rums, book Gosling's Sunset Rum Cruise while you're in Bermuda as well.
7. Fried Fish Sandwich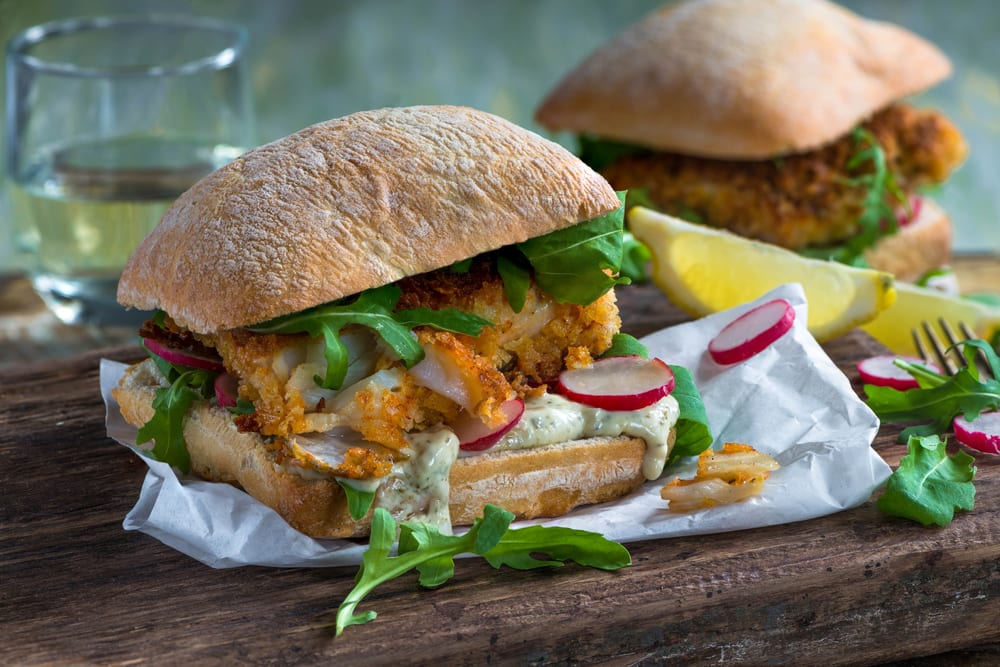 If you're looking for something quick and casual, you can't go wrong with a fish sandwich on the island of Bermuda. This is one of the island's most popular picks for hungry tourists who work up an appetite strolling the streets. The traditional fried fish sandwich comes on whole-wheat toast or raisin bread with a slathering of tartar sauce. Common toppings are hot sauce, lettuce, tomato, and onion.
Art Mel's Spicy Dicy is regularly praised for offering the best fried fish sandwich on the island. This massive dish is big enough to share, featuring snapper fried for a light non-greasy finish in soybean oil.
8. Rum Swizzle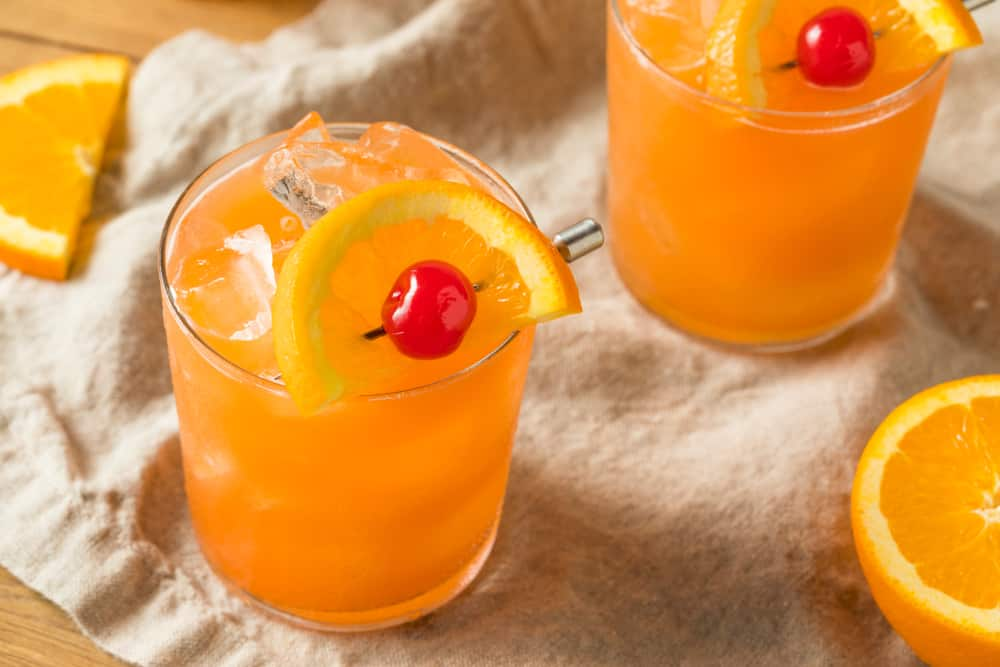 The signature cocktail of Bermuda is the rum swizzle. This is a must-taste if you're after a boozy sip while you're visiting the island. Book a Swizzle Cruise as one of your excursions in Bermuda and this is the beverage you're greeted with. The drink was purportedly born in 1932 at the Swizzle Inn in Bailey's Bay. It features rum and fruit juice shaken till frothy and strained into a glass. A signature rum swizzle includes orange juice, pineapple juice, grenadine, and angostura bitters for a distinctly tropical flavor.
If you're planning a Bermuda cruise, make sure you include plenty of meal times on-shore. Strolling the city streets, you'll find everything from upscale restaurants to casual eateries that dish up fresh island flavors that offer a distinct departure from dishes you may know at home. From breakfast to dessert, Bermuda offers an original take on every meal of the day. Season your stay with plenty of rum and spice as you taste your way through the local favorites on this picturesque island.