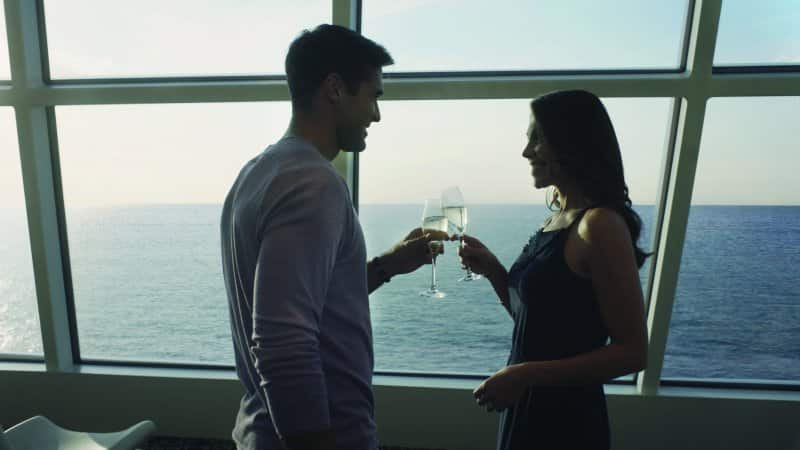 Have you already booked — or are thinking of booking — your dream cruise vacation on Norwegian Cruise Line? If so, you'll likely want to know about life onboard the ship and how you will stay entertained (and hydrated) throughout the day and evening. If you are a sucker for sake or crave cold, fruity cocktails, Norwegian's creative and skilled bartenders are excited to serve you. With dozens of Norwegian Cruise Line's distinct and stunning bars and lounges expertly placed through each ship, grabbing a delicious drink and relaxing in your preferred venue couldn't be easier.
Norwegian has made a name for itself in the cruise industry when it comes to unique and inviting bars and lounges, with some ships featuring up to 22 choices! Not only does each lounge or bar present a distinctive vibe, but the furnishings, artwork, music, and drink choices are also expertly chosen to round out the design. With so many options to choose from, you can quickly find your ideal relaxation spot onboard any Norwegian ship, whether you are craving a classic beer in the afternoon or a delectable cocktail after a night of dancing.
Are you ready to scout out your must-visit cruise lounge areas? Let's explore some of Norwegian's most popular and eclectic bars and lounges.
Bereit, mit der Planung zu beginnen? Alle Kreuzfahrten mit Norwegian erkunden.
Nighttime Bar & Entertainment Options
Night owls and dancing queens will love the bars and lounges that light up the night on Norwegian's ships. Here are a few options to start planning for.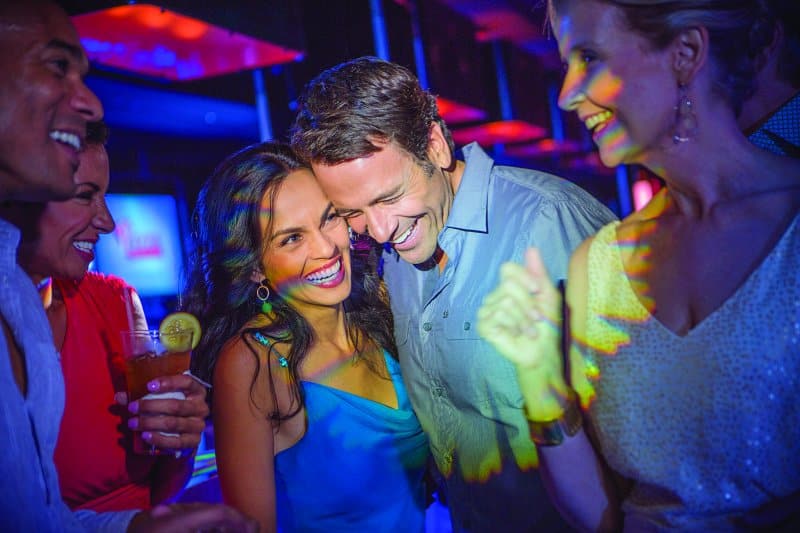 Fat Cats Jazz & Blues Club
You don't need to fight traffic and crowds to see amazing musicians - they are just a few steps away during your Norwegian Cruise Line vacation. If you have a heart for jazz and blues, you are going to love Fat Cats Jazz & Blues Club, which can be found aboard any of Norwegian's Breakaway Class ships. Get ready to experience live music with some of the world's most talented artists, in addition to having your favorite alcoholic or non-alcoholic beverage served to you with a smile.
Spinnaker Lounge
If your idea of a good time is dancing the night away, you'll love Spinnaker Lounge. The lounge's massive dance floor is the perfect place to show off your famous dance moves and perhaps learn a few more from fellow cruisers. This lively lounge can be found aboard the Norwegian Bliss, Breakaway, Epic, Escape, Getaway, and Joy.
Bliss Ultra Lounge
For cruisers who love nightclubs with intense energy, great music, ultraviolet lights, and distinctive cocktail combinations, Norwegian's Bliss Ultra Lounge is the best spot onboard to go clubbing all night long. You'll find this exhilarating spot on Norwegian Breakaway, Dawn, Epic, Gem, Getaway, Jade, Pearl. Sky, and Sun.
The Waterfront Bar & Lounge Options
Feel like getting closer to the water? The Waterfront on Norwegian's Breakaway and Breakaway Plus Class ships offers the ideal indoor/outdoor experience.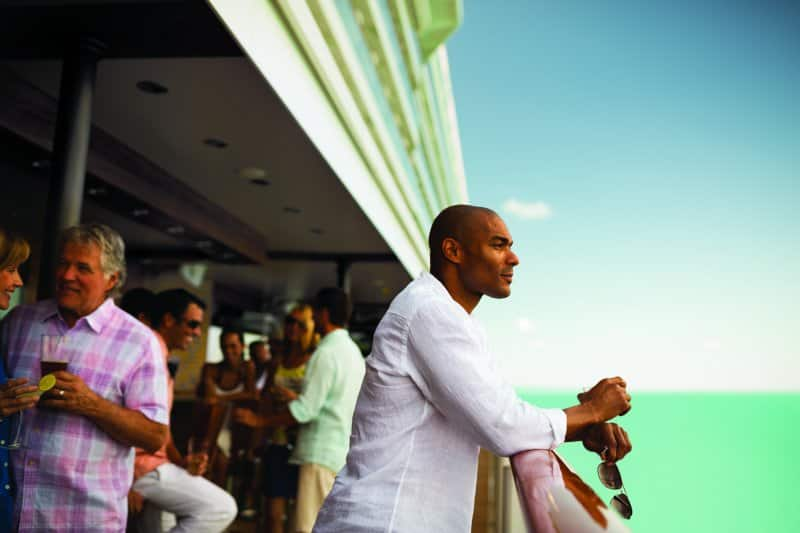 Shaker's Martini Bar
Whether you like an olive, lemon, or another distinctive twist with your martini, you can find several variations of this essential drink at Shaker's Martini Bar. Located along The Waterfront, Shaker's offers you the opportunity to drink your favorite cocktail while taking in views of the stunning ocean waters and colorful sunsets.
Malting Beer & Whiskey Bar
Inspired by a lobby in London's Mandarin Oriental, Malting Beer & Whiskey Bar is the prime spot for before dinner drinks or an after-dinner nip. Here you'll find more options of beer and whiskey than you will know what to do with, giving you the opportunity to try a new flavor during each visit!
Sugarcane Mojito Bar
If you can't make it to Havana, stop by Norwegian Bliss' Sugarcane Mojito Bar to get a taste of its culture and popular drink, the mojito. At Sugarcane, you will find distinctive flavors such as spicy passion fruit, cucumber jalapeno, raspberry guava and more. Not sure which to try? Get the Mojito Flight and try six delicious varieties at once!
Specialty Lounges & Bar Venues
For those who would like to try something a little outside of the norm, here are some of the best themed bars and lounges on Norwegian's ships.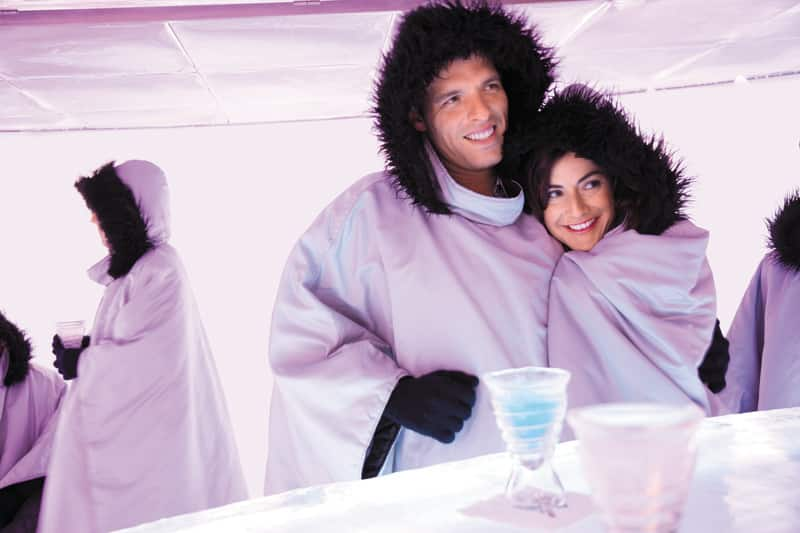 O'Sheehan's Bar & Grill
Don't miss your local sports bar while on a cruise vacation; stop by O'Sheehan's Bar & Grill, instead! In addition to a variety of popular and unique beer selections, you can also grab some tasty bar treats to hold you over before your next meal. And with darts, flat screens, and billiards on tap, you'll find plenty of entertainment to enjoy with your beer!
The Humidor Cigar Lounge
At The Humidor Cigar Lounge, you'll find a sophisticated and exceptional cigar shop and lounge area that offers you a place to smoke in comfort. Available on select Norwegian Cruise Line vessels, this classically designed lounge is the perfect place to relax and enjoy a stogie.
Skyy Vodka Ice Bar
Truly a once-in-a-lifetime experience, the Skyy Vodka Ice Bar offers you the chance to enjoy incredible cocktails in a 17-degree Arctic chamber. But don't forget to dress warm - even the seats, walls, and glasses are made of ice! Inspired by Scandinavia's ice hotels, this is by far one of Norwegian's "coolest" experiences onboard.
Norwegian's Observation Lounges
Eager to get a view from the top? Explore Norwegian's observation lounges on Norwegian Bliss and Norwegian Joy.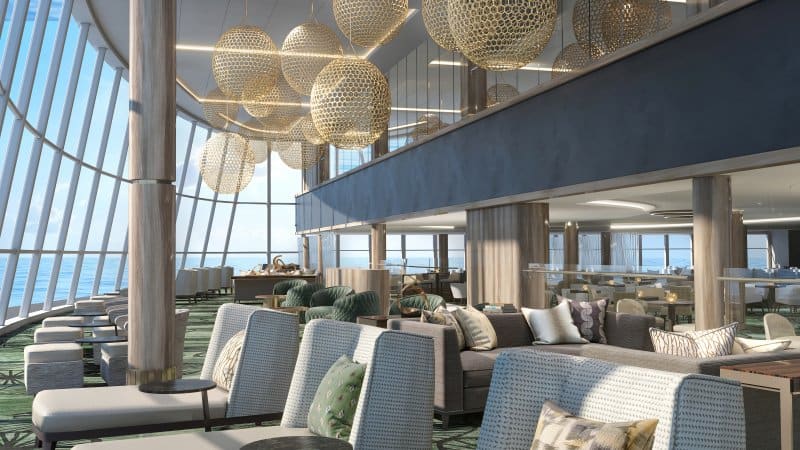 If you've booked a cruise on Norwegian Bliss or Norwegian Joy, one of the main features you'll enjoy is the stunning observation lounge at the front of these two sister ships. Whether you're cruising past Alaska's stunning glaciers or sailing through The Caribbean's turquoise waters, you'll have a prime perspective from the comfort of Norwegian's contemporary observation lounges. Those who are interested in getting the best views will find a favorite place in this lounge at the top of the ship, conveniently equipped with a full-service bar. Just sit back, relax, and raise a glass to toast to the unparalleled views.
No matter which Norwegian Cruise Line ship you choose, you'll find the perfect lounge and bar area to fit your mood and drink preferences. Plus, before you set sail, you can inquire about our incredible adult and teen drink packages that can save you money throughout your cruise. Plus, take advantage of the best upcoming cruise deals, Free at Sea offers, and Sail Away Rates by joining our email newsletter.