Are you looking for new ways to create special holiday memories for you and your family? Consider spending the holidays next year at sea. Norwegian Cruise Line offers several itineraries perfect for a holiday at sea, no matter whether you are looking to celebrate Thanksgiving, Christmas, New Year's, or Hanukkah. You can leave the winter boots behind and pack your swimsuits as Norwegian's lineup of 2021 holiday cruises include ports in The Caribbean, Mexico, and Hawaii.
If you are considering a holiday at sea, here's a look at our holiday cruise roundup for 2021.
¿Listo para empezar a planificar? Explore all 2021 holiday cruises.
2021 Holiday Cruise to Hawaii
Norwegian's seven-day Hawaii cruises are the perfect way to spend any holiday, period. Norwegian's seven-day Hawaiian Island cruise is round trip from Honolulu, so you don't lose precious days at sea getting to and from the mainland. Instead, you will maximize your Hawaiian escape by visiting four other ports.
If you have time before or after your cruise, consider adding a couple of days to explore Honolulu itself. If you are short on time, Norwegian offers several Honolulu excursions that include airport drop-off. You can take a grand circle island tour or visit Pearl Harbor before catching your flight back home. Ports of call on your cruise include:
Kahului, Maui: Check out Haleakala crater, relax on a secluded beach, or drive along the coast to Lahaina.
Hilo, Hawaii: Highlights include Kilauea volcano and other lava formations at Volcanoes National Park.
Kona, Hawaii: You'll find over 500 coffee plantations in Kona and excellent snorkeling from Kahaluu Beach Park.
Nawiliwili, Kaua'i: Kauai has stunning beaches, rivers, and canyons to explore, while others prefer to take it easy and enjoy sights like the botanical gardens.
Norwegian's seven-day Hawaii itinerary has been named the best Hawaii itinerary for 14 years by Porthole Cruise Magazine. Your cruise takes place on the newly renovated Norwegian Pride of America. You'll find no shortage of things to do and delicious eats as you sail between islands each day. When you are in port, Norwegian has you covered with a wide selection of the best excursions for your Hawaiian holiday getaway.
CRUCEROS RELACIONADOS:
Crucero por Hawái desde Honolulu, 7 días
Paquete terrestre "Cruisetours" en Hawái desde Honolulu, 11 días
2021 Holiday Cruise to the Mexican Riviera
Head to sunny Southern California for a seven-day Mexican Riviera cruise aboard Norwegian Bliss. You'll have three total days to relax onboard the ship and enjoy spending time with your family over whatever holiday you're celebrating. The other days, you'll be in these ports:
Cabo San Lucas: Located at the end of the Baja Peninsula, Cabo is famous for its deep-sea fishing, party atmosphere, and beautiful arch called "El Arco."
Mazatlan: In Mazatlan, you'll find an interesting mix of colonial architecture and sleepy seaside resort town. Mazatlan is renowned for its seafood and laid-back vibe.
Puerto Vallarta: Although popular for its 26-mile stretch of beaches, Puerto Vallarta is still more laid-back than places like Acapulco. Enjoy historical sites like the Church of Our Lady of Guadalupe, go snorkeling or diving, or just lounge on the seemingly endless stretches of beach.
After you visit these three ports, you can relax onboard the ship for the two days it takes to cruise back to Los Angeles. Norwegian Bliss is one of the newer ships in the fleet and was ranked as one of 2019's hottest ships by Conde Nast Traveler.
CRUCEROS RELACIONADOS:
Crucero por la Riviera Mexicana desde Los Ángeles, 7 días
2021 Holiday Cruise to The Caribbean
Set sail from Orlando on Norwegian Escape for the Virgin Islands, Bahamas, and the Dominican Republic. You'll start off this seven-day Caribbean cruise with a day at sea before arriving in Puerto Plata, Dominican Republic. Puerto Plata is the ninth-largest city in the Dominican Republic and is home to intriguing history and stunning landscapes. Don't miss the views down to the city from atop Pica Isabel de Torres Mountain, which is over 2,600 feet high.
Your next two days are in the U.S. and the British Virgin Islands. You'll first stop at St. Thomas, home to Charlotte Amalie, said to have one of the most beautiful harbors in the world. Then you'll be in Tortola, the island discovered by Christopher Columbus in 1493. The Virgin Islands have some of the best snorkeling and diving in the world and plenty of shopping, or you can just relax and enjoy the breathtaking views from these nearby islands.
You'll have another day at sea before arriving at Norwegian's private island in the Bahamas, Great Stirrup Cay. You'll only be sharing the island with other Norwegian guests, making it an idyllic Caribbean paradise. There's plenty of activities, food and drinks, and you can rent a private cabana to enjoy some seclusion on your last day before sailing back to Orlando.
CRUCEROS RELACIONADOS:
Crucero por el Caribe desde Nueva Orleans, 7 días
Crucero por el Caribe desde Miami, 7 días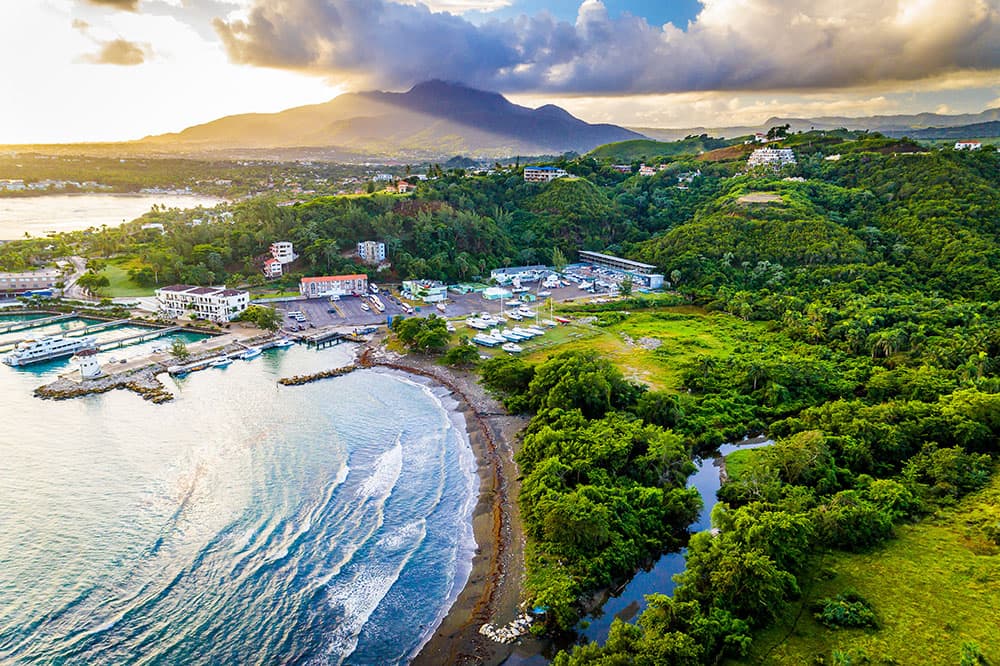 2021 Holiday Cruise to Mexico & Central America
For a different Caribbean adventure, book a holiday seven-day Caribbean cruise to Mexico and Central America. You'll visit iconic Yucatan ports like Costa Maya and Cozumel, known for their rich Maya history and stunning turquoise waters. There's no shortage of things to see and do along the Yucatan Peninsula. Be sure to enjoy traditional Yucatan specialties like cochinita tacos, panuchos, and fresh ceviche.
Central American ports on this itinerary include Harvest Caye, located in the southern part of Belize, and Roatan in Honduras. Both destinations are home to some of the best eco-tourism activities and scuba diving in the world. If you enjoy being under the sea, don't miss booking one of Norwegian's scuba or snorkel excursions.
RELATED CRUISE:
7-Day Caribbean Cruise to Mexico & Central America
Choosing the Right Holiday Cruise
Narrowing down the right holiday cruise can be difficult. While you are deciding which destination and itinerary works best for your family, don't forget to sign up for Norwegian's cruise deals. You'll get all the latest specials and deals delivered right to your inbox, so you won't risk missing out on your perfect holiday cruise in 2021.