1

Excursions match your criteria

Reset

Refine Your Search Results

Please wait while your results display below.
You searched for: PVR_05 [X]
We searched through all of our Excursions to find the results below .
Once you've booked your cruise, click on "Log In to My NCL" and enter your user name and password. If you are a new user, create an account. Once you're logged in, you should see a summary of your booked cruise(s). Click the button for "Shore Excursions". If this button is not clickable, you may need to wait at least 60 days prior to your vacation date. Once you get to the Shore Excursions shopping page, you should see each port city offering Shore Excursions for every day of your cruise itinerary. Click through each port city to get more info and pre-book excursions for each guest you're traveling with. You can also call 1-866-625-1167 if you have any questions.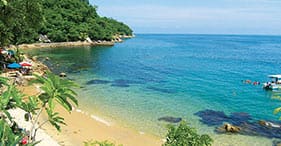 Las Caletas Hideaway
Tour code:

PVR_05
Port:

Puerto Vallarta, Mexico
Las Caletas was once the private home of the famous film director John Huston, who considered it one of the most beautiful places in the world. Today, it's an exclusive ... more
Las Caletas was once the private home of the famous film director John Huston, who considered it one of the most beautiful places in the world. Today, it's an exclusive tropical beach hideaway where you can enjoy an extraordinary day of sun, fun, and adventure. This lovely beach was named by Trip Advisor as one of the top 4 secluded beaches in the World for 2012. Only accessible by sea, this secluded nature preserve stands out against a steep, jungle-clad backdrop of tropical forest in an isolated cove on the southern shores of Banderas Bay. As you cruise towards this tropical paradise aboard a first-class catamaran, you'll enjoy the most fantastic coastal scenery that Puerto Vallarta has to offer.
Upon arrival at Las Caletas, you can choose between pure relaxation or gentle exploration in the unspoiled natural setting of this tropical hideaway. If relaxing is on your personal agenda, you can kick-back on the beach, relax in the shade on a comfortable hammock, or indulge in a therapeutic body massage or facial at the hilltop Spa (additional charge). As you relax and unwind, the gentle lapping of the surf on the private golden beach beckons you to take a closer look at the calm, clear waters of this isolated cove.
Throughout the day, bilingual eco-guides offer snorkeling and kayaking tours giving everyone a chance to explore in a fun and relaxed way. On land, you can take a Paella cooking lesson (only available on early departures), discover the prolific flora and bird life on a free guided nature walk through the jungle, orchid gardens and interactive parrot center. For the youngest explorers (4-11) there is the kid's adventure camp with zip lines, a climbing wall, animal encounters and an exciting donkey ride. For the teenagers and young adventurers the Teen Adventure Cove is waiting for them, Feel the exhilaration of free flight... free falling... and swinging out from extreme heights. Test your limits on this challenging obstacle course. Buffet lunch is included.
Note:
Tour includes moderate walking on uneven surfaces and numerous steps. Please wear your swimsuit comfortable clothing and bring sunscreen, a hat and a towel. Child price applies to children ages 4 to 11, children ages 0-3 are free. Children 12 years of age and older are considered an adult. Children participating in the Kids Adventure Park must be at least 1 meter tall (3.28 feet). ). Teen Adventure Cove includes highly demanding activities, Participants must be in excellent physical and mental condition. Alcohol consumption not permitted. For your safety, life jackets are mandatory during all water activities. Water Slide: Participants must be 12-29 years old, under 100kg (220lbs) and over 1.2m (4ft) tall to ride. The Blob, Zip Line and Step Up: Participants must be at least 12 years old, under the weight of 260lbs (118kg) and at least 1.2m (4ft) tall. This excursion is not suitable for guests with walking difficulties.
less
| Approximate Duration | Adult from | Child from |
| --- | --- | --- |
| 6 hours | $139 USD* | $99 USD* |