Home >

Featured Cruise Stories Alaska
FEATURED STORIES: ALASKA CRUISES
Sign up to get the hottest cruise deals!
Written by: Becky · Cruise Date: August 2008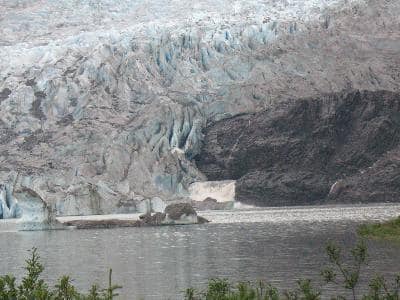 I went from August 23-30. We flew out to Seattle, caught the ship there (Norwegian Star), then we went to Ketchikan, Juneau, sailed up Endicot Arm, and then to Skagway, Prince Rupert, Canada, and then back to Seattle.
I have been to 48 states and Alaska is the most beautiful, amazing state I have been to. It is like nothing I have ever seen before and I am ready to go back. At Ketchikan, we saw a lot of Totem poles and since the salmon were running, we got to see them trying to get up a waterfall. I think that day alone I probably saw about 1000 salmon. We also went to a salmon hatchery and a totem pole museum. We did this all on our own since we did not pay for any excursions that day. The next day we went to Juneau, our excursion was to go to Mendenhal Glacier and then go on a whale watching tour. Before that day, I was thinking to myself, man this is great, can't get much better than this, well little did I know how much better it was going to get. The cruising alone was pretty since we had mountains on either side of us the whole time. That morning, while waiting for my friend to get ready to go, I was sitting by the balcony door and I catch something out of the corner of my eye. It was a bald eagle flying past our balcony about three or four feet away! We headed through Juneau to get to the glacier. Once there, we headed down a trail (which you could easily navigate - with or without a wheelchair) and saw bear tracks, bear scat, and red salmon (part of the trail was closed due to bear activity). We were in sort of a valley with the water from the glacier, which was perfectly still. There were mountains and waterfalls surrounding us. As we were walking towards the glaciers, I started to see some icebergs which was pretty exciting to me. We then saw the massive glacier and it is just hard to comprehend how massive they are. Since it was cloudy we could see the actual color of the glacier without the sun washing the color out. It is a bright, silty blue color. There were waterfalls and icebergs all around it. So..yet again I am like, man can't get much better than this....
So then we get on a boat for a whale watching tour.. to make a long story short, typically they see two or three humpback whales. We saw 14, one was a mother and calf, which the calf fully breeched 3 times (I got a video of it, I can show you sometime), sea lions, harbor seals, and bald eagles. So...can't get much better than this.... We then get back on the ship and the captain tells us that due to the low visibility, he is going to detour to Endicot Arm vs. the one originally planned. We head there and there gets to be huge mountains on either side of us and the water is bright green due to run off from the glacier and where the glacier "flour" meets the ocean water, there is a finite line where the green meets the tan water. Then all of the sudden we see this huge glacier in the distance which is called a "hanging" glacier because it hadn't made it to the ocean yet. Then I see the first iceberg in the ocean and some whales messing around. By the way, by this time it is early afternoon and it is about 50 outside with the wind blowing. I was very cold!! :) Then as we sail up this "Arm" I see more icebergs and waterfalls and we start sailing very close to the icebergs, hitting a few very small ones (you get to a point where you can't avoid them). There were sea lions and birds on a lot of them. I can't put into words how neat this was. Lets just say my face would freeze and I would come in and turn on the hair dryer on my face and hands to defrost, then go right back out because I didn't want to miss anything. We end up at Dawes Glacier, which is the glacier that we feeding this arm and creating all of the icebergs, we sit there for a while looking at the Glacier, still a bit away, but the captain said it was the closest he had ever been to the Glacier. We then turn around and head out before dark (since you can't see icebergs in the dark and we didn't want another Titanic).
Can't get better than that...
Well, the next day we are in Skagway, the furthest north we were going to travel. We got on a tour bus, rode it up this steep winding road, over the continental divide and we stop at a turn off and take pictures. We managed to see some bears. We drove over a earthquake proof one sided suspension bridge and right next to us was a fault line. By that time we had climbed so much, that there was almost no vegetation and it was the "arctic tundra". The few trees that lived there are about two or three feet tall and have branches only on one side of the tree due to the bad winters. Once we were in Canada, we boarded a train to ride back down to Skagway. It was soooo pretty. The best train ride I had ever been on, there were multiple trestles, two or three tunnels. Creeks, lakes, waterfalls, glaciers, and mountains all over the place. Once we got back to Skagway, we went to "Liarsville" where we had Salmon (the first I had - it was great) and panned for gold (they said it was authentic gold imported from Canada :) ). Next we went to a Brothel where we had a tour of the place. The next day we were in Prince Rupert Canada and we rode a boat over to an island that had petroglyphs (which are Native American carvings into rocks), a tour of the rain forest, and had another Salmon bake. I managed to see a black sand beach for the first time!
After that, we had to go home.:(