Home
>
Press Releases
>
Norwegian Bliss Keel Laying Ceremony Held At Meyer Werft In Germany
Norwegian Cruise Line Press Releases
Norwegian Bliss' keel laying ceremony held at Meyer Werft in Germany -UK-IE-EU-
Norwegian Cruise Line celebrates major construction milestone for first ever custom-built ship for the ultimate Alaska cruising experience
Wiesbaden / Southampton - May 24, 2017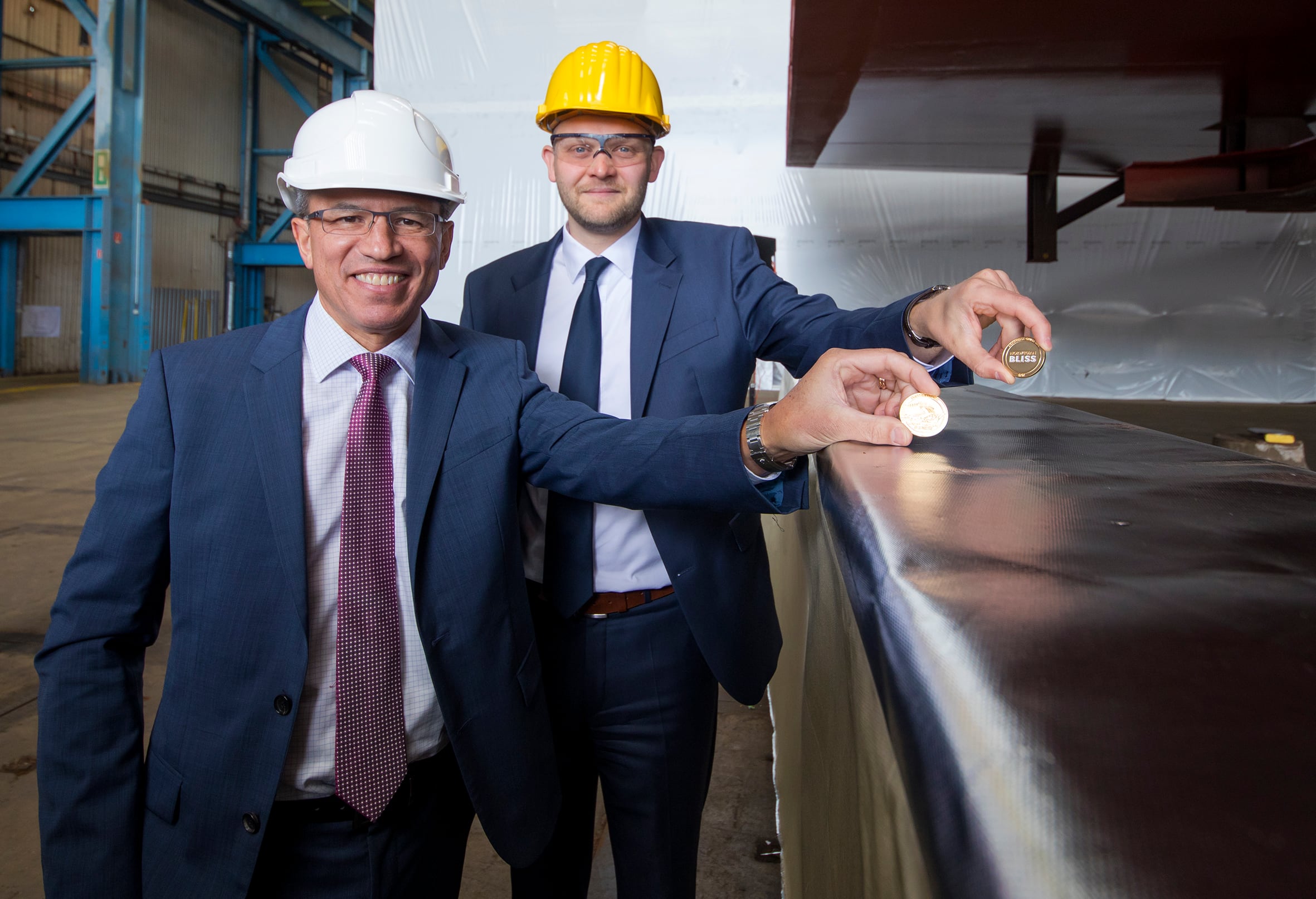 Norwegian Cruise Line President & CEO Andy Stuart and Meyer Werft Managing Partner Tim Meyer at the Keel Laying for Norwegian Bliss
Norwegian Cruise Line and Meyer Werft today celebrated the keel laying of Norwegian Bliss at the yard's state of the art facility in Papenburg, Germany. During the ceremony, one of the keel blocks of the 167,800 gross ton vessel was lifted into the covered building hall, signifying a major milestone in the ship's construction. Norwegian Bliss is due for delivery in April 2018 and will be the first cruise ship custom built with features and amenities for the ultimate Alaska cruise experience.
Andy Stuart, Norwegian Cruise Line's President and Chief Executive Officer, was present in the hall and laid the traditional "lucky coin", etched with the outline of the ship's signature hull designed by wildlife artist Wyland, before the block was lowered into place.
"We are overjoyed to celebrate the keel laying of Norwegian Bliss, our sixteenth ship and sure to be our most innovative ship to date," Stuart said. "We have seen overwhelming anticipation and excitement from our guests and travel partners for Norwegian Bliss, from her awe-inspiring custom-designed spaces like her observation lounges to her elegant suites in The Haven by Norwegian®, and we are all thrilled to see this magnificent ship begin to come to life with the craftsmanship, precision and cutting edge technology that Meyer Werft consistently delivers."
The third ship in the line's Breakaway Plus-Class, Norwegian Bliss will accommodate 4,000 guests and will be the 12th ship in the Norwegian Cruise Line fleet to be built by Meyer Werft.
"We are very happy to celebrate the start of the block assembly for another newbuild with Norwegian Cruise Line. This ship will be another milestone in our collaboration to create most efficient and innovative cruise ships", said Tim Meyer, Managing Director of Meyer Werft.
During her inaugural summer 2018 season, Norwegian Bliss will sail weekly seven-day Alaska cruises each Saturday from the recently expanded Pier 66 Cruise Terminal in Seattle, offering guests the premier way to see America's last frontier, while also providing all of the innovative features, entertainment, signature dining and on-board experiences that Norwegian Cruise Line is known for around the globe. The ship's itinerary will feature calls in Ketchikan, Juneau, Skagway and Victoria, British Columbia, along with scenic glacier cruising. Norwegian Bliss will sail her inaugural Winter season beginning in November 2018, sailing seven-day Eastern Caribbean cruises each Saturday from PortMiami, featuring calls in St. Thomas, US Virgin Islands; Tortola, British Virgin Islands and Nassau, Bahamas.
For more information on Norwegian Bliss, including an animated video of the ship's accommodations and features, please visit http://www.ncl.com/uk/en/cruise-ship/Bliss. Additional details on the ship's dining and recreational activities will be shared in the coming months. To book a Premium All Inclusive cruise aboard one of Norwegian's newest ships, contact a travel professional, visit www.ncl.co.uk or call 0333 241 2319.
EDITOR'S NOTE: Please click here for high resolution rendering images.
About Norwegian Cruise Line
Norwegian Cruise Line is the innovator in cruise travel with a 50-year history of breaking the boundaries of traditional cruising. Most notably, Norwegian revolutionised the cruise industry by offering guests the freedom and flexibility to design their ideal cruise holiday on their schedule. Today, Norwegian invites guests to "Feel Free" to explore the world on one of 14 purpose-built ships, providing guests the opportunity to enjoy a relaxed, resort style cruise holiday on some of the newest and most contemporary ships at sea. Norwegian Cruise Line has also introduced Premium All Inclusive in the UK. This offers guests unparalleled flexibility at sea by bringing more elements into the upfront fare, including a selection of premium alcoholic and non-alcoholic drinks, service charges and gratuities.
Recently, the line was named "Europe's Leading Cruise Line" for the ninth consecutive year, as well as "Caribbean's Leading Cruise Line" for the third time and "World's Leading Large Ship Cruise Line" for the fourth straight year by the World Travel Awards as well as World's Leading Cruise Line for the first time.
The Company took delivery of its most innovative ship to date, the 4.200-passenger Norwegian Escape in October 2015 and has three further 4.200-passenger vessels on order at Meyer Werft with delivery in the spring of 2017, 2018 and autumn of 2019. In addition, the cruise line reached an agreement with Fincantieri S.p.A. for the delivery of four ships of a new generation with delivery in 2022, 2023, 2024 and 2025 and hold the option for two additional ones.
Issued by Flagship Consulting
For further media information please contact the team on:
Norwegian@flagshipconsulting.co.uk
020 7680 7104
Or the individual team members on:
Belinda Hallworth 020 7680 7114 belinda.hallworth@flagshipconsulting.co.uk
Hannah Kerslake 020 7680 7122 hannah.kerslake@flagshipconsulting.co.uk
Sarah Callaghan 020 7680 7171 sarah.callaghan@flagshipconsulting.co.uk
How To
Contact Us
Jennifer Oettel / Kristina Heinrichs / Veronika Bahnmann
Phone: +49 611 36 07121
E-Post: presse@ncl.com

Corporate Mailing Address

Wiesbaden, Continental Europe Office
NCL (Bahamas) Ltd.
Wiesbaden Office
Continental Europe Branch
Kreuzberger Ring 68
65205 Wiesbaden, Germany