Home
>
Press Releases
>
Norwegian Bliss Makes History As The Largest Ship Christened In Seattle
Norwegian Cruise Line Press Releases
Norwegian Bliss makes history as the largest ship christened in Seattle - EU-EN -
US-Radio personality and Godfather to Norwegian Bliss, Elvis Duran, commences the full-day christening celebration in the Emerald City
Wiesbaden - May 31, 2018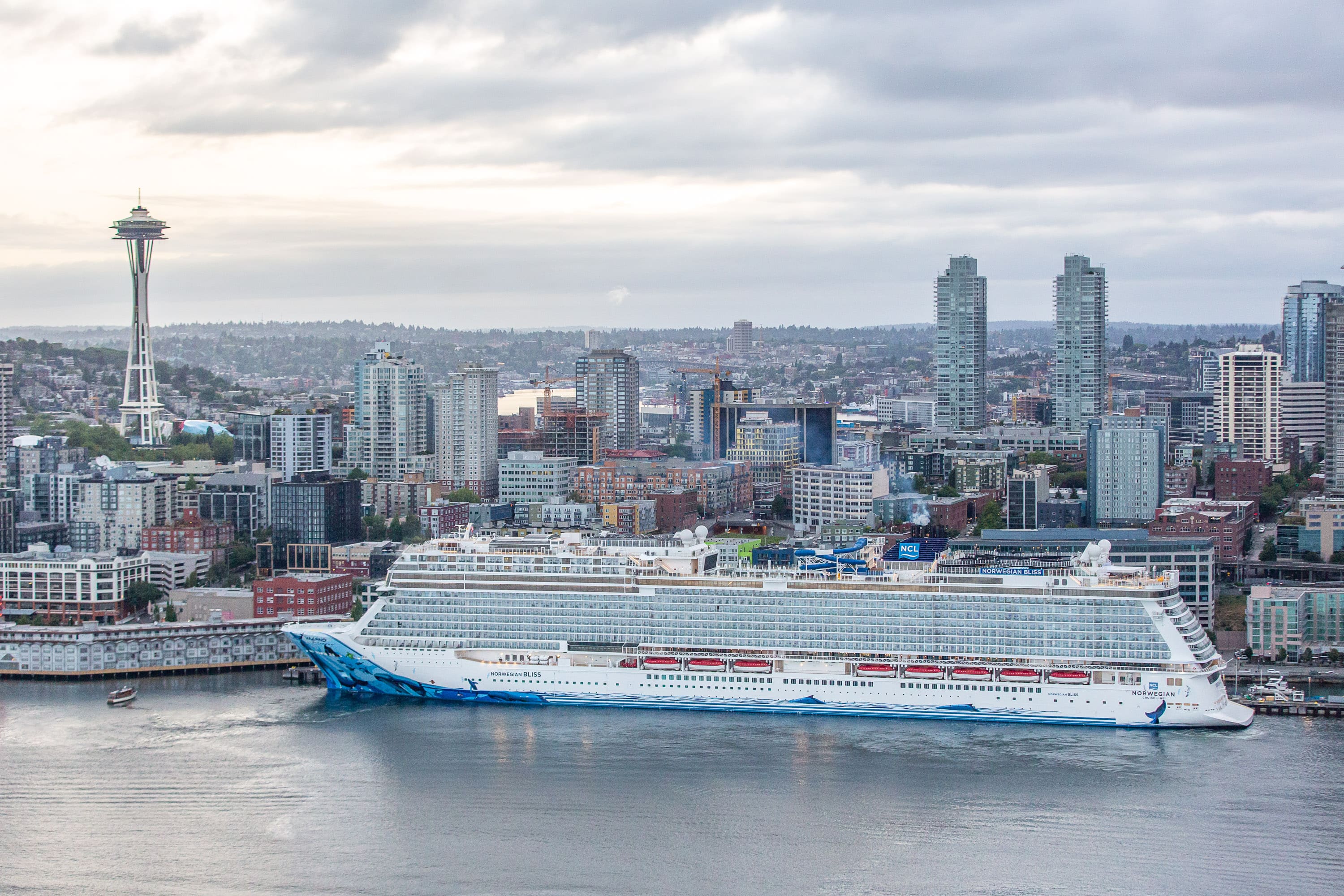 Following a month-long tour around Europe and the United States, Norwegian Cruise Line's Norwegian Bliss, was officially christened in her summer home of Seattle. She was welcomed with a water-canon salute by the Seattle Fire Department, as she cruised into Port of Seattle and will join Norwegian Jewel and Norwegian Pearl as the youngest fleet ever to cruise to Alaska.

"Norwegian Cruise Line has been cruising out of the Port of Seattle for eighteen years, and the public-private investment between Norwegian Cruise Line Holdings and the Port of Seattle that made the enhancement of Bell Street Cruise Terminal at Pier 66 possible, demonstrates the commitment we have to the city of Seattle," said Frank Del Rio, president and chief executive officer of Norwegian Cruise Line Holdings. "This month, Norwegian celebrates twenty-four years of cruising to Alaska, and with Norwegian Bliss joining our Alaska fleet we will have the largest capacity in our history, offering guests more options to experience the majesty of that destination."

Led by the godfather, Elvis Duran and The Morning Show crew, nearly 2,400 people witnessed the christening ceremony as it was broadcasted throughout the ship, making it an interactive experience for all on board.

Frank Del Rio and Andy Stuart, president and chief executive officer of Norwegian Cruise Line, welcomed travel partners, investors and industry representatives on board Norwegian Bliss. Special guests included Meyer Werft representatives governor of Alaska Bill Walker and local officials from Seattle. Also in attendance was the internationally renowned marine life artist Wyland, whose larger-than-life mural adorns the hull of Norwegian Bliss, and stands as an inspiring reminder of the splendor of Alaska and the importance of preserving the world's oceans.

After the traditional blessings, honorary Godfather, Elvis Duran, officially christened Norwegian Bliss with the symbolic bottle break across the ship's hull, wishing a safe voyage to all guests and crew wherever in the world she may travel, and commencing an evening full of show-stopping surprises.

Norwegian Bliss will cruise seven-day voyages to Alaska from Seattle and then in October she will sail select voyages to the Mexican Riviera from Los Angeles. For her fall/winter season, she will sail to the Eastern Caribbean from Miami and in 2019; she will sail from New York City to the Bahamas and Florida, the Southern and Western Caribbean.



About Norwegian Cruise Line
Norwegian Cruise Line is the innovator in cruise travel with a 51-year history of breaking the boundaries of traditional cruising. Most notably, Norwegian revolutionized the cruise industry by offering guests the freedom and flexibility to design their ideal cruise vacation on their schedule with no set dining times, a variety of entertainment options and no formal dress codes. Today, Norwegian invites guests to enjoy a relaxed, resort-style cruise vacation on some of the newest and most contemporary ships at sea with a wide variety of accommodations options, including The Haven by Norwegian®, a luxury enclave with suites, private pool and dining, concierge service and personal butlers. Norwegian Cruise Line sails around the globe, offering guests the freedom and flexibility to explore the world on their own time and experience up to 27 dining options, award-winning entertainment, superior guest service and more across all of the brand's 16 ships. European guests benefit in addition from Premium All Inclusive offering among others a wide selection of beverages, service charge and all tips related to all-inclusive services as well as 60 minutes of free WiFi per guest already included in the cruise fare.

Recently, the line was named "Europe's Leading Cruise Line" for the tenth consecutive year, "World's Leading Large Ship Cruise Line" for the sixth consecutive year, the "Caribbean's Leading Cruise Line" for the fifth consecutive year, as well as "World's Leading Cruise Line" and "North America's Leading Cruise Line" both for the second straight year by the World Travel Awards. Norwegian's next new build, the highly anticipated Norwegian Bliss, will be delivered in April 2018 featuring many firsts-at-sea for the global market including the largest race track at sea, award-winning Broadway entertainment, two observation lounges for guests to enjoy stunning ocean and glacier views and more. Norwegian will introduce an additional new "Breakaway Plus" Class cruise ship in 2019 and has four additional ships on order for delivery beginning in 2022, with an option to introduce two more ships in 2026 and 2027.
How To
Contact Us
Jennifer Oettel / Kristina Heinrichs / Veronika Bahnmann
Phone: +49 611 36 07121
E-Post: presse@ncl.com

Corporate Mailing Address

Wiesbaden, Continental Europe Office
NCL (Bahamas) Ltd.
Wiesbaden Office
Continental Europe Branch
Kreuzberger Ring 68
65205 Wiesbaden, Germany