Home
>
Press Releases
>
Norwegian Cruise Line Announces Ground Breaking European Summer 2017 Itineraries Eu Fr Ie
Norwegian Cruise Line Press Releases
Norwegian Cruise Line announces ground-breaking European summer 2017 itineraries- EU- FR- IE-
Five ships sailing European waters between April and October 2017, including Norwegian Getaway cruising to the Baltic Capitals from Copenhagen and a series of cruises from Southampton, Amsterdam and Hamburg on Norwegian Jade
Wiesbaden/Southampton - Jan 26, 2016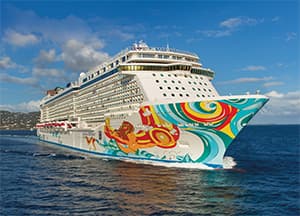 Wiesbaden, January 26, 2016 - Norwegian Cruise Line has announced its ground-breaking summer 2017 deployment for Europe with for the first time in company history five ships sailing in European waters as well as regular cruises out of Hamburg, with embarkation also available in Southampton and Amsterdam. In addition the company revealed details on Norwegian Escape's 2017 summer cruises to the Caribbean.
Marking the first time that Norwegian homeports a ship in Hamburg, Norwegian Jade, one of the company's four Jewel-Class ships, will feature brand new cruises from the Hanseatic City in 2017. From May 14 to October 9, 2017, guests can embark on a series of Western Europe, Norwegian Fjords and Norway & North Cape sailings, as well as a Norway, Iceland & UK cruise, taking in many European highlights. In the case of the Western Europe itineraries, guests can alternatively opt to embark in Amsterdam, and for the Western Europe as well as the Norwegian Fjords itineraries Southampton (London) is also a possible embarkation port.
In addition, the cruise line will bring Norwegian Getaway, the currently second newest ship in the fleet, back to Europe for the first time since its delivery in 2014, giving guests the opportunity to experience the ultimate in freedom and flexibility on Baltic Capitals cruises from/to Copenhagen or Warnemünde.
Three further ships will sail European waters in 2017, including the recently refurbished Norwegian Epic with her popular 7-night Western Mediterranean itinerary departing from Barcelona, Civitavecchia (Rome) or Marseille; Norwegian Spirit sailing alternating 11- and 10-night Grand Mediterranean cruises between Barcelona and Venice and Norwegian Star, which after her return from Australia will spend the summer cruising from Venice to the Greek Isles as well as the Adriatic, Greece & Turkey. The new itineraries go on sale in mid-February 2016 for all bookings.
"With these exciting summer itineraries, we're clearly demonstrating our commitment to our European customers. Not only are we offering new European embarkation ports but we are also bringing one of our newest and most innovative ships back to Europe", says Christian Böll, Managing Director Europe, Middle East and Africa for Norwegian Cruise Line. "We're convinced that this will encourage continued growth in the European market, where we're seeing an ever-growing demand for the unparalleled cruise experience we offer."
Norwegian Jade will arrive in Europe looking resplendent after a 2,5-week dry dock and begin her regular cruises from Hamburg on May 14, 2017 with a series of 7-night Western Europe itineraries visiting Amsterdam, Zeebrugge (Brussels/Bruges), Le Havre (Paris) and Southampton (London), offered from May 14 to 28 and from August 19 to September 23, 2017. A longer Western Europe itinerary of 9 nights is offered on September 30 and October 9, 2017 with additional stops in Portland and Brest. In addition there will be two 9-night cruises to the Norwegian Fjords on June 4 and 13, 2017 with stops in Ålesund, Hellesylt, Geiranger, Flåm and Bergen as well as Southampton (London), along with two 10-night Norwegian Fjords cruises on July 30 and August 9, 2017 which will also include a visit to the Orkney Islands. On June 22 and July 4, 2017, Norwegian Jade departs Hamburg for two 12-night cruises to the North Cape including numerous highlights along Norway's West Coast and on July 16, 2017 guests can experience a 14-night cruise visiting Bergen, Ålesund, the Shetland Islands, Akureyri and Reykjavik (overnight) in Iceland, the Orkney Islands as well as Invergordon (Inverness) and Newhaven (Edinburgh) in Scotland.
Norwegian Getaway will return to Europe and sail a 9-night Baltic Capitals cruise from Copenhagen from May 16 to September 28, 2017 with stops in Warnemünde (Berlin), Tallinn, St. Petersburg, Helsinki and Stockholm, including an overnight stay in St. Petersburg, giving guests the opportunity to see all the splendour of the imperial capital of Russia in two days and add in a ballet performance or folklore show at night. On October 7 an 8-night cruise is offered without overnight in St. Petersburg. For the Baltic Capitals cruises, guests will also have the possibility to embark in Warnemünde, with the first sailing departing the city on May 17.
As the currently second newest ship in Norwegian's fleet, Norwegian Getaway brings the ultimate freedom and flexibility to the Baltic. Guests can choose from 27 dining options, whether looking for fine dining in one of 11 complimentary restaurants or something different in one of the many speciality restaurants such as Teppanyaki, French bistro cuisine or spectacular seafood in Ocean Blue. And the freedom and flexibility doesn't end with the dining options. Guests can also enjoy Broadway shows Legally Blonde and Burn the Floor, five multi-storey waterslides and a two-storey ropes course. There's a wide range of accommodation on board, including the luxurious ship-within-a-ship suite complex The Haven by Norwegian® as well as Studios, designed and priced for solo travellers; and many options for families, multi-generational groups, spa enthusiasts and more.
The recently refurbished Norwegian Epic will arrive in Barcelona on April 14, 2017, beginning her Europe season with a 9-night Canary Islands & Morocco cruise before resuming her popular 7-night Western Mediterranean cruises with stops in Naples (Pompeii), Civitavecchia (Rome), Livorno (Florence/Pisa), Cannes and Marseille. In addition to Barcelona, guests can opt to embark in Civitavecchia or Marseille. From Barcelona the cruise is offered every Sunday from April 23 to October 1, 2017. From October 8 to 29, 2017 Norwegian Epic sets sail for two alternative 7-night cruises between Barcelona and Civitavecchia which can be combined to a 14-night cruise visiting Palma, Mallorca; Sete; Marseille; Cannes; Livorno (Florence/Pisa); Civitavecchia (Rome); Naples (Pompeii); Cagliari; Málaga (Granada); Cartagena and Valencia.
Norwegian Spirit follows up her 2016/17 European winter cruises with alternating 11- and 10-night summer cruises in the Mediterranean between Venice and Barcelona. The 10-night cruises from Barcelona to Venice visit Monte Carlo, Livorno (Florence/Pisa), Civitavecchia (Rome), Santorini, Kusadasi (Ephesus), Piraeus (Athens) and Split and start on May 4, 2017, whereas calls on the 11-night cruises from Venice to Barcelona which start on May 28, 2017 are Dubrovnik, Piraeus (Athens), Kusadasi (Ephesus), Santorini, Civitavecchia (Rome), Livorno (Florence/Pisa) and Marseille. On May 14, 2017 Norwegian Spirit visits the Holy Land on a 14-night cruise from/to Venice which includes an overnight stay in Haifa as well as stops in Zadar, Kotor, Heraklion, Limassol, Alanya, Piraeus (Athens) and Split.
From April 16 to October 22, 2017 Norwegian Star will call Venice her home for the summer after her return from her long journey to Australia, and will set sail on alternating 7-night cruises to the Greek Isles and the Adriatic, Greece & Turkey, stopping in Corfu, Santorini, Mykonos and Ravenna (Greek Isles cruise) and Dubrovnik, Piraeus (Athens), Kusadasi (Ephesus) and Katakolon (Olympia) (Adriatic, Greece & Turkey cruise). On 9 July Norwegian Star visits Corfu, Santorini, Kusadasi (Ephesus), Piraeus (Athens) and Split on an 8-night cruise, followed by a 6-night cruise on July 17 calling at Dubrovnik, Kotor, Corfu and Ravenna. On October 29, 2017, guests can look forward to a 10-night cruise from Venice to Istanbul including stops in Split, Kotor, Corfu, Messina, Valletta, Santorini and Kusadasi (Ephesus).
Norwegian Escape, Norwegian's newest ship launched last October, will spend summer 2017 sailing alternating 7-night Eastern and Western Caribbean cruises from Miami, starting on May 6. The Eastern Caribbean itinerary includes stops in St. Thomas, U.S. Virgin Islands; Tortola, British Virgin Islands and Nassau, Bahamas, whereas the Western Caribbean cruises visit Roatán, Honduras; Norwegian's private destination Harvest Caye, Belize; Costa Maya, Mexico and Cozumel, Mexico.
Itineraries as detailed reflect the current status of itinerary planning and are subject to change.
How To
Contact Us
Jennifer Oettel / Kristina Heinrichs / Veronika Bahnmann
Phone: +49 611 36 07121
E-Post: presse@ncl.com

Corporate Mailing Address

Wiesbaden, Continental Europe Office
NCL (Bahamas) Ltd.
Wiesbaden Office
Continental Europe Branch
Kreuzberger Ring 68
65205 Wiesbaden, Germany