Home
>
Press Releases
>
Norwegian Cruise Line Enhances Premium All Inclusive With 60 Minutes Free Wi Fi%20
Norwegian Cruise Line Press Releases
Norwegian Cruise Line enhances Premium All Inclusive with 60 Minutes free Wi-Fi - EU-EN -
Wiesbaden - Feb 01, 2018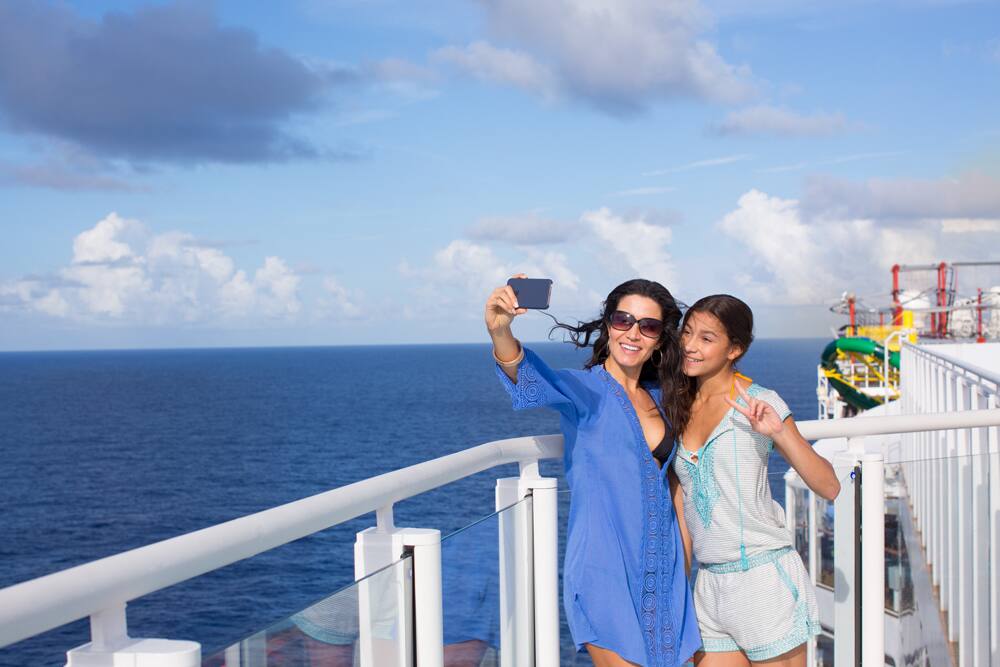 Norwegian Cruise Line is upholding its position as a leading innovator in the cruise industry and is the first major shipping company in German-speaking markets to include free Wi-Fi in its Premium All Inclusive offer. With immediate effect, guests of the international cruise line will benefit from 60 minutes of free Internet per person in addition to all of the other benefits covered by their cruise fare.
"Many shipping companies only offer Suite guests a free Internet package," explains Christian Böll, Managing Director Europe of Norwegian Cruise Line. "However, we are taking our Premium All Inclusive concept a step further and now offer all our customers free Wi-Fi access. That way, they can keep in touch and share their holiday impressions with friends and family any time."
As well as 60 minutes of free Internet per person, guests enjoy a wide selection of spirits, cask and bottled beers, wines by the glass, various cocktails (up to U.S. $15 each) and soft drinks in all bars, lounges and restaurants, plus speciality coffees in restaurants. Crew tips and gratuities for inclusive services are also covered, and a bottle of water per person per day is provided in staterooms. Premium All Inclusive was introduced in December 2015 in the German-speaking market. Following great demand from customers and business partners, the concept was successfully implemented across all other European markets in April 2017.


About Norwegian Cruise Line
Norwegian Cruise Line is the innovator in cruise travel with a 51-year history of breaking the boundaries of traditional cruising. Most notably, Norwegian revolutionized the cruise industry by offering guests the freedom and flexibility to design their ideal cruise vacation on their schedule with no set dining times, a variety of entertainment options and no formal dress codes. Today, Norwegian invites guests to enjoy a relaxed, resort-style cruise vacation on some of the newest and most contemporary ships at sea with a wide variety of accommodations options, including The Haven by Norwegian®, a luxury enclave with suites, private pool and dining, concierge service and personal butlers. Norwegian Cruise Line sails around the globe, offering guests the freedom and flexibility to explore the world on their own time and experience up to 27 dining options, award-winning entertainment, superior guest service and more across all of the brand's 15 ships.

Recently, the line was named "Europe's Leading Cruise Line" for the tenth consecutive year, "World's Leading Large Ship Cruise Line" for the sixth consecutive year, the "Caribbean's Leading Cruise Line" for the fifth consecutive year, as well as "World's Leading Cruise Line" and "North America's Leading Cruise Line" both for the second straight year by the World Travel Awards.

Norwegian's next new build, the highly anticipated Norwegian Bliss, will be delivered in April 2018 featuring many firsts-at-sea for the global market including the largest race track at sea, award-winning Broadway entertainment, two observation lounges for guests to enjoy stunning ocean and glacier views and more. Norwegian will introduce an additional new "Breakaway Plus" Class cruise ship in 2019 and has four additional ships on order for delivery beginning in 2022, with an option to introduce two more ships in 2026 and 2027.
How To
Contact Us
Veronika Bahnmann
Senior Manager PR & Communications Europe
Phone: +49 611 36 07121
E-Mail: vbahnmann@ncl.com

Corporate Mailing Address

Wiesbaden, Continental Europe Office
NCL (Bahamas) Ltd.
Wiesbaden Office
Continental Europe Branch
Kreuzberger Ring 68
65205 Wiesbaden, Germany