Home
>
Press Releases
>
Norwegian Cruise Line Names Top On Air Personality Elvis Duran As Godfather For Its Newest Ship Norwegian Bliss
Norwegian Cruise Line Press Releases
Norwegian Cruise Line names top on air personality Elvis Duran as godfather for its newest ship, Norwegian Bliss -EU-
Celebrated Nationally-Syndicated Radio Host of "Elvis Duran and the Morning Show" to Christen Norwegian's Newest Ship in May 2018
Wiesbaden / Southampton - Dec 01, 2017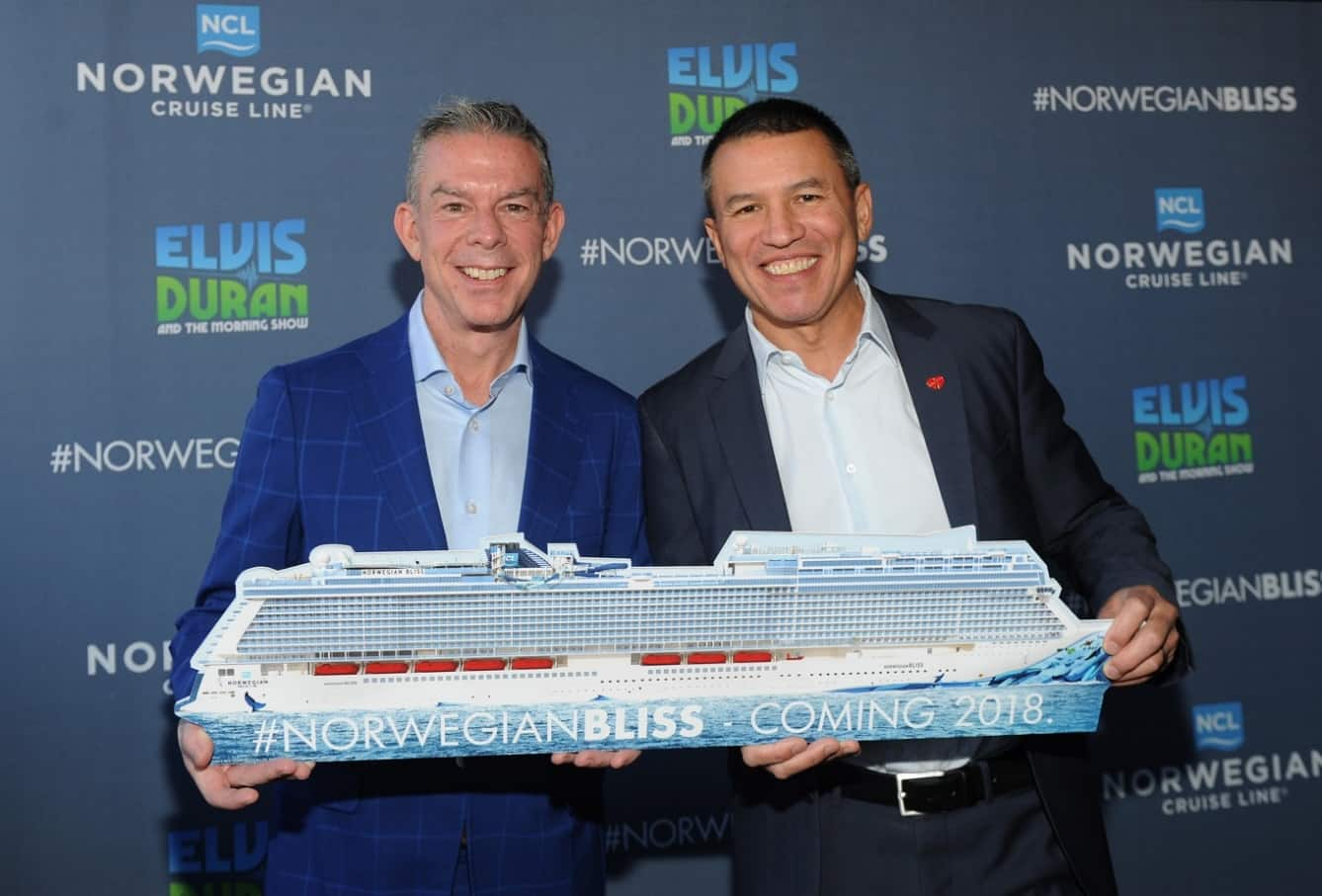 Norwegian Cruise Line announced today that Elvis Duran, an US syndicated radio and digital personality and on-air host of iHeartMedia's top rated, "Elvis Duran and the Morning Show" will serve as Godfather of its newest ship, Norwegian Bliss. As Godfather, Elvis will have an honorary role in the official ship christening ceremony on May 30, 2018 at Pier 66 in Seattle. Custom built for the ultimate cruising experience, Norwegian Bliss will boast an array of exhilarating activities, delectable dining options and show stopping performances. The line's sixteenth ship will sail weekly seven-day Alaska cruises during her inaugural summer season and, beginning in November 2018, Norwegian Bliss will trade in Alaska's breathtaking scenery for stunning Caribbean sunsets as she sails seven-day Eastern Caribbean cruises each Saturday from Port Miami.
"Elvis Duran epitomizes the high-energy, and liveliness that the ship represents and we're very excited to have him join the family as Godfather to Norwegian Bliss," said Christian Boell, Managing Director Norwegian Cruise Line Europe. "Elvis' commitment to entertainment and bringing laughter and joy to his listeners each day is exactly why we believe he is the perfect fit to represent Norwegian Bliss."
In the maritime world, it is a longstanding tradition to name a Godparent of a new vessel and the honor is given to an individual who will officially christen a new ship, and remain in their role for the life of the ship. Norwegian Cruise Line bestowed the Godfather role upon Elvis Duran as he mirrors the fun, exciting and original personality that Norwegian Bliss so wholly embodies. While Norwegian Bliss is docked in Seattle on May 30, 2018, Elvis will join Norwegian Cruise Line Holdings Ltd.'s President and CEO Frank Del Rio and Norwegian Cruise Line President and CEO Andy Stuart in the tradition of breaking a bottle of champagne against the ship's hull and officially christening the vessel during an exciting ceremony. Elvis joins the family of high profile Godmothers and Godfathers for the brand including Pitbull, Kim Cattrall, Reba McEntire, Rosie O'Donnell, and the Radio City Rockettes as he steps into this special new role.
Elvis Duran has become a household name in the industry since he began hosting the daily morning radio show on New York's Z100 in 1996. Over the years, Duran has continuously shown his devotion to his listeners by seeking new ideas, fun games and exciting interviews with celebrities. His radio career has spanned 30 years and today, the award-winning "Elvis Duran and the Morning Show" on WHTZ, New York's Z100, is syndicated nationally by Premiere Networks on nearly 80 radio stations across the country and available digitally on iHeartRadio, reaching more than ten million monthly listeners. The show is the most listened to Top 40 morning show in the U.S. that consistently ranks #1 across multiple demographics and top markets. Broadcasting live from New York's Z100, Duran and his on-air crew entertain listeners with up-to-the-minute entertainment and pop culture news, celebrity guests, hit songs, and regular features such as the gossipy "Entertainment Report," the news-worthy "Headlines," and the ever-popular prank "Phone Taps."
"I am honored to be named Godfather for Norwegian Bliss," said Elvis Duran. "This incredible ship and all the innovative activities onboard, from the race track to Broadway shows, perfectly reflect the energy and excitement of our morning show and we are looking forward to bringing our loyal listeners along for this once-in-a-lifetime experience. I can't wait until she arrives next May!"
EDITOR'S NOTE: Please click here to view more images of our Godfather announcement.
About iHeartMedia
With over a quarter of a billion monthly listeners in the U.S. and over 122 million social followers, iHeartMedia has the largest national reach of any radio or television outlet in America. As the leader in multiplatform connections, it also serves over 150 local markets through 858 owned radio stations, and the company's radio stations and content can be heard on AM/FM, HD digital radio, satellite radio, on the Internet at iHeartRadio.com and on the company's radio station websites, on the iHeartRadio mobile app, in enhanced auto dashes, on tablets, wearables and smartphones, and on gaming consoles.
iHeartRadio, iHeartMedia's digital radio platform, is the fastest growing digital audio service in the U.S. and offers users thousands of live radio stations, personalized custom artist stations created by just one song or seed artist and the top podcasts and personalities. With over 1.4 billion downloads, iHeartRadio reached 100 million registered users faster than any other radio or digital music service.
iHeartMedia's platforms include radio broadcasting, online, mobile, digital and social media, podcasts, personalities and influencers, live concerts and events, syndication, music research services and independent media representation. iHeartMedia is a division of iHeartMedia, Inc. (PINK: IHRT). Visit iHeartMedia.com for more company information.
How To
Contact Us
Jennifer Oettel / Kristina Heinrichs / Veronika Bahnmann
Phone: +49 611 36 07121
E-Post: presse@ncl.com

Corporate Mailing Address

Wiesbaden, Continental Europe Office
NCL (Bahamas) Ltd.
Wiesbaden Office
Continental Europe Branch
Kreuzberger Ring 68
65205 Wiesbaden, Germany