Norwegian Cruise Line Press Releases
Norwegian Cruise Line unveils brands top 5 suites at sea* -EU-UK-IE-
An exclusive insight into the luxurious world of The Haven by Norwegian®
Wiesbaden / Southampton - Jul 27, 2017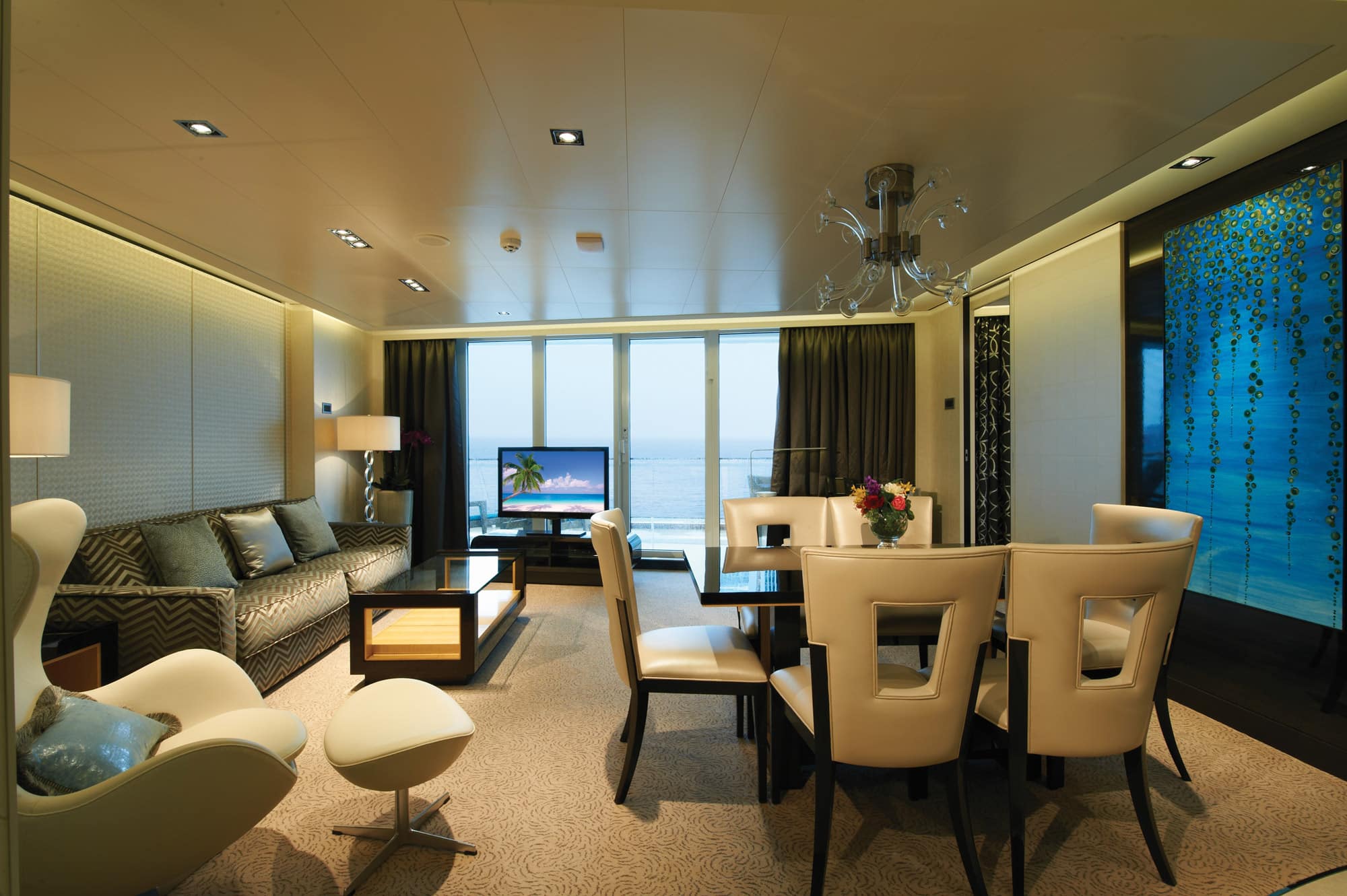 Deluxe Owner Suite - Living Room - Norwegian Getaway
In honour of the year of five for Norwegian, with five ships deployed in Europe this summer in its 50th year of cruising, Norwegian has picked out its top 5 suites available in its luxurious ship-within-a-ship suites complex The Haven by Norwegian.
The Haven by Norwegian is home to the most luxurious, well-appointed and spacious staterooms. Guests can enjoy VIP treatment with personal service of a concierge and 24-hour certified butler, priority boarding, access to a private courtyard with pool and sundeck, fitness room, sauna and - on some ships - access to a private restaurant and bar.
Guests are invited to enjoy the best of both worlds, exclusive luxury alongside access to fantastic amenities right on their doorstep; from exceptional dining to the spectacular entertainment that only the larger premium cruise ships can offer. And all this is Premium All Inclusive with not only dining and entertainment included in the cruise fare but also a wide range of alcoholic drinks, soft drinks, water in the cabin and speciality coffees in restaurants, as well as gratuities and services charge included. Suite guests also exclusively get speciality dining, internet minutes and an additional on-board credit.
Norwegian invites guests to explore the world in complete luxury: from Iceland to Australia, and Alaska to Rome.
1)3-Bedroom Garden Villa
The largest and most luxurious suites on the high seas feature a spacious living room, walls of windows, outdoor terraces with a hot tub and a private dining area. There are three bedrooms including full baths plus a half-bath. Garden Villas sleep up to eight guests.
2)Deluxe Owner's Suite With Large Balcony
Floor-to-ceiling windows provide an ever-changing view in this chic suite offering the ultimate VIP experience. The suite includes a bedroom (some ships offer two) with a luxury bath, plus a separate living and dining room. Deluxe owner's suites sleep up to six guests.
Take a 360 Virtual Tour of The Haven's Deluxe Owners Suite on Norwegian Escape.
3)2-Bedroom Family Villa With Balcony
Chic décor adds a modern twist to this sumptuous villa for the family. The master bedroom and second bedroom both provide a retreat with flat-screen TVs and private baths. A private balcony completes this sanctuary at sea. Family villas sleep up to six guests.
Take a 360 Virtual Tour of The Haven's 2-Bedroom Family Villa with Balcony on Norwegian Escape.
4)Courtyard Penthouse with Balcony
Some of these opulent Courtyard Penthouse with Balcony's are designed to be a romantic hideaway ideal for two with a round queen-size bed. Others offer floor-to-ceiling windows and room for an additional guest.
Take a 360 Virtual Tour of The Haven's Courtyard Penthouse with Balcony on Norwegian Escape.
5)Deluxe Spa suite with balcony
The perfect way to experience a total spa holiday, the Spa Suites include a king-size bed and additional bedding to accommodate one guest, hot tub, oversized waterfall shower and multiple body spray jets, spa decor, easy access to the adjacent Mandara Spa and fitness centre, as well as complimentary access to the Thermal Spa Suites during regular Spa hours.
Take a 360 virtual tour of The Haven's Deluxe Spa Suite with Balcony on Norwegian Escape.
The Haven by Norwegian is available on Norwegian Escape, Norwegian Getaway, Norwegian Bliss, Norwegian Breakaway, Norwegian Epic, Norwegian Gem, Norwegian Pearl, Norwegian Jewel and Norwegian Jade.
*Different suites only available on certain ships.
To book a cruise with Norwegian Cruise Line, call 0333 241 2319 or visit www.ncl.co.uk
About Norwegian Cruise Line
Norwegian Cruise Line is the innovator in cruise travel with a 50-year history of breaking the boundaries of traditional cruising. Most notably, Norwegian revolutionized the cruise industry by offering guests the freedom and flexibility to design their ideal cruise vacation on their schedule. Today, Norwegian invites guests to enjoy a relaxed, resort style cruise vacation on some of the newest and most contemporary ships at sea with a wide variety of accommodation options, including The Haven by Norwegian®, a luxury enclave with suites, private pools and dining, concierge service and personal butlers.
Recently, the line was named "Europe's Leading Cruise Line" for the ninth consecutive year, as well as "Caribbean's Leading Cruise Line" for the fourth time and "World's Leading Large Ship Cruise Line" for the fifth straight year by the World Travel Awards. Norwegian will introduce two new "Breakaway Plus" Class cruise ships through 2019 and has four additional ships on order for delivery beginning in 2022, with an option to introduce two more ships in 2026 and 2027.
Issued by Flagship Consulting
For further media information please contact the team on:
Norwegian@flagshipconsulting.co.uk
020 7680 7104
Or the individual team members on:
Belinda Hallworth 020 7680 7114 belinda.hallworth@flagshipconsulting.co.uk
Hannah Kerslake 020 7680 7122 hannah.kerslake@flagshipconsulting.co.uk
Sarah Callaghan 020 7680 7171 sarah.callaghan@flagshipconsulting.co.uk
How To
Contact Us
Jennifer Oettel / Kristina Heinrichs / Veronika Bahnmann
Phone: +49 611 36 07121
E-Post: presse@ncl.com

Corporate Mailing Address

Wiesbaden, Continental Europe Office
NCL (Bahamas) Ltd.
Wiesbaden Office
Continental Europe Branch
Kreuzberger Ring 68
65205 Wiesbaden, Germany