Home
>
Press Releases
>
Norwegian Jewel Will Arrive To Sydney After Bow To Stern Renovation%20
Norwegian Cruise Line Press Releases
Norwegian Jewel will arrive to Sydney after bow-to-stern renovation - EU-EN -
Wiesbaden - Nov 09, 2018
Ship Undergoes Company's Most Extensive Ship Refurbishment in 2018
Norwegian Jewel Debuts New Entertainment: "Velvet," "Le Cirque Bijou" and "Rock You Tonight"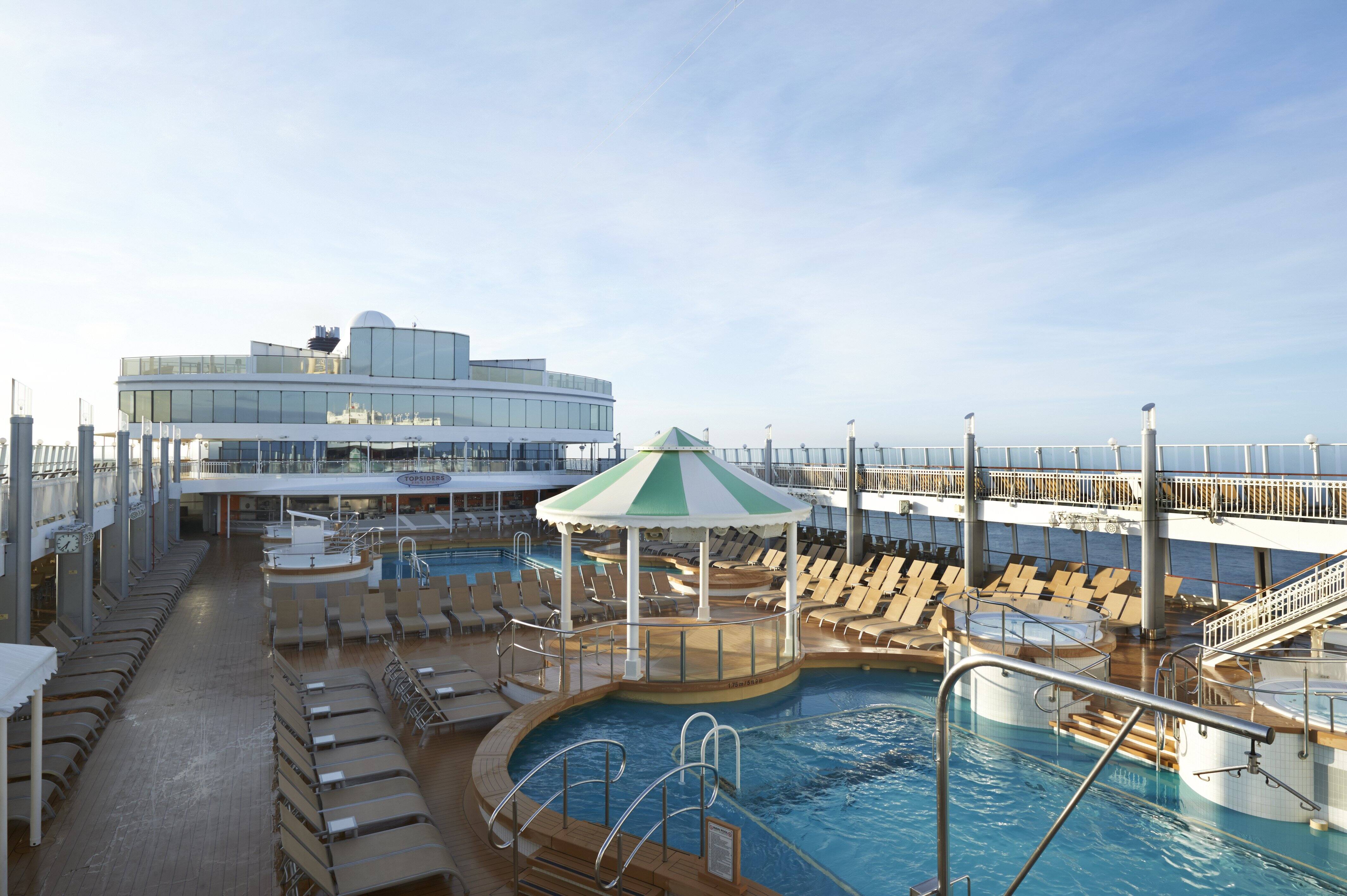 Newly refurbished pool deck of Norwegian Jewel
MIAMI (Nov. 9, 2018) – Norwegian Cruise Line, the innovator in cruising, today announced the completion of the refurbishment of Norwegian Jewel as part of The Norwegian Edge® program, reaffirming the company's commitment to elevating the standard of excellence across the fleet.

Following a two-week dry dock in Singapore for the company's most extensive enhancement project in 2018, Norwegian Jewel will debut in Sydney, Australia on Saturday, Dec. 1, showcasing refreshed venues, updated spaces, premiere entertainment and redesigned staterooms.

Offering seven to 19-day itineraries to some of the region's most exotic destinations, she'll spend her winter 2018 and spring 2019 seasons cruising from Sydney, Hong Kong and Singapore, before joining Norwegian Bliss and Norwegian Joy in Alaska for the summer.

"Norwegian Jewel's complete renovation showcases our dedication to providing guests with quality experiences across the fleet and around the world," said Kevin Bubolz, Managing Director Europe at Norwegian Cruise Line. "Not only are we revealing updated designs and accommodations throughout the ship, but guests will also enjoy new venues and three exciting shows, one of which premieres for the first time on Norwegian Jewel."
Debuting Entertainment
Norwegian Jewel will feature three new shows - "Rock You Tonight," and ship exclusives "Le Cirque Bijou" and "Velvet," illustrating the company's commitment to providing high-caliber entertainment. The Australian hit musical "Velvet" makes its debut at sea with disco classics, a stellar combination of circus acrobatics, cabaret and burlesque elements, and features the talented Brenda Edwards of "X Factor UK" as the lead, with "The Voice" finalist, Frenchie Davis to follow.

"Le Cirque Bijou," only showing on Norwegian Jewel, provides a mesmerizing journey of artistic and high-flying acrobatic performances, while "Rock You Tonight" showcases a medley of songs from the best bands of the 70s, including Queen, Journey and The Who.

New and Updated Restaurants, Bars and Lounges
Nearly all dining, bar and lounge offerings on Norwegian Jewel were updated, and two new venues were opened – The Pit Stop and Bliss Ultra Lounge, replacing the Sky High Bar and FYZZ Cabaret Lounge.

Drawing inspiration from the 1950's, The Pit Stop is an all-American bar retrofitted with vintage license plates, gas station signage and other classic car elements of the era. Bliss Ultra Lounge offers late-night entertainment in a modern and upscale setting, with more intimate seating options now available.

Redesigned Staterooms
All 1,188 staterooms were upgraded with new televisions and USB outlets, as well as new carpet, artwork and furniture. The Haven by Norwegian® received updates to the courtyard, additional cabanas on the sun deck and new finishes, carpets, tiles, drapes, artwork and furniture for all suites and villas. The ship also boasts two new Haven Deluxe Owner's Suites, at nearly 1,200 square feet and featuring large, 567-square-foot balconies, two private jacuzzies and accommodates up to four guests.

Enhanced Public Spaces and Recreation Areas
As the heart of the ship, the Atrium has been revitalized with an entirely refreshed look centered around a custom-design chandelier and includes updated flooring, refurbished reception and shore excursion desk areas, the addition of relaxed banquette seating and a large TV screen.

Link to Norwegian Jewel Assets



About Norwegian Cruise Line
As the innovator in global cruise travel, Norwegian Cruise Line has been breaking the boundaries of traditional cruising for over 51 years. Most notably, the cruise line revolutionized the industry by offering guests the freedom and flexibility to design their ideal vacation on their preferred schedule with no set dining times and no formal dress codes. Today, across its fleet of 16 contemporary ships that sail to over 200 desirable destinations across the world, Norwegian Cruise Line not only provides superior guest service, it offers a wide variety of award-winning entertainment and dining options as well as a range of accommodations including solo-traveler staterooms, mini-suites, spa-suites and The Haven by Norwegian®, the company's ship-within-a-ship concept.
How To
Contact Us
Veronika Bahnmann
Senior Manager PR & Communications Europe
Phone: +49 611 36 07121
E-Mail: vbahnmann@ncl.com

Corporate Mailing Address

Wiesbaden, Continental Europe Office
NCL (Bahamas) Ltd.
Wiesbaden Office
Continental Europe Branch
Kreuzberger Ring 68
65205 Wiesbaden, Germany