Home
>
Press Releases
>
Norwegian Joys Keel Laying Ceremony Held At Meyer Werft In Germany Eu Fr Ie
Norwegian Cruise Line Press Releases
Norwegian Joy's keel laying ceremony held at Meyer Werft in Germany- EU- FR- IE-
First block placed in the building hall for Norwegian Joy, signifying the start of construction on line's first purpose built ship for China
Wiesbaden/Southampton - Apr 05, 2016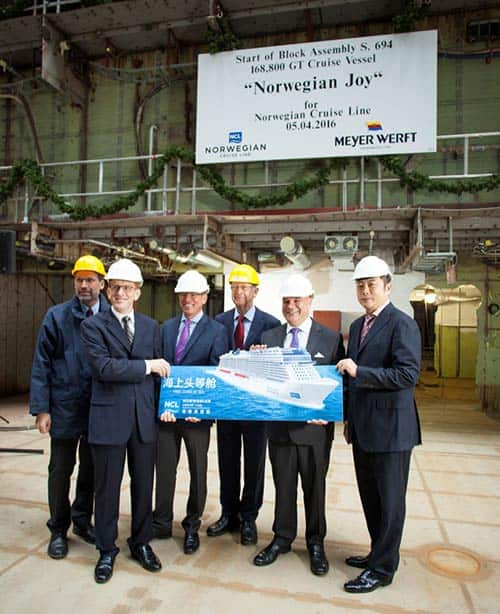 Meyer Werft Managing Director Lambert Kruse, NCLH Executive Vice President, International Business Development Harry Sommer, NCL President & COO Andy Stuart, Meyer Werft Managing Partner Bernard Meyer, NCLH China President David Herrera and Vice President of Sales for NCLH China Alex Xiang at the Keel Laying for Norwegian Joy
Wiesbaden, April 5, 2016 – Norwegian Cruise Line (NCL) together with executives at Meyer Werft, celebrated the keel laying ceremony today in Papenburg, Germany for Norwegian's first ever ship styled exclusively for Chinese guests Norwegian Joy (X? Yuè Hào), arriving Summer 2017.
During the ceremony, the first of 80 blocks that will comprise the 168.800 gross ton vessel was lifted into the covered building hall, officially marking the start of the ship's assembly. Norwegian Cruise Line and Norwegian Cruise Line Holdings Ltd. (NCLH) executives were present in the hall and laid the traditional "lucky coin", before the first block, weighing 680 tons, was placed by a massive crane.
"We are absolutely thrilled to celebrate the Keel Laying for Norwegian Joy today with our partners at Meyer Werft," said Norwegian Cruise Line President and Chief Operating Officer Andy Stuart. "Norwegian Joy is yet another evolution for Norwegian Cruise Line and we know the outstanding work of the teams at Meyer Werft will truly make her a first class vessel."
A special commemorative coin featuring the ship was created to celebrate the day's activities. In a ceremony held at the XingTian Temple at Fang Ta Park in Shanghai on March 31, 2016, NCLH China executives gathered for a traditional prayer and pledge ceremony to the Chinese Goddess of the sea, Mazu, to bring blessings to the coins, the ship and all of the guests who sail on her. The same coin was then placed under the block during the ceremony.
"We are carefully designing every element of Norwegian Joy, from her VIP accommodation to gourmet dining venues, outstanding recreation and entertainment choices and family-friendly features, to create a First Class at Sea experience that is completely focused on exceeding the expectations of our Chinese guests," said NCLH China President David Herrera.
In addition to the ceremony, Norwegian Cruise Line also announced the appointment of David Herrera as President, Norwegian Cruise Line Holdings China. Previously Senior Vice President Strategy and Business Development for NCLH, David will assume new responsibilities for the sales, marketing, public relations and operations for all three brands within the NCLH portfolio in his new role. To lead the launch efforts for Norwegian Joy, Mr. Herrera, his wife Patty and their three young sons will be relocating to Shanghai this summer.
"David is building an incredible team of talented individuals in China who are committed to making the launch of Norwegian Joy a resounding success, and that dedication starts at the top," said Harry Sommer, NCLH Executive Vice President, International Business Development. "It was abundantly clear that David's involvement in our China efforts since 2012, as well as his enthusiasm and passion, made him the right person to lead the team on the ground in Shanghai and we are so pleased to have him in this new role."
Home porting in Shanghai & Tianjin (Beijing), Norwegian Joy was designed by the team at NCL to provide First Class at Sea experiences specifically for the Chinese traveller, with on-board amenities that cater to the unique holiday desires of Chinese guests. Built at Meyer Werft in Papenburg, Germany, the ship features German precision engineering to the highest possible standard, all while offering superior customization for the culture and preferences of Chinese guests along with the exciting and innovative features found on NCL's most recent vessels.
"This steel block for Norwegian Joy marks another milestone of our successful partnership with Norwegian Cruise Line," said Bernard Meyer, Managing Director of Meyer Werft. "We are thrilled to build a totally new ship which is designed for the fast growing Chinese market and will be delivered in just 12 months."
Norwegian Joy's experiences include a multitude of VIP accommodation, from exclusive suite complex The Haven by Norwegian®, an all-new Concierge category and the most family-friendly stateroom options in the fleet; along with a technology-driven interactive Galaxy Pavilion outfitted with bumper cars, Oculus Rift virtual reality; car racing simulators and much more.
The ship's top decks will feature the only race track at sea and laser tag, along with two waterslides and a serene open space for relaxation and renewal. Norwegian Joy will also offer international luxury shopping boutiques with renowned global luxury brands, in fashion, jewellery and electronics.
With a fleet of 14 liners cruising worldwide, Norwegian Cruise Line was this year voted "Europe's Leading Cruise Line" for the eighth consecutive year in the prestigious World Travel Awards, as well as "Caribbean's Leading Cruise Line" for the third time and "World's Leading Large Ship Cruise Line" for the fourth year running.
For more information on Norwegian Joy, please contact an authorized Norwegian travel partner or visit www.goncl.cn or https://www.ncl.com/norwegian-joy.
About Meyer Werft GmbH
Founded in 1795, Papenburg-based Meyer Werft has been managed by the sixth and seventh generation of the Meyer family. This well-established company has approximately 3.300 employees. Meyer Werft's extensive production programme covers a wide range of ship types, from cruise ships, gas tankers, to car and passenger ferries. In order to stay successful in worldwide competition, production technology has been continuously improved and extended. Today, Meyer Werft has the most modern production premises in the shipbuilding industry. For more information, go to www.meyerwerft.com.
How To
Contact Us
Jennifer Oettel / Kristina Heinrichs / Veronika Bahnmann
Phone: +49 611 36 07121
E-Post: presse@ncl.com

Corporate Mailing Address

Wiesbaden, Continental Europe Office
NCL (Bahamas) Ltd.
Wiesbaden Office
Continental Europe Branch
Kreuzberger Ring 68
65205 Wiesbaden, Germany