Norwegian Cruise Line Press Releases
Pleasant Dreams with Norwegian Cruise Line - EU-EN -
Wiesbaden - Mar 15, 2018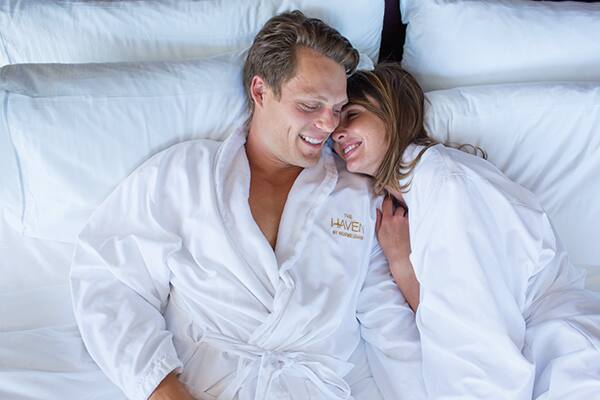 March 16th is World Sleep Day: This day, initiated by the World Association of Sleep Medicine (WASM), takes place every year on the third Friday of March and aims to raise awareness of important sleep issues.

In our day-to-day working life, getting a good night's sleep is often neglected. It is all the more important to pay attention to restful sleep when we are on vacation, to replenish our stores of energy. Norwegian Cruise Line wants to support its guests in this endeavour and has been working for ten years with the Italian mattress manufacturer Matermoll, which has even developed its own collection under the name Bliss Bed Collection for the international cruise line.

Matermoll relies on the use of innovative materials, including WaterGel® and memory foams for optimal support and airflow, in manufacturing the three mattress models. Fabrics suffused with chamomile should provide a soothing feeling during sleep. The Gold model can be found in the standard stateroom categories and consists of a classic Bonnell system with 400 individual springs for optimal bed rest. The Dreamy and Tranquility models are used in the suites and, thanks to memory or WaterGel® foam, provide an even more comfortable sleeping experience.

Guests who stay in suites also have an expanded selection of pillows at their disposal. Among a total of six different models, such as pillows for side sleepers, temperature regulating pillows or pillows with memory foam, everyone will surely find the right one for their individual good night's sleep.



About Norwegian Cruise Line
Norwegian Cruise Line is the innovator in cruise travel with a 51-year history of breaking the boundaries of traditional cruising. Most notably, Norwegian revolutionized the cruise industry by offering guests the freedom and flexibility to design their ideal cruise vacation on their schedule with no set dining times, a variety of entertainment options and no formal dress codes. Today, Norwegian invites guests to enjoy a relaxed, resort-style cruise vacation on some of the newest and most contemporary ships at sea with a wide variety of accommodations options, including The Haven by Norwegian®, a luxury enclave with suites, private pool and dining, concierge service and personal butlers. Norwegian Cruise Line sails around the globe, offering guests the freedom and flexibility to explore the world on their own time and experience up to 27 dining options, award-winning entertainment, superior guest service and more across all of the brand's 15 ships.

Recently, the line was named "Europe's Leading Cruise Line" for the tenth consecutive year, "World's Leading Large Ship Cruise Line" for the sixth consecutive year, the "Caribbean's Leading Cruise Line" for the fifth consecutive year, as well as "World's Leading Cruise Line" and "North America's Leading Cruise Line" both for the second straight year by the World Travel Awards.

Norwegian's next new build, the highly anticipated Norwegian Bliss, will be delivered in April 2018 featuring many firsts-at-sea for the global market including the largest race track at sea, award-winning Broadway entertainment, two observation lounges for guests to enjoy stunning ocean and glacier views and more. Norwegian will introduce an additional new "Breakaway Plus" Class cruise ship in 2019 and has four additional ships on order for delivery beginning in 2022, with an option to introduce two more ships in 2026 and 2027.


How To
Contact Us
Jennifer Oettel / Kristina Heinrichs / Veronika Bahnmann
Phone: +49 611 36 07121
E-Post: presse@ncl.com

Corporate Mailing Address

Wiesbaden, Continental Europe Office
NCL (Bahamas) Ltd.
Wiesbaden Office
Continental Europe Branch
Kreuzberger Ring 68
65205 Wiesbaden, Germany